Logic Pro's Space Designer is an excellent convolution reverb. However, using IR's can add muddiness to your sound. Jay Asher shares a clever technique to help you achieve better and clearer mixes.
Nota del redattore: Anche se questo articolo è stato creato con Logic Pro 9 in mente. Le stesse tecniche descritte di seguito possono essere utilizzati dagli utenti Logic Pro X. Buon divertimento!
Anche se sarò l'autore di questo articolo, le richieste onestà che io confesso che io non sono venuto fuori con questa idea per conto mio. Questa distinzione appartiene ad un compositore di talento di nome Bengt Nilsson, che mi ha gentilmente dato il permesso di, errare in prestito! Lo ha fatto con Altiverb IRS, che mentre molto buono, tendono ad aggiungere muddiness. Per questo articolo, tuttavia, userò Logic Pro Spazio Designer riverbero a convoluzione, come la tecnica è la stessa.

In Fig. 1, è possibile vedere un semplice ostinato parte violoncello Ho giocato con un EastWest Hollywood Strings legato violoncello patch. E 'un bel suono caldo,, leggermente scuro.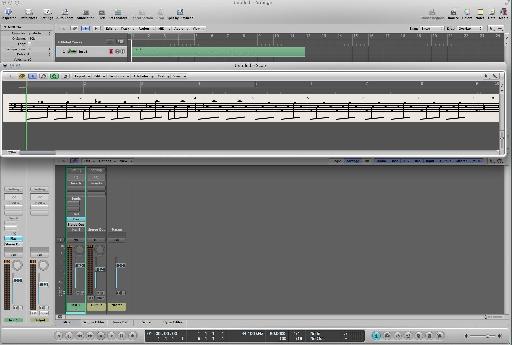 Pic 1
In Fig. 2, ho aperto un Logic Pro Spazio riverbero Designer su un autobus e inviato il segnale ad esso dalla striscia di canale violoncello. Ho caricato una risposta impulsiva, di seguito un IR come viene comunemente chiamato. Ho scelto un nome 02.4s Big String Reverb (07 Legacy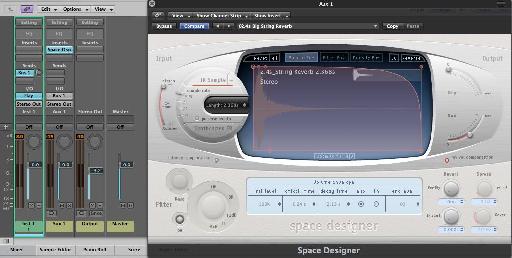 Pic 2
E 'piuttosto un bel suono, ma un po' fangoso e sono ragionevolmente sicuro che in seguito, quando creo altre parti degli archi e gli trasmette, che sta per essere problematico per mescolare a causa di qualche fangosità in IR. Ho bisogno di affrontare la questione.
Creo una nuova striscia canale audio e creare un'istanza del oscillatore di prova. Vedi foto 3.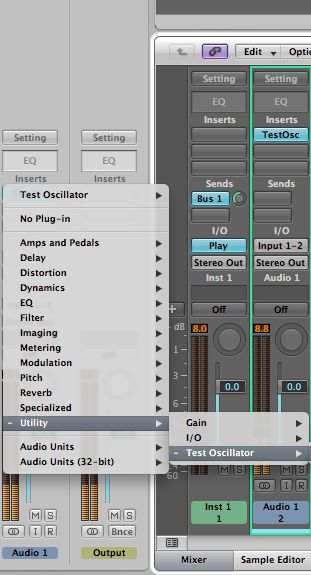 Pic 3
All'interno della GUI del oscillatore di prova, che carico il preset per rumore rosa, che l'oscillatore di prova immediatamente comincia a generare. (Non deve necessariamente essere un rumore rosa, potrebbe essere un rumore bianco, ecc) vedi foto 4.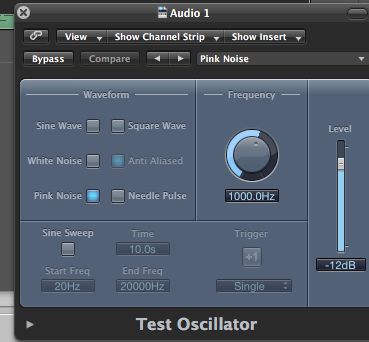 Pic 4
Io muto la regione violoncello. Sul Aux che ospita Space Designer, apro Logic Pro Cronaca EQ nel secondo inserto, e quindi bypassare Space Designer.
Apro la Partita EQ, Accendere l'analizzatore in alto a sinistra della GUI e selezionare il modello pulsante Learn, come si può vedere che ho fatto in Pic 5.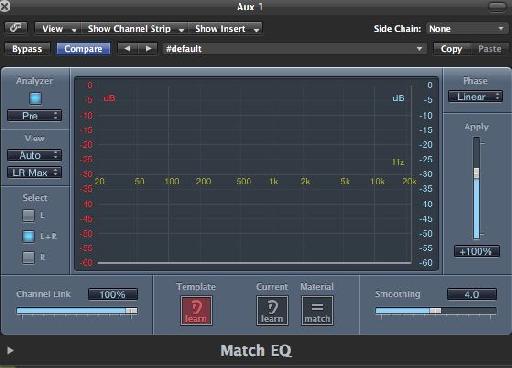 Pic 5
Ho lasciato la partita EQ analizzare il suono del oscillatore di prova attraverso l'IR per circa dieci secondi, quindi premere il Template saperne pulsante una seconda volta.
Prendo Space Designer dalla modalità di bypass, premere il pulsante di corrente Imparare che si vede in Fig. 6.

Pic 6
Ancora una volta, ho lasciato la partita EQ analizzare il suono per circa dieci secondi, premere corrente imparare e mi assicuro che materiale partita è accesa. Vedi foto 7.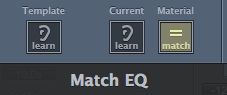 Pic 7
Ora in Pic 8, si può vedere che ho una curva EQ per questo IR specifico per correggere la fangosità tanto o poco quanto voglio con il cursore Applica.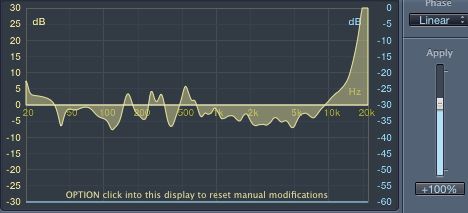 Pic 8
L'idea di questo è che il riverbero IR non aggiungerà alcun bassi o frequenze alte e altre cose per il materiale. 100% mantiene l'EQ totalmente piatto, mentre il 40% può sembrare più che bene per le vostre orecchie.
Posso quindi salvare questo come un Match EQ preset, come si vede in fig. 9, e / o salvare l'impostazione Channel Strip, come pittura 10.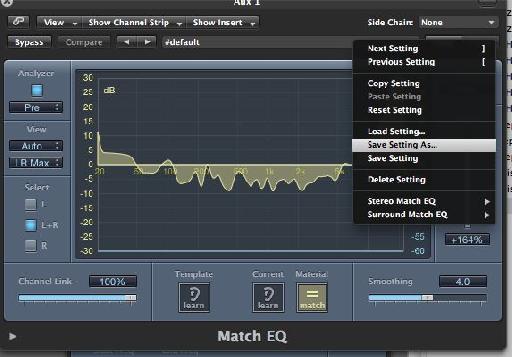 Pic 9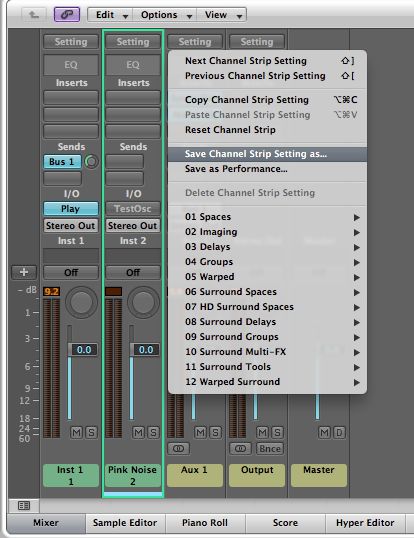 Pic 10
Si tratta di una tecnica semplice ma efficace che vi aiuterà a ottenere un mix migliore su tutta la linea ogni volta che si utilizza il riverbero a convoluzione preferito. IRS.