Logic Pro's Space Designer is an excellent convolution reverb. However, using IR's can add muddiness to your sound. Jay Asher shares a clever technique to help you achieve better and clearer mixes.
Nota do Editor: Embora este artigo foi criado com o Logic Pro 9 em mente. As mesmas técnicas descritas a seguir pode ser usado por utilizadores Logic Pro X. Divirta-se!
Embora eu serei o autor deste artigo, exige honestidade que eu confesso que eu não vim com essa idéia em meu próprio. Essa distinção pertence a um compositor talentoso chamado Bengt Nilsson, que gentilmente me deu permissão para, err emprestado! Ele fez isso com Altiverb IRs, que ao mesmo tempo muito bom, que tendem a adicionar muddiness. Para este artigo, no entanto, vou usar Logic Prós Espaço convolução reverb Designer, como a técnica é a mesma.

Em Pic 1, você pode ver um violoncelo simples ostinato parte eu joguei com um Hollywood Cordas legato remendo cello EastWest. É um bom som quente, um pouco escuro.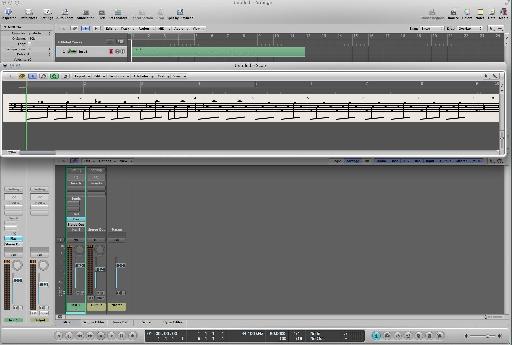 Pic 1
Em Pic 2, eu abri um Logic Pro reverb Designer espaço em um ônibus e enviou sinal para ele a partir da faixa de canal violoncelo. Eu carreguei uma resposta ao impulso, a seguir designada uma IR, como é comumente chamado. Eu escolhi um chamado 02.4s Big Cadeia Reverb (07 Legado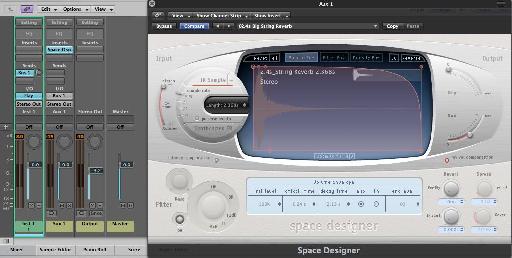 Pic 2
É realmente um som agradável, mas um pouco enlameado e estou razoavelmente certo de que, mais tarde, quando eu criar mais peças de cordas e enviar para ele, ele vai ser problemático para misturar por causa de algum muddiness no IR. Eu preciso lidar com isso.
Eu criar uma nova faixa de canal de áudio e instanciar o oscilador de teste. Veja Pic 3.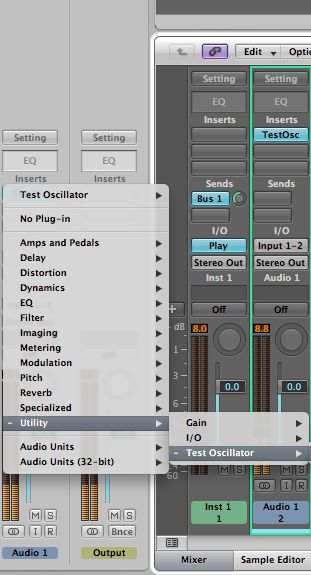 Pic 3
Dentro da GUI do oscilador de ensaio, eu carregar a predefinição de ruído rosa, que o oscilador de ensaio imediatamente começa a gerar. (Não necessariamente tem que ser o ruído rosa, pode ser ruído branco, etc) Ver Pic 4.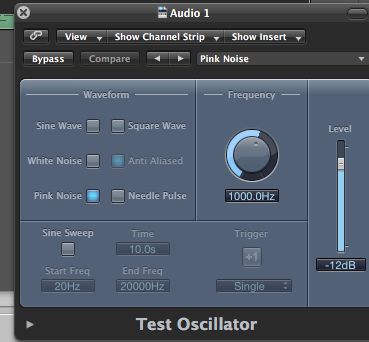 Pic 4
Eu mudo a região do violoncelo. Na Aux que está hospedando Space Designer, abro Prós Lógica Combinar EQ na segunda inserção, e depois contornar Space Designer.
Eu abro o jogo EQ, ligue o Analyzer no canto superior esquerdo da GUI e clique no botão Template Aprender, como você pode ver que eu tenho feito em Pic 5.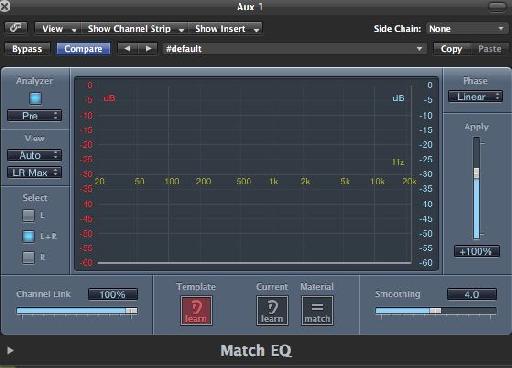 Pic 5
Eu deixei o jogo EQ analisar o som do oscilador de teste através do IR por cerca de dez segundos e, em seguida, pressione o botão Template Aprender uma segunda vez.
Aproveito Space Designer de modo manual, pressione o botão atual Saiba que você vê no Pic 6.

Pic 6
Mais uma vez, eu deixo o jogo EQ analisar o som por cerca de dez segundos, pressione Atual Aprender e ter certeza de que jogo material é ligado. Veja Pic 7.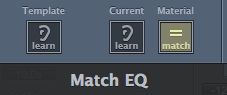 Pic 7
Agora em Pic 8, você pode ver que eu tenho uma curva EQ para este IR específico para corrigir a muddiness como muito ou pouco como eu quero usar o controle deslizante Aplicar.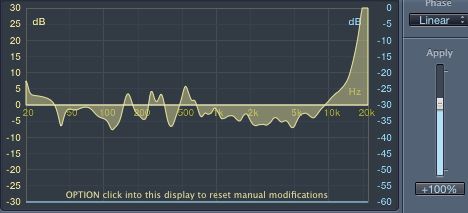 Pic 8
A idéia com isso é que o IR reverbs não vai acrescentar qualquer baixo ou altas freqüências e outras coisas para o material. 100% mantém o EQ totalmente plana, enquanto 40% pode soar bem aos seus ouvidos.
Posso, então, salve como um jogo EQ pré-definido, como você vê na foto. 9, e / ou salvar a configuração Channel Strip, como em Pic 10.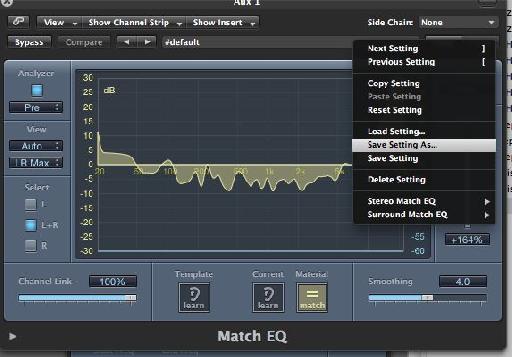 Pic 9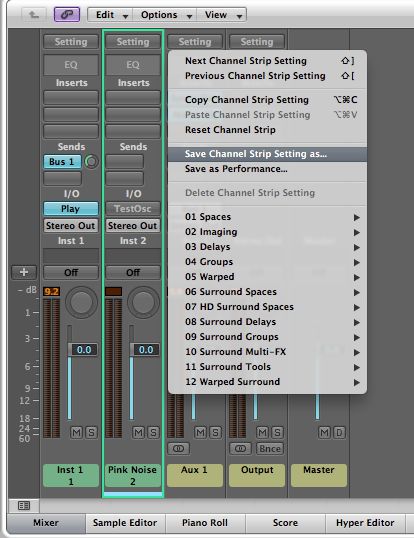 Pic 10
Esta é uma técnica simples e eficaz que irá ajudá-lo a obter um melhor mix para baixo da linha, sempre que você usar o seu reverb de convolução favorito. IRs.