One of the marquee features in Logic Pro X is Flex Pitch. David Earl (aka. SFLogicNinja) dives in to showcase just how effective the pitch manipulation is and how it works.
Von all den tollen neuen Funktionen in Logic Pro X enthalten ist Flex Pitch ein richtiges Spiel-Wechsler. Viele Unternehmen haben vor mit Angeboten für Zeit-und Pitch Manipulation kommen, so dass ihr interessant zu sehen, wie Apple wollte das Spiel ändern. Es gibt viele Details, dass viele auf das Unfallgeschehen verpassen können, wenn sie eng werent suchen. Apple-stellen ihre grauen Zellen auf, dies zu machen, und kam mit etwas leistungsstarke, flexible und ... gut ... glatt.

Ausgehend Flex Pitch in Logic Pro X
Weve bekam einige Vocals zu stimmen! Um sie bereit, müssen wir uns auf Flex-Modus zu aktivieren:
Schalten Sie Flex-Modus, indem Sie auf die Flex-Modus-Taste im Hauptfenster

Schalten Sie Flex-Modus auf den Gleisen zu gebogen werden

Wählen Flex Pitch aus der Liste der verfügbaren Algorithmen
Flex Pitch wird aus dem Rest der Algorithmen getrennt, weil wir mit Pech sowie Zeit kann verwirren. Anstatt uns Flex und Transienten-Markern wird Flex Pitch werden mit Noten. Heres, wie alles im Hauptfenster aussieht: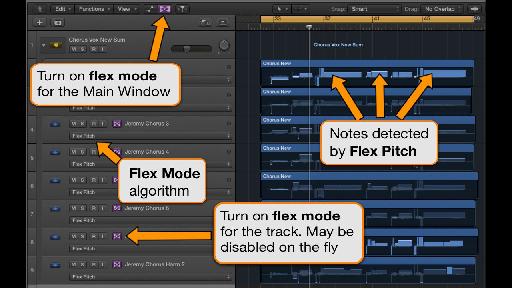 Erste Flex Pitch gehen im Hauptfenster von Logic X.
Arbeiten mit Notizen im Hauptfenster
Die Notizen Flex Pitch hat festgestellt, zeigen sich als sehr dünne blaue Linien innerhalb der Region, die wir bearbeiten wollen. Im Hauptfenster sind wir in der Lage, globale Veränderungen das Feld unserer Audio-Region zu tun. Flex Pitch ist ziemlich gut auf den Nachweis der korrekten Tonhöhe, und wir können in der Lage sein alle Noten im Hauptfenster bearbeiten und fertig! (Wenn wir nur so viel Glück)
Halten Sie die Umschalttaste gedrückt und Lasso die Noten in der Region im Arrangierfenster, die abgestimmt werden sollen.

Klicken Sie in dem schraffierten Bereich der Notiz, klicken und halten und nach unten ziehen.

Youll hören die Tonhöhe verändert wird, und wenn die Tonhöhe der Nähe des Zentrums der Region kommt, die Noten sollten an ihren perfekten Platz zu sperren.

Haben Sie ein, um Ihre Arbeit zu hören.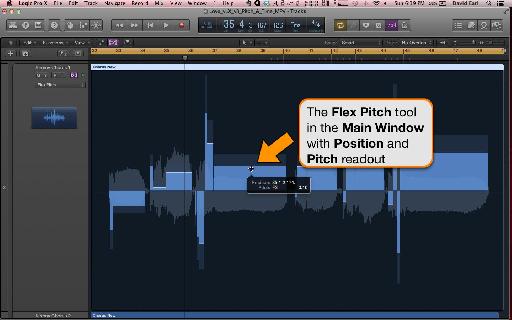 Die Flex Pitch Tool zeigt eine nützliche Position und Tonhöhe ausgelesen.
Mit Flex Pitch im Hauptfenster, wir sind sehr weitreichende Änderungen angeboten. Flex Pitch ist ziemlich gut darin, die Plätze und die Korrektur ist in der Regel ziemlich gut, aber um den Job richtig gemacht, wir gehen zu müssen, um den Audio-Track-Editor zu verwenden.
Arbeiten mit Flex Pitch in der Audio Track Editor
Die Audio Track Editor ist neu Logic Pro X, und ist ein wunderbarer Weg, um feine Bearbeitung von Flex Pitch tun. Um den Audio-Track-Editor zu öffnen, einfach an der Spitze eines Audio-Region, die gebogen werden ist doppelt klicken.
Die Audio Track Editor hat einen Inspektor auf der linken Seite, und die Noten zeigen in einem Raster auf der rechten Seite. Der Inspektor ist für die Tonhöhe zu verändern und von mehreren Noten auf einmal verwendet, und das Gitter auf der rechten Seite ist es, wo Notizen akribisch einzeln bearbeitet werden.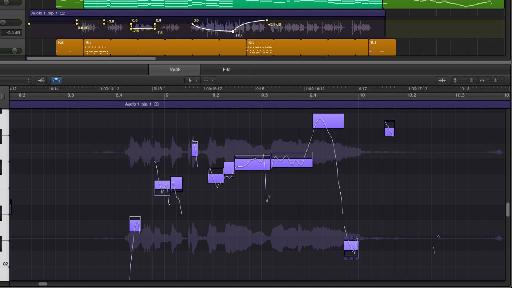 Flex Pitch bei der Arbeit in der neuen Audio-Track-Editor.
Mit dem Inspector für Flex Pitch
Um den Inspektor verwenden, wählen Sie einfach, was Sie Notizen bearbeiten möchten, dann wählen Sie eine der folgenden Aktionen aus:
Zeit Quantisierung - Dies macht sich Notizen und quantisiert sie zu einem Netz, ähnlich wie bei MIDI-Noten in der Piano Roll Editor

Maßstab Quantisierung - Damit werden die Tonhöhen zu einem bestimmten Maßstab beschränken

Pitch Correction - Dies wird versuchen, alle Plätze zu ändern, damit sie näher an ihren perfekten Zustand sind. Mit einem Schieber, kann diese in Grad durchgeführt werden

Verstärkung - Dies wird die Verstärkung aller ausgewählten Noten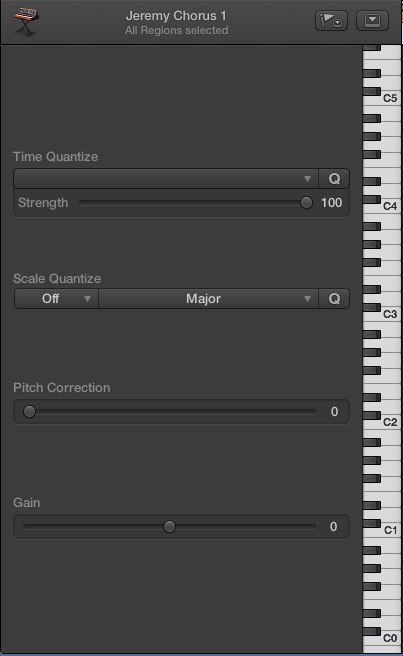 Der Inspector liefert nützliche Steuerelemente, um die Tonhöhe Ihrer Audio-Dateien zu manipulieren.
Der Inspektor ist mehr als anspruchsvolle Hauptfenster, aber für die Feinarbeit, riet seinen nach innen der Region zu erhalten und die Arbeit mit einzelnen Noten.
Hot Zones
In der Region Bereich auf der rechten Seite des Inspektors, haben wir die folgenden Hinweise. Diese Hinweise sind in sechs heißen Zonen auf sie. Sie sind auf der linken und rechten oberen und unteren Ecken, und sie sind auch in der Mitte quer auf der Ober-und Unterseite der Notiz gefunden.
Diese heißen Zonen führen die folgenden Funktionen:
Tonhöhen-Drift in / out - Für Schiebetore von einer Tonhöhe zur anderen

Vibrato - Leistung ein wenig wackelig? Wir können beheben.

Feinabstimmung - In Cent (100 Cent pro Halbton)

Verstärkung - Zunahme und Abnahme Gewinn, und beobachten Sie die Wellenformänderung

Formant - Machen Sie Stimme klingt natürlicher, wenn höher oder niedriger in der Tonhöhe. (Kann auch feige in den Mickey Mouse oder Frank Zappa Werkzeug gedreht werden).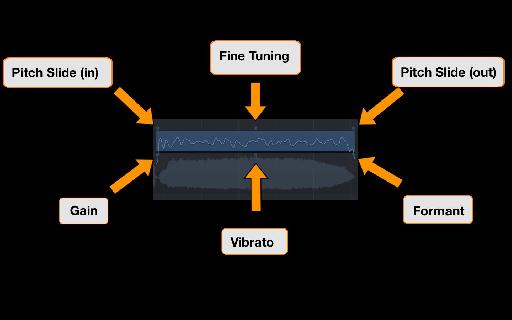 Hot Zones bieten bequemen und schnellen Zugriff auf wichtige Funktionen bei der Verwendung von Flex Pitch.
Finden Kreative Anwendungen für Flex Pitch
So kennen wir die Grundbegriffe der Anatomie Flex Pitch. Kreativ, was können wir noch tun, Tuning Gesang?
Ein schöner Ort, um zu starten ist das Kopieren Regionen mit Flex Pitch-Daten und dann tuning sie nach oben oder unten, um Backing Vocals zu erstellen.
Ein weiterer guter kreativen Einsatz von Flex Pitch ist auf Instrumente, die keinen nehmen - oder zweifelhaften - Tonhöhe und zwingt sie in Einklang.

Es gibt auch andere Funktionen in Flex Pitch, die die Vorteile der erfassten Daten beachten nehmen gebaut. MIDI kann von diesem leistungsstarken Werkzeug erzeugt und wiederverwendet werden in anderen Bereichen.
Erstellen Sie neue Noten im Audio Track Editor, mit dem Sie alternativen Melodien erstellen können.

Radikal verändern Formanten einen Vokal eine extrem abgefahrenen Atmosphäre geben. Künstler zu hören sind Inspiration für Grimes, Fever Ray und CocoRosie. Interessant und seltsam.

Fazit
Flex Pitch ist nicht nur ein Werkzeug für die out of tune Sänger. Es kann verwendet werden, um stark verändern die Klangfarbe und emotionale Gefühl nicht nur ein Vokal, sondern ein anderes Instrument, dass unter seinen Einfluss gebracht. Kopieren und Einfügen von mehreren Regionen Flex Tonhöhendaten wird dazu beitragen, Iterationen von Melodien und Motive, die sich schnell in wahnsinnig kreativen Gebiet drehen.
Die Tatsache, dass alle diese Techniken sind extrem intuitiv für den Benutzer eine große Bein bis über Programme wie Melodyne und Auto-Tune. In diesen Programmen musste man zunächst schreiben die Audio in Echtzeit in das Plug-in, wo der Inhalt blieb, auch wenn eine Region im Hauptfenster wurde gelöscht. Ich weiß nicht, wie oft ich am Ende mit einem Gesang auf meinem Schlagzeug stammt aus diesem Grund. Dank Logic Pro Xs neue Flex Pitch, I dont glauben, dass wird ein Problem mehr sein.
Um mehr darüber zu erfahren
Logic Pro X 108 - Bewegt Vocals: Time and Pitch