One of the marquee features in Logic Pro X is Flex Pitch. David Earl (aka. SFLogicNinja) dives in to showcase just how effective the pitch manipulation is and how it works.
De todas las nuevas características incluidas en Logic Pro X, Flex Pitch es un elemento de cambio real. Muchas empresas han venido antes con ofertas para el tiempo y la manipulación del terreno de juego, por lo que es interesante para ver cómo Apple se iba a cambiar el juego. Hay muchos detalles que muchos pueden perder en un accidente si no fueses mirando de cerca. Apple puso su gorra para pensar en hacer esto, y se le ocurrió algo poderoso, flexible, y ... bueno ... slick.

A partir Flex Pitch en Logic Pro X
Weve consiguió algunas voces de tono! Para prepararlos, necesitamos activar el modo Flex:
Activar el modo Flex haciendo clic en el botón de modo de Flex en la ventana principal

Activar el modo de Flex en las pistas que se flexiona

Elija Flex Paso de la lista de algoritmos disponibles
Flex Pitch se separa del resto de los algoritmos, ya que podemos estropear con brea, así como el tiempo. En vez de darnos marcadores Flex y transitorios, pitch Flex va a utilizar notas. Heres cómo todo se ve en la ventana principal: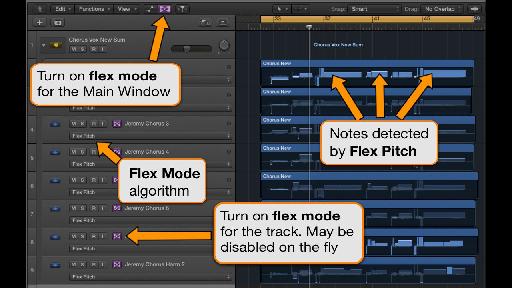 Introducción Flex Pitch va en la ventana principal de la lógica X.
Cómo utilizar las notas en la ventana principal
El Flex Pitch notas ha detectado aparecen como líneas azules muy finas de la región que deseamos editar. En la ventana principal, somos capaces de hacer cambios globales en el campo de nuestra región de audio. Flex El tono es muy bueno en la detección del tono correcto, y puede ser capaz de editar todas las notas en la ventana principal y hacer! (Si sólo tuvimos tanta suerte)
Sostenga la tecla Mayús y lazo de las notas dentro de la región en la ventana de arreglos que van a ser atentos.

Haga clic dentro del área sombreada de la nota, haga clic y mantenga, y tire hacia abajo.

Usted escuchará el terreno de juego está cambiando, y cuando el tono se acerca al centro de la región, las notas deben bloquear con su tono perfecto.

Tener una escucha a tu trabajo.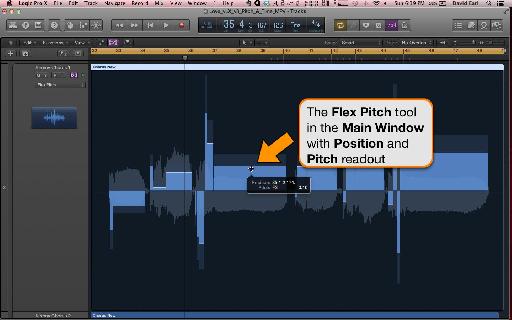 La herramienta Afinación Flex muestra una posición útil y lectura de campo.
Con Flex Pitch en la ventana principal, se nos ofrece cambios muy radicales. Flex tono es bastante bueno en la búsqueda de los lanzamientos, y la corrección suele ser bastante bueno, pero para hacer el trabajo correctamente, vamos a tener que usar el editor de pistas de audio.
Trabajar con Flex Pitch en el editor de pistas de audio
El editor de pistas de audio es nuevo para Logic Pro X, y es una manera maravillosa de hacer bien la edición de Flex Pitch. Para abrir el Editor de pistas de audio, simplemente haga doble clic en la parte superior de una región de audio que se va a flexión.
El editor de pistas de audio cuenta con un inspector en el lado izquierdo, y las notas muestran en una cuadrícula en la derecha. El inspector se utiliza para cambiar el tono y el tiempo de varias notas a la vez, y la red a la derecha es donde las notas son meticulosamente editados individualmente.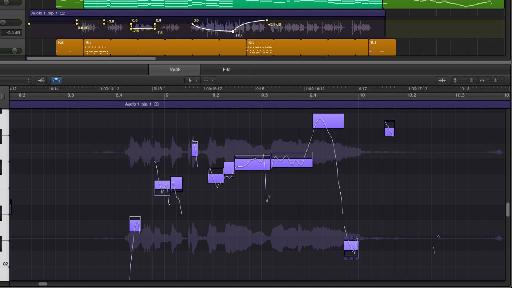 Flex Pitch en el trabajo en el nuevo editor de pistas de audio.
Con el Inspector de Flex Pitch
Para utilizar el inspector, sólo tiene que seleccionar lo que notas que deseas editar, y luego elegir una de las siguientes acciones:
Corregir tiempo - Esto toma notas y cuantifica a una red, similar a las notas MIDI en el Editor de teclado

Escala Quantize - Esto limitará las plazas la nota de una escala específica

Corrección de tono - Este tratará de cambiar todos los campos para que estén más cerca de su perfecto estado. Con un control deslizante, esto se puede hacer en grados

Gain - Esto ajustará la ganancia de las notas seleccionadas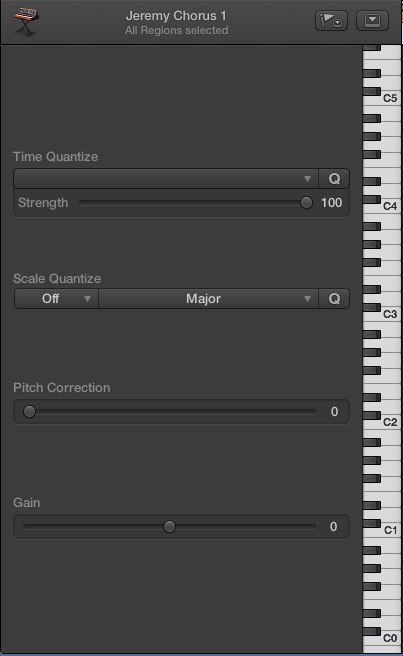 El Inspector proporciona controles útiles para manipular el tono de sus archivos de audio.
El inspector es más exigente que la ventana principal, pero para el trabajo detallado, es recomendable entrar en la región y trabajar con las notas individuales.
Zonas calientes
En el área de la región a la derecha del inspector, tenemos notas. Estas notas tienen seis zonas calientes en ellos. Ellos están en las esquinas izquierda y derecha superior e inferior, y también se encuentran a mitad de camino a través de la parte superior e inferior de la nota.
Estas zonas calientes realizan las siguientes funciones:
Pitch drift in / out - Para deslizamiento de un campo de nota a otro

Vibrato - Rendimiento de un poco inestable? Podemos arreglar eso.

Fine Tuning - En centavos (100 centavos de dólar por cada semitono)

Gain - Aumento y disminución de la ganancia, y ver el cambio de forma de onda

Formant - Hacerte sonido de voz natural, cuando más alto o más bajo en el tono. (También puede ser cobarde se convirtió en el Mickey Mouse o herramienta de Frank Zappa).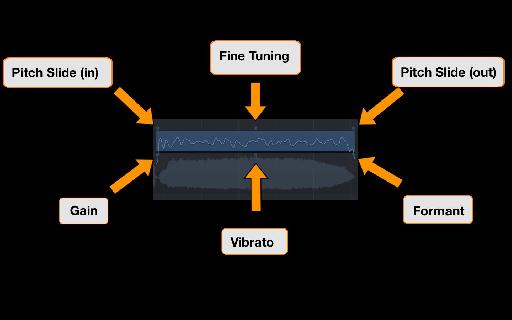 Zonas calientes proporcionan un acceso cómodo y rápido a las funciones esenciales cuando se utiliza Flex Pitch.
Encontrar Usos creativos para Flex Pitch
Así que sabemos que la anatomía básica de Flex Pitch. Creativamente, ¿qué podemos hacer, además de afinar la voz?
Un buen lugar para comenzar es copiar regiones con datos Paso Flex y luego sintonizar hacia arriba o hacia abajo para crear coros.
Otro buen uso creativo de Flex Pitch es tomar los instrumentos que no tienen - o dudosa - pitch, y obligando a que se ajusten.

También hay otras características incorporadas en Flex Pitch que se aprovechan de los datos de las notas detectadas. MIDI puede ser generada a partir de esta poderosa herramienta y volver a utilizar en otras áreas.
Crea nuevas notas en el editor de pistas de audio que le permiten crear melodías alternativas.

Alterar radicalmente formantes para dar una voz un ambiente muy extraño. Artistas para escuchar en busca de inspiración son Grimes, Fever Ray, y CocoRosie. Interesante y raro.

Conclusión
Flex Pitch no es sólo una herramienta para salir de cantantes melodía. Se puede utilizar para cambiar en gran medida el timbre y la sensación emocional de no sólo una vocal, pero cualquier otro instrumento que se pone bajo su influencia. Copiar y pegar varias regiones de datos de tono Flex ayudará a crear repeticiones de melodías y temas que giran rápidamente en territorio increíblemente creativo.
El hecho de que todas estas técnicas son sumamente intuitiva ofrece a los usuarios una gran ventaja sobre los programas como Melodyne y Auto-Tune. En estos programas tiene que escribir primero el audio en tiempo real en el plug-in, donde se alojó el contenido, incluso cuando se elimina una región en la ventana principal. No sé cuántas veces terminé con una voz en mi percusión tallos debido a esto. Gracias a Logic Pro Xs nuevo Pitch Flex, yo no creo que vaya a ser un problema.
Para obtener más información sobre
Logic Pro X 108 - Voz Flexionar: Tiempo y Tono