One of the marquee features in Logic Pro X is Flex Pitch. David Earl (aka. SFLogicNinja) dives in to showcase just how effective the pitch manipulation is and how it works.
De toutes les nouvelles fonctionnalités incluses dans Logic Pro X, Flex Pitch est un changeur de jeu réel. Beaucoup d'entreprises sont venus avant avec des offrandes pour le temps et les manipulations de terrain, de sorte que son intéressant de voir comment Apple allait changer la donne. Il ya beaucoup de détails que beaucoup peuvent manquer sur accident si elles werent regardant de plus près. Apple a placé son chapeau de pensée sur de faire cela, et est venu avec quelque chose de puissant, souple et ... bien ... glissante.

À partir Flex Pas dans Logic Pro X
Weve a obtenu quelques voix à air! Pour les préparer, il faut activer le mode Flex:
Activer le mode Flex en cliquant sur ​​le bouton de mode Flex dans la fenêtre principale

Activer le mode Flex sur les pistes pour être fléchie

Choisissez Flex Pas dans la liste des algorithmes disponibles
Pas Flex est séparé du reste des algorithmes, car nous ne pouvons gâcher avec de la poix ainsi que le temps. Au lieu de nous donner des marqueurs Flex et transitoire, terrain Flex utilisera des notes. Voici comment tout a l'air dans la fenêtre principale: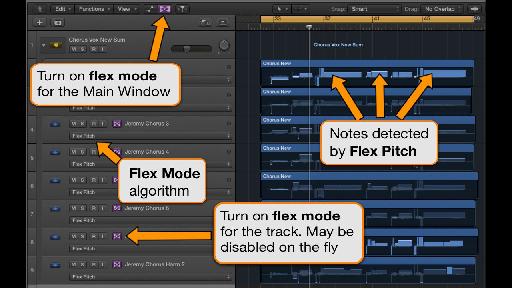 Mise Flex Pas passe dans la fenêtre principale de Logic X.
Travailler avec des notes dans la fenêtre principale
Le Flex Pas notes a détecté apparaissent comme des lignes bleues très fines dans la région que nous voulons modifier. Dans la fenêtre principale, nous sommes capables de faire des changements globaux à la hauteur de notre région audio. Flex Pitch est assez bon pour détecter la hauteur correcte, et l'on peut être en mesure de modifier toutes les notes dans la fenêtre principale et en finir! (Si seulement nous étions si chanceux)
Maintenez la touche Maj et lasso les notes dans la région dans la fenêtre d'arrangement qui doivent être à l'écoute.

Cliquez à l'intérieur de la zone ombrée de la note, cliquez et maintenez, et tirer vers le bas.

Vous aurez entendre le pitch changé, et quand le terrain est à proximité du centre de la région, les notes devraient verrouiller à leur oreille absolue.

Avoir une écoute à votre travail.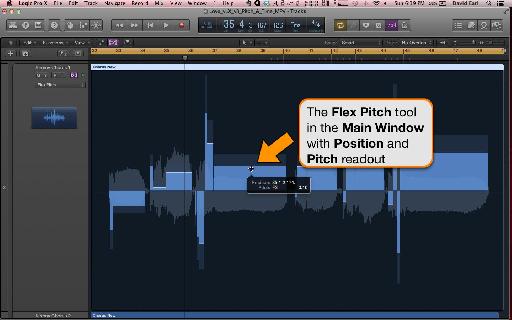 L'outil Hauteur Flex affiche une position utile et la lecture de la hauteur.
Avec Flex Pas dans la fenêtre principale, on nous propose des changements très radicaux. Flex Pitch est assez bon pour trouver les emplacements, et la correction est généralement assez bon, mais pour faire le travail correctement, nous allons avoir besoin d'utiliser le Track Editor Audio.
Travailler avec Flex Pas dans le Track Editor Audio
La Piste Audio Editor est nouveau pour Logic Pro X, et est une merveilleuse façon de faire amende édition de Flex hauteur. Pour ouvrir la piste Audio Editor, double-cliquez simplement sur le dessus d'une région audio qui doit être fléchi.
La Piste Audio Editor est un inspecteur sur le côté gauche, et les notes montrent dans une grille sur la droite. L'inspecteur est utilisée pour changer la hauteur et l'heure de plusieurs notes à la fois, et la grille à droite de celui-ci est l'endroit où les notes sont méticuleusement édités individuellement.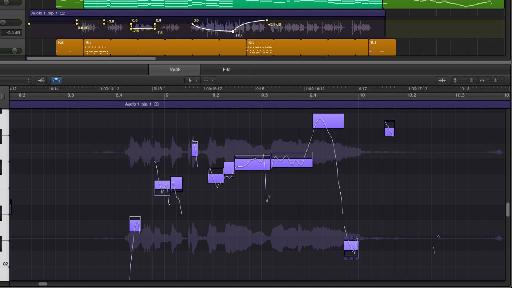 Pas fléchir à l'œuvre dans la nouvelle Audio Track Editor.
Utilisation de l'Inspecteur pour Flex Pas
Pour utiliser l'inspecteur, sélectionnez simplement ce que les notes que vous souhaitez modifier, puis choisissez l'une des actions suivantes:
Quantifier - Cela prend des notes et les quantifie sur une grille, similaire aux notes MIDI dans l'éditeur Piano Roll

Échelle Quantification - Cela limitera les hauteurs de note à une échelle spécifique

Pitch Correction - Cela va essayer de changer tous les emplacements de sorte qu'ils sont plus près de leur parfait état. Avec un curseur, ce qui peut être fait à des degrés

Gain - Permet de régler le gain de toutes les notes sélectionnées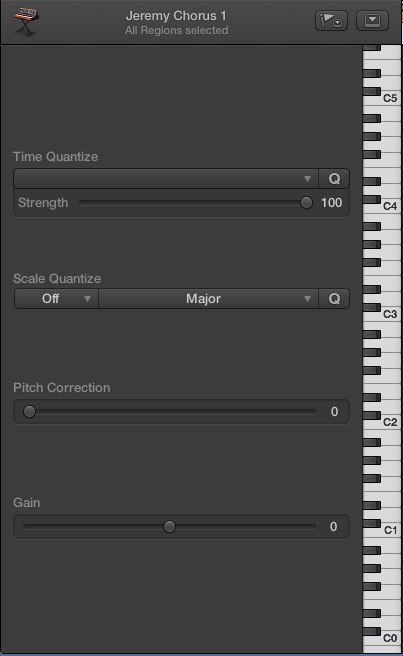 L'inspecteur fournit des commandes utiles pour manipuler la hauteur de vos fichiers audio.
L'inspecteur est plus exigeant que la fenêtre principale, mais pour le travail détaillé, son conseillé d'obtenir à l'intérieur de la région et de travailler avec des notes individuelles.
Zones chaudes
Dans le domaine de la région à la droite de l'inspecteur, nous avons des notes. Ces notes ont six zones chaudes sur eux. Ils sont sur les coins gauche et droit supérieur et inférieur, et on en trouve aussi à mi-chemin entre le haut et le bas de la note.
Ces zones chaudes exécutent les fonctions suivantes:
Dérive de hauteur in / out - Pour glissement d'une hauteur de note à l'autre

Vibrato - Performance un peu fragile? Nous pouvons résoudre ce problème.

Fine Tuning - en cents (100 cents par demi-ton)

Gain - Augmenter et le gain de baisse, et regarder le changement de forme d'onde

Formant - Assurez-vous exprimiez son naturel lorsque supérieure ou inférieure à la hauteur. (Peut aussi être ignoble transformé en outil Zappa Frank Mickey Mouse ou).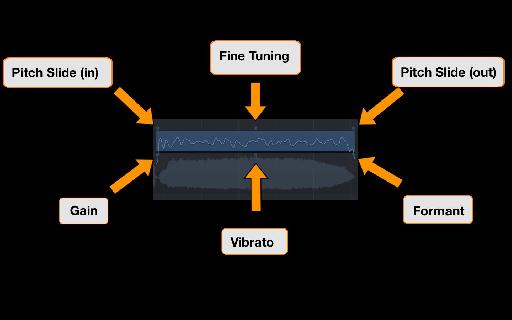 Zones chaudes offrent un accès facile et rapide aux fonctions essentielles lorsque vous utilisez Flex hauteur.
Trouver des utilisations créatives pour Flex Pas
Donc, nous savons l'anatomie de base de Flex hauteur. Créative, que pouvons-nous faire un ajustement plus en plus de voix?
Un bon endroit pour commencer est la copie régions avec des données de hauteur Flex, puis réglage vers le haut ou vers le bas pour créer des chœurs.
Un autre bon usage créatif de Flex Pitch est de prendre instruments qui n'ont pas - ou douteux - Pitch, et les forçant à la ligne.

Il ya également d'autres fonctionnalités intégrées Flex Pas que de profiter des données de note détectée. MIDI peut être générée à partir de cet outil puissant et réutilisé dans d'autres domaines.
Créer de nouvelles notes dans la piste Audio Editor qui vous permettent de créer des alternatives mélodies.

Modifier radicalement formants de donner une voix une ambiance extrêmement bizarre. Artistes en écoute inspiration sont Grimes, Fever Ray, et CocoRosie. Intéressant et bizarre.

Conclusion
Flex terrain n'est pas seulement un outil pour les chanteurs de tune. Il peut être utilisé pour modifier considérablement le timbre et la sensation émotionnelle non seulement une voix, mais tout autre instrument qui est placé sous son influence. Copier et coller plusieurs régions de données de hauteur Flex aidera à créer des itérations de mélodies et motifs qui tournent rapidement en territoire incroyablement créatif.
Le fait que toutes ces techniques sont extrêmement intuitive permet aux utilisateurs une grande longueur d'avance sur les programmes comme Melodyne et Auto-Tune. Dans ces programmes, il fallait d'abord écrire l'audio en temps réel dans le plug-in, où le contenu est resté, même quand une région dans la fenêtre principale a été supprimé. Je ne sais pas combien de fois je me suis retrouvé avec un vocal sur mon percussion découle de ce fait. Merci à Logic Pro Xs nouveau Flex Pitch, je ne crois pas que cela va être un problème.
Pour en savoir plus sur
Logic Pro X 108 - Vocals mobile: vitesse et la hauteur