One of the marquee features in Logic Pro X is Flex Pitch. David Earl (aka. SFLogicNinja) dives in to showcase just how effective the pitch manipulation is and how it works.
Di tutte le grandi nuove funzionalità incluse in Logic Pro X, Flex Pitch è un vero e proprio punto di svolta. Molte aziende sono venuti prima, con offerte per il tempo e la manipolazione del tono, quindi la sua interessante vedere come Apple stava per cambiare il gioco. Ci sono molti dettagli che molti possono mancare su un caso se sono cortesi guardando da vicino. Apple ha messo loro meningi per fare questo, e si avvicinò con qualcosa di potente, flessibile, e ... bene ... chiazza di petrolio.

Partendo Flex Passo in Logic Pro X
Weve ha ottenuto qualche voce di sintonia! Per farli pronti, abbiamo bisogno di attivare la modalità Flex:
Attivare la modalità Flex facendo clic sul pulsante della modalità Flex nella finestra principale

Attivare la modalità Flex sulle piste da flesso

Scegli Flex Pitch dalla lista di algoritmi disponibili
Flex Pitch è separato dal resto degli algoritmi, perché siamo in grado di pasticciare con passo così come il tempo. Invece di darci marcatori Flex e transitoria, passo Flex userà note. Ecco come tutto sembra nella finestra principale: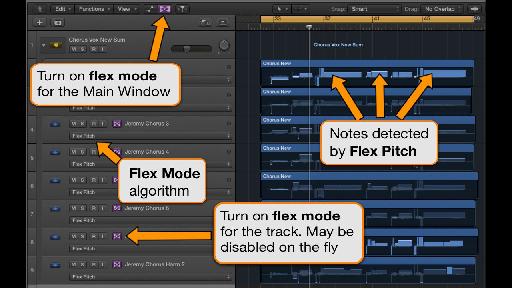 Operazioni Flex Passo andare nella finestra principale di Logic X.
Lavorare con le note nella finestra principale
Le note Flex Pitch ha rilevato presentarsi come linee blu molto sottili all'interno della regione che vogliamo modificare. Nella finestra principale, siamo in grado di fare cambiamenti globali al passo della nostra regione audio. Flex Pitch è abbastanza bravo a rilevare la tonalità corretta, e possiamo essere in grado di modificare tutte le note nella finestra principale e da fare! (Se solo fossimo così fortunati)
Tenere premuto Maiusc e lazo le note all'interno della regione nella finestra Arrange che devono essere sintonizzati.

Fare clic all'interno della zona ombreggiata della nota, fare clic e tenere premuto, e tirare verso il basso.

Youll sentire il campo e viene cambiato, e quando il passo si avvicina al centro della regione, le note dovrebbero bloccare al loro orecchio assoluto.

Avere un ascolto al vostro lavoro.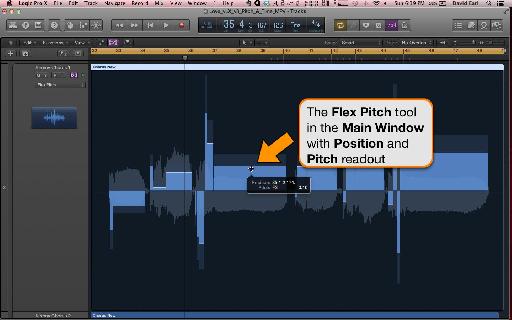 Il Pitch Flex Tool visualizza una posizione utile e passo lettura.
Con Flex Passo nella finestra principale, ci viene offerta molto radicali cambiamenti. Flex Pitch è abbastanza bravo a trovare le piazzole, e la correzione di solito è abbastanza buona, ma per ottenere il lavoro fatto bene, stiamo andando ad avere bisogno di utilizzare la Traccia Audio Editor.
Lavorare con Flex Pitch nella Traccia Audio Editor
La Traccia Audio Editor è nuovo a Logic Pro X, ed è un modo meraviglioso per fare bene la modifica di Flex Pitch. Per aprire la Traccia Audio Editor, è sufficiente fare doppio clic nella parte superiore di una regione audio che deve essere flesso.
La Traccia Audio Editor è un ispettore sul lato sinistro, e le note mostrano in una griglia a destra. L'ispettore è utilizzato per cambiare il passo ed il tempo di diverse note in una sola volta, e la griglia a destra è dove le note sono meticolosamente modificati singolarmente.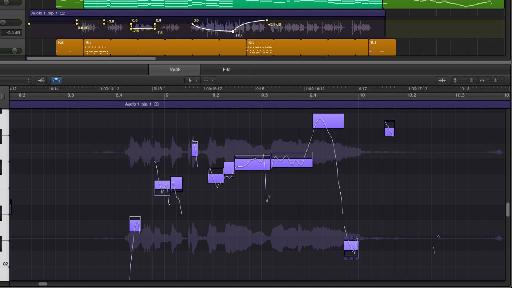 Flettere Passo al lavoro nel nuovo Traccia Audio Editor.
Utilizzare Impostazioni per Flex Pitch
Per utilizzare la finestra di ispezione, è sufficiente selezionare qualunque note che si desidera modificare, quindi scegliere una delle seguenti azioni:
Tempo Quantize - Questo prende appunti e li quantizza a una griglia, simile alle note MIDI nell'editor Piano Roll

Scala Quantize - Questo limiterà la nota tiri ad una scala specifica

Pitch Correction - Questo sarà cercare di cambiare tutti i campi in modo che siano più vicini al loro stato perfetto. Con un cursore, questo può essere fatto in gradi

Guadagno - Questo regola il guadagno di tutte le note selezionate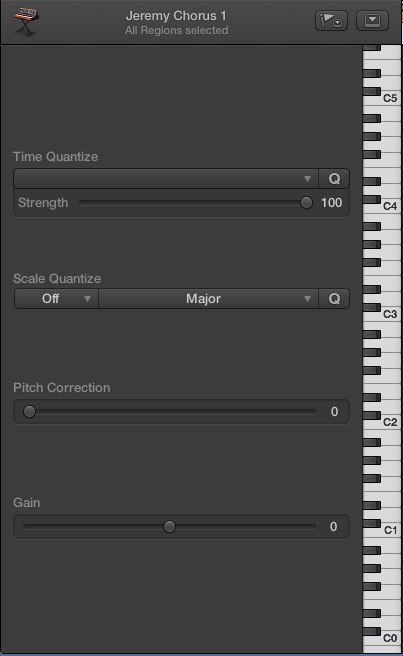 L'ispettore fornisce i controlli utili per manipolare il passo dei vostri file audio.
L'ispettore è più esigente rispetto alla finestra principale, ma per il lavoro dettagliato, la sua consiglia di ottenere all'interno della regione e di lavorare con le singole note.
Hot Zone
Nella regione di area a destra della finestra di ispezione, abbiamo note. Queste note hanno sei zone calde su di loro. Sono agli angoli destro e sinistro superiore e inferiore, e sono anche trovati a metà strada attraverso su parte superiore e inferiore della nota.
Queste zone calde eseguono le seguenti funzioni:
Piazzola deriva in / out - Per scorrere da una piazzola nota all'altra

Vibrato - Prestazione un po 'traballante? Siamo in grado di rimediare.

Fine Tuning - In centesimi (100 centesimi per semitono)

Guadagno - aumentare e diminuire il guadagno, e guardare il cambiamento della forma d'onda

Formante - Farvi voce suono naturale quando maggiore o minore in campo. (Può anche essere attivato vile nel Mickey Mouse o Frank Zappa strumento).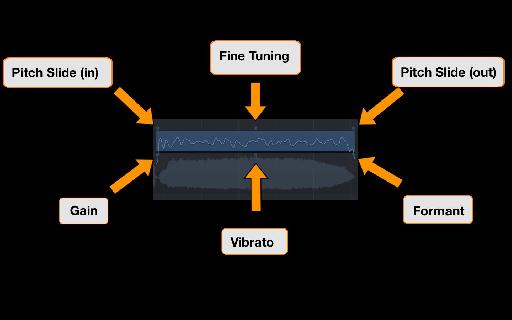 Hot Zone forniscono un accesso comodo e rapido alle funzioni essenziali quando si utilizza Flex Pitch.
Trovare Creative usi per Flex Pitch
Così sappiamo che l'anatomia di base di Flex Pitch. Creativamente, cosa possiamo fare oltre a sintonizzare la voce?
Un bel posto per iniziare è la copia di regioni con i dati Passo Flex e poi messa a punto in su o in giù per creare cori.
Un altro buon uso creativo di Flex passo è quello di prendere gli strumenti che non hanno - o dubbia - passo, e costringendoli in linea.

Ci sono anche altre funzionalità integrate in Flex Passo che sfruttano i dati di nota rilevati. MIDI può essere generato da questo potente strumento e riutilizzata in altri settori.
Creare nuove note nella Traccia Audio Editor che ti permettono di creare melodie si alternano.

Radicalmente alterare formanti per dare una voce un'atmosfera estremamente strano. Artisti da ascoltare per ispirazione sono Grimes, Fever Ray, e CocoRosie. Interessante e strano.

Conclusione
Flex Pitch non è solo uno strumento per di cantanti tune. Può essere usato per cambiare notevolmente il timbro e sensazione emotiva di non solo una vocale, ma qualsiasi altro strumento che è sotto la sua influenza. Copia e incolla di diverse regioni di dati passo Flex contribuirà a creare iterazioni di melodie e motivi che girano rapidamente in territorio follemente creativo.
Il fatto che tutte queste tecniche sono estremamente intuitiva offre agli utenti una grande gamba sopra programmi come Melodyne e Auto-Tune. In questi programmi si doveva scrivere prima l'audio in tempo reale nel plug-in, in cui il contenuto rimasto, anche quando una regione nella finestra principale è stato eliminato. Non so quante volte ho finito con una vocale sul mio percussioni deriva a causa di questo. Grazie a Logic Pro Xs nuovo Flex Pitch, io non credo che sta andando ad essere più un problema.
Per saperne di più su
Logic Pro X 108 - Vocals Flettere: Time e Pitch