One of the marquee features in Logic Pro X is Flex Pitch. David Earl (aka. SFLogicNinja) dives in to showcase just how effective the pitch manipulation is and how it works.
로직 프로 X에 포함 된 멋진 새로운 기능의 모ë"  í"Œë ‰ìŠ¤ 피치는 ì‹¤ì œ 게임 ì²´ì¸ì €ìž…ë‹ˆë‹¤. 많은 기업들이 시간과 피치 조작을위한 ì œí'ˆìœ¼ë¡œ ì "에 와서, 그래서 ì• í"Œì€ 게임을 ë³€ê²½í•˜ë ¤ëŠ" 방식을 ë³¼ 수는 흥미있다. 그들은 ë°€ì '하게 ì°¾ê³  werent 경우 많은 ì'¬ê³ 를 ë†"ì¹  수 많은 세부 사항이 있습니다. Apple은 본을 만들기 위해 그들의 ì'¬ê³  모자를 ì"°ê³ , ê°•ë ¥í•˜ê³  ìœ ì—°í•œ 뭔가 와서, ê·¸ë¦¬ê³  ... 음 ... 매끄러운.

로직 프로 X의 í"Œë ‰ìŠ¤ 피치 시작
위브는 ì¡°ì •ì— 약간 보컬이있어! 이를 준비하기 위해, 우리는 í"Œë ‰ìŠ¤ 모드를 ì"¤ì •í•´ì•¼í•©ë‹ˆë‹¤ :
메인 창에 í"Œë ‰ìŠ¤ 모드 버튼을 클릭하여 í"Œë ‰ìŠ¤ 모드 켜기

근육이 수축 í•  트랙 í"Œë ‰ìŠ¤ 모드 켜기

사용 가능한 ì•Œê³ ë¦¬ì¦˜ 목록에서 피치 í"Œë ‰ìŠ¤ ì" 택
우리는 피치뿐만 아니라 시간을 망쳐 수 있기 때문에 í"Œë ‰ìŠ¤ 피치는 ì•Œê³ ë¦¬ì¦˜ì˜ 나머지에서 밖으로 분리된다. ëŒ€ì‹  우리에게 Flex와 과도 마커을주는 í"Œë ‰ìŠ¤ 피치 노트를 사용하는 것입니다. 모ë"  메인 윈도우에서 어떻게 보이는지 HERES :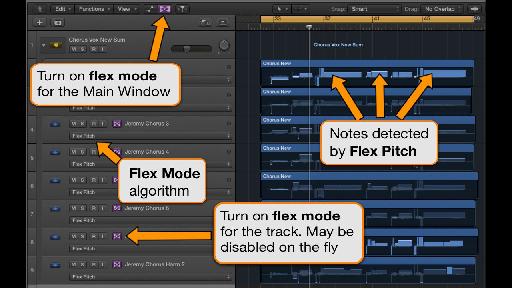 í"Œë ‰ìŠ¤ 피치 로직 X의 메인 창에서 진행하기
메인 창에서 메모로 작업
메모 í"Œë ‰ìŠ¤ 피치는 우리가 편ì§'í•˜ê³ ìží•˜ëŠ" 영역 내에서 매우 얇은 블루 라인으로 표시 발견했습니다. 메인 창에서, 우리는 우리의 오디오 영역의 피치 글로벌 변경을 í•  수 있습니다. í"Œë ‰ìŠ¤ 피치 ì •í™•í•œ 피치 검출에 아주 좋은 것입니다, 우리는 메인 창에서 모ë"  노트를 편ì§'í•˜ê³  수행 í•  수 있습니다! (만 있으면 우리가 운이 좋았다)
조율 í•  수있는 준비 창에서 지역 ë'´ 이동 및 올가미 노트를 잡습니다.

음의 음영 처리 된 영역 내부를 클릭, 클릭 한 채로 아래로 당깁니다.

변경되는 피치를 ë"£ê³  그것만 알면, ê·¸ë¦¬ê³  피치 지역 센터 부근에 올 ë•Œ, 노트는 완벽한 피치에서 ìž  가야합니다.

ë‹¹ì‹ ì˜ 일을 ë"£ê³ 있다.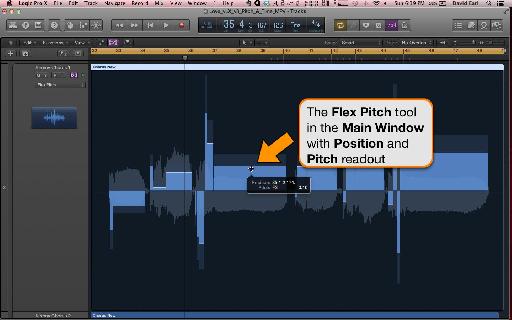 í"Œë ‰ìŠ¤ 피치 도구 ìœ ìš©í•œ 위치와 피치 판독 값을 표시합니다.
메인 창에서 í"Œë ‰ìŠ¤ 피치로, 우리는 매우 광범위 변화를 이용하실 수 있습니다. í"Œë ‰ìŠ¤ 피치 피치를 찾는 꽤 좋은, ê·¸ë¦¬ê³  êµì •ì€ ì¼ë°˜ì ìœ¼ë¡œ 꽤 좋은,하지만 작업이 ì œëŒ€ë¡œ 수행에, 우리는 오디오 트랙 편집기를 사용해야 í•  것입니다.
오디오 트랙 편집기에서 코드 피치로 작업하기
오디오 트랙 편집기 로직 프로 X에 새로운, ê·¸ë¦¬ê³  í"Œë ‰ìŠ¤ 피치의 미세 편집 í•  수있는 훌륭한 방법입니다. 오디오 트랙 편집기를 ì—´ë ¤ë©´, 단순히 근육이 수축 í•  수있는 오디오 영역의 상단에 두 번 클릭합니다.
오디오 트랙 편집기는 왼쪽에있는 속성을 ê°€ì§€ê³  있으며, 노트는 오른쪽 표에 표시됩니다. 관리자는 í•œ 번에 여러 음의 피치와 시간을 변경하는 데 ì'¬ìš©í•˜ê³ , 노트 꼼꼼하게 ê°œë³"ì ìœ¼ë¡œ 편집되는 그것의 오른쪽에있는 그리드입니다.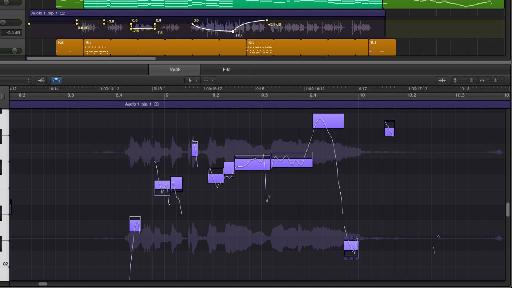 새 오디오 트랙 편집기에서 직장에서 피치 í"Œë ‰ìŠ¤.
í"Œë ‰ìŠ¤ 피치에 대한 속성을 사용하여
관리자를 ì'¬ìš©í•˜ë ¤ë©´, 편집 원하는대로 노트를 ì" íƒí•˜ê³  다음 ìž'ì—… 중 하나를 ì" 택 :
시간은 퀀 타이즈 -이 메모를 받아 그리드를 양자화, 피아노 롤 편집기에서 MIDI 노트와 ìœ ì'¬í•œ

규모 퀀 타이즈 -이 íŠ¹ì • 비율로 노트 피치 í•œì •í•©ë‹ˆë‹¤

피치 ë³´ì • - 이것은 그들의 완벽한 상태로 가까이 있도록 모ë"  피치를 ë³€ê²½í•˜ë ¤ê³ í•©ë‹ˆë‹¤. 슬라이더, 이것은도에서 í•  수 있습니다

이익 - 이것은 ì–´ë–¤ ì" 택된 노트의 게인을 ì¡°ì •í•©ë‹ˆë‹¤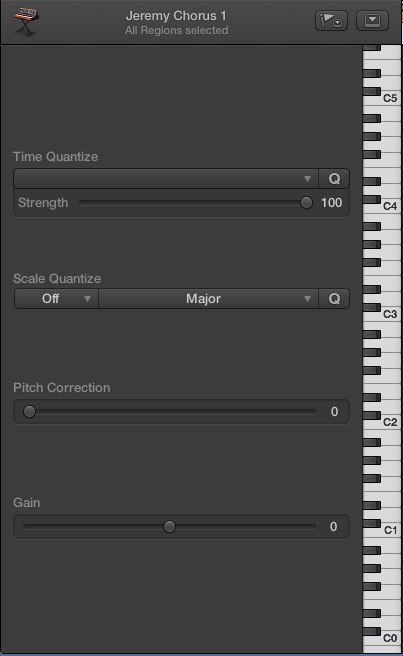 관리자는 오디오 파일의 피치를 조작하는 것이 ìœ ìš© 컨트롤을 ì œê³µí•©ë‹ˆë‹¤.
관리자는 메인 윈도우보다 더 안목이지만, 세부 작업을 위해, 그것의 지역에 들어가서 각각의 메모와 함께 작업하는 것이 좋습니다.
뜨거운 영역
관리자의 오른쪽 영역 영역에서, 우리는 메모가 있습니다. 이 노트는 그들에 6 뜨거운 영역이 있습니다. 그들은 왼쪽과 오른쪽 상단과 하단 모서리에있는, 그들은 또한 노트의 상단과 하단에 걸쳐 중간에 발견된다.
이 뜨거운 영역은 다음과 같은 기능을 수행합니다 :
인 / 아웃 드리프트 피치 - 다른 하나의 음표 피치의 슬라이딩

ë¹"ë¸Œë¼í†  - 성능 조금 불안? 우리는 ê·¸ ë¬¸ì œë¥¼ í•´ê²°í•  수 있습니다.

미세 ì¡°ì • - 센트 (반음 당 100 센트)

이익 - 증감 게인 및 파형의 변화를 볼

포르 - 만약 ë‹¹ì‹ ì´ 자연의 소리를 목소리 í•  ë•Œ 피치가 높거나 낮은. (는 비열한 미키 마우스 나 프랭크 자파 도구로 ì"¤ì •í•  수 있습니다.)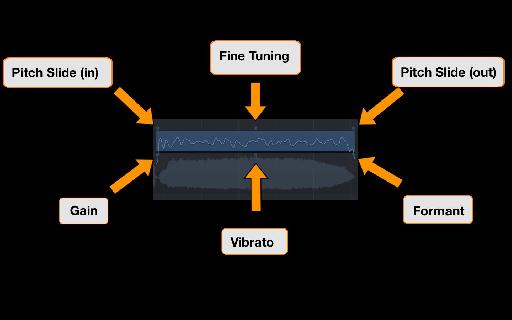 í"Œë ‰ìŠ¤ 피치를 ì'¬ìš©í•  ë•Œ 뜨거운 영역은 í•"ìˆ˜ì ì¸ 기능으로 íŽ¸ë¦¬í•˜ê³  ë¹ ë¥¸ 액세스를 ì œê³µí•©ë‹ˆë‹¤.
í"Œë ‰ìŠ¤ 피치에 대한 크리 에이 티브 용도를 찾는
그래서 우리는 í"Œë ‰ìŠ¤ 피치의 기본 해부학을 ì•Œê³ ìžˆë‹¤. ì°½ì¡°ì , 우리 게다가 보컬 무엇을 튜닝 í•  수 있습니까?
시작하기 좋은 장소는 í"Œë ‰ìŠ¤ 피치 데이터 영역을 복사 í•œ 후 백업 보컬을 만들 아래로 그들을 ì¡°ì •í•˜ê±°ë'˜í•©ë‹ˆë‹¤.
또는 모호한 - - í"Œë ‰ìŠ¤ 피치의 또 다른 좋은 ì°½ì¡°ì  인 사용이없는이 장비하는 것입니다 피치 및 줄로 그들을 ê°•ì œë¡œ.

검출 된 음표 데이터를 활용 í"Œë ‰ìŠ¤ 피치에 내장 된 다른 기능도 있습니다. MIDI는이 ê°•ë ¥í•œ 도구에서 생성 된 다른 지역에서 재사용 í•  수 있습니다.
ë‹¹ì‹ ì´ 다른 멜로디를 만들 수 있도록 오디오 트랙 편집기에서 새 노트를 만들 수 있습니다.

ê·¼ë³¸ì ìœ¼ë¡œ 보컬 매우 이상한 분위기를 ì œê³µí•˜ëŠ" 포먼트를 변경합니다. 영감을 경청하는 아티스트 그림 스, 발열 ë ˆì´ì™€ CocoRosie 수 있습니다. 재미 ìžˆê³  이상한.

ê²°ë¡ 
í"Œë ‰ìŠ¤ 피치는 단지 ì¡°ì • 가수의 ìµœì‹ ì"ìœ"í•œ 도구가 아닙니다. 그것은 크게 보컬뿐만 아니라의 음색과 감ì"±ì  느낌을 변경하는 데 ì'¬ìš©í•  수 있지만, 다른 기기는 ì˜í–¥ë ¥ 아래에 배치됩니다. 복사 및 í"Œë ‰ìŠ¤ 피치 여러 데이터 영역을 붙여 넣기 멜로디와 ì‹ ì† 굉장히 ì°½ì¡°ì  인 영역으로 스핀 모티프의 반복을 만드는 데 도움이됩니다.
이러한 모ë"  ê¸°ìˆ ì€ 매우 ì§ê´€ì ì´ë¼ëŠ" 사실은 Melodyneì"í•˜ê³  자동 ì¡°ì •ê³¼ 같은 프로그램을 통해 사용자에게 큰 다리를 ì œê³µí•©ë‹ˆë‹¤. 이 프로그램에서는 ë¨¼ì € 플러그 인에 내용이 ë¨¸ë¬¼ë €ë˜ ê³³, 메인 윈도우의 영역이 ì'­ì œ 된 경우에도에 실시간으로 오디오를 기록했다. 나는이 때문에 나의 타악기 보컬 줄기 ê²°êµ­ 몇 번 모릅니다. 로직 프로 Xê°€ 새로운 코드 피치 덕분에, ë'œ 더 이상 ë¬¸ì œê°€ ë  ê²ƒì´ë¼ê³  생각 í•´ë‹¬ë¼ê³ .
에 대한 자세한 내용을 ë³´ë ¤ë©´
로직 프로 X 108 - 구부리 보컬 : 시간과 피치