One of the marquee features in Logic Pro X is Flex Pitch. David Earl (aka. SFLogicNinja) dives in to showcase just how effective the pitch manipulation is and how it works.
De todos os grandes novos recursos incluídos no Logic Pro X, Flex passo é um verdadeiro divisor de águas. Muitas empresas vêm antes, com ofertas para o tempo e manipulação de pitch, então é interessante ver como a Apple estava indo para mudar o jogo. Há muitos detalhes que muitos podem faltar em acidente, se eles não estavam olhando de perto. Apple colocou sua cabeça para pensar em fazer isso, e veio com algo poderoso, flexível e ... bem ... escorregadio.

Iniciando Flex passo em Logic Pro X
Nós começamos alguns vocais para tune! Para prepará-los, é preciso ativar o modo Flex:
Ativar o modo Flex, clicando no botão de modo Flex na janela principal

Ativar o modo Flex nos trilhos para ser flexionado

Escolha Flex Passo da lista de algoritmos disponíveis
Flex passo é separada do resto dos algoritmos, porque nós podemos mexer com campo, bem como o tempo. Em vez de dar-nos marcadores Flex e transitórios, Flex passo será usar notas. Veja como tudo parece na janela principal: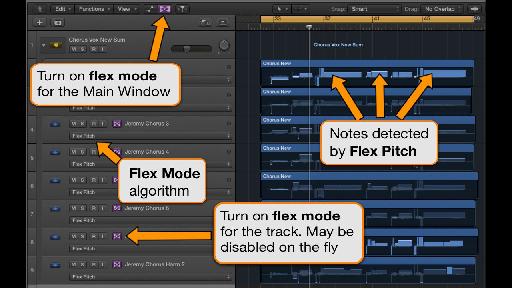 Primeiros Flex passo vai na janela principal da Lógica X.
Trabalhar com Notas na Janela Principal
A nota Flex Passo detectou mostrar-se como muito finas linhas azuis na região que deseja editar. Na Janela Principal, somos capazes de fazer as mudanças globais para o campo da nossa região de áudio. Flex passo é muito bom em detectar o tom correto, e pode ser capaz de editar todas as notas na janela principal e ser feito! (Se nós tiveram a mesma sorte)
Segure Shift e lasso as notas dentro da região na janela de organizar que devem ser ajustados.

Clique dentro da área sombreada da nota, clique e segure e puxe para baixo.

Youll ouvir o tom que está sendo alterado, e quando o tom se aproxima do centro da região, as notas devem bloquear a sua afinação perfeita.

Já a ouvir o seu trabalho.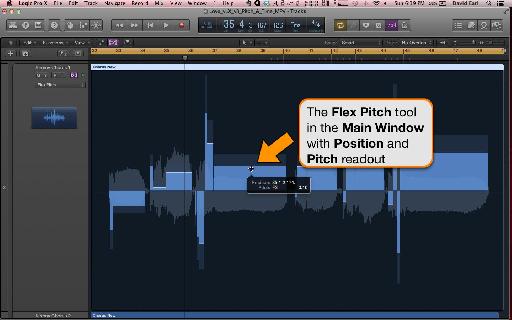 A ferramenta de Passo Flex mostra uma posição útil e leitura de campo.
Com Flex passo na janela principal, que são oferecidos mudanças muito radicais. Flex passo é muito bom em encontrar os arremessos, ea correção é geralmente muito bom, mas para começar o trabalho feito corretamente, vamos precisar usar a trilha Audio Editor.
Trabalhando com Flex passo na trilha Audio Editor
A trilha Audio Editor é novo para Logic Pro X, e é uma ótima maneira de fazer edição de multa de Flex passo. Para abrir o Track Editor de áudio, basta clicar duas vezes em cima de uma região de áudio que deve ser flexionado.
A trilha Audio Editor tem um inspetor no lado esquerdo, e as notas mostram em uma grade do lado direito. O inspetor é usado para alterar o tom eo tempo de várias notas ao mesmo tempo, ea grade à direita é onde as notas são cuidadosamente editados individualmente.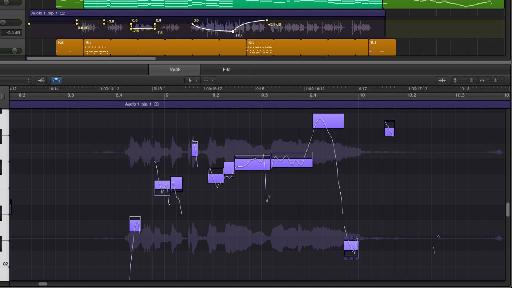 Flexione passo no trabalho na nova faixa de áudio Editor.
Usando o Inspector para Flex Passo
Para usar o inspector, basta selecionar o que notas que você deseja editar, em seguida, escolher uma das seguintes ações:
Tempo Quantize - Isso leva notas e quantifica-los para uma grade, semelhante às notas MIDI no editor Piano Roll

Escala Quantize - Isso vai limitar os arremessos nota de uma escala específica

Correção passo - Este vai tentar mudar todos os arremessos que eles estão mais perto de seu estado perfeito. Com um cursor, isso pode ser feito em graus

Gain - Isso vai ajustar o ganho de todas as notas selecionadas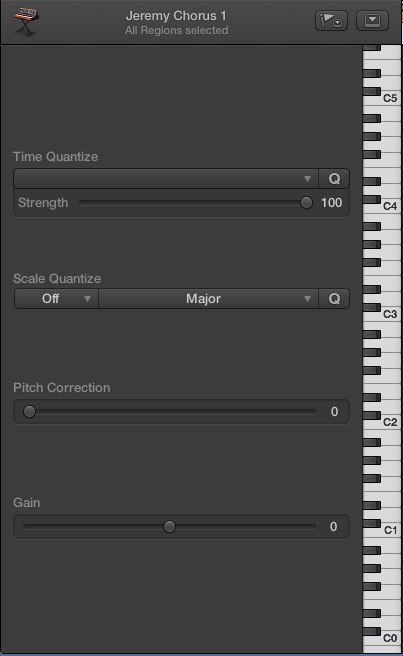 O Inspector fornece controles úteis para manipular o tom de seus arquivos de áudio.
O inspetor é mais exigente do que a janela principal, mas para o trabalho detalhado, sua aconselhados a entrar na região e trabalhar com notas individuais.
Zonas Quentes
Na área da região à direita do inspector, temos notas. Estas notas têm seis zonas quentes sobre eles. Eles estão nos cantos superiores esquerdo e direito e inferior, e que também são encontradas a meio caminho entre a parte superior e inferior da nota.
Estas zonas quentes desempenhar as seguintes funções:
Lançar deriva in / out - Para correr a partir de um campo de nota para outra

Vibrato - Performance um pouco insegura? Nós podemos consertar isso.

Sintonia Fina - Em centavos, (100 centavos de dólar por semitom)

Gain - Aumento e redução de ganho, e vê a mudança de forma de onda

Formant - Faça sua voz som natural quando maior ou menor no campo. (Também pode ser covarde virou o Mickey Mouse ou Frank Zappa ferramenta).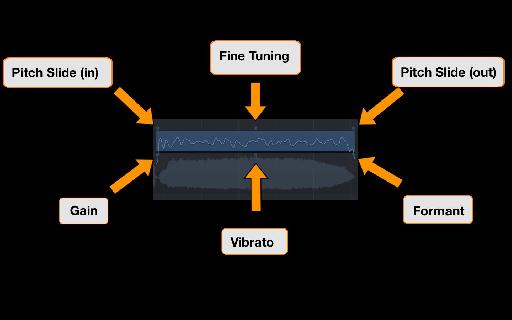 Zonas Quentes fornecer acesso conveniente e rápido às funções essenciais ao usar Flex passo.
Encontrar Creative utiliza Flex Passo
Então, nós sabemos a anatomia básica do Flex passo. Criativamente, o que podemos fazer além de ajustar os vocais?
Um bom lugar para começar é a cópia regiões com dados afinação Flex e, em seguida, ajuste-os para cima ou para baixo para criar backing vocals.
Outro bom uso criativo da Flex passo é levar os instrumentos que não têm - ou duvidoso - passo, e forçá-los na linha.

Há também outras funcionalidades incorporadas Flex passo que aproveitar os dados da nota detectados. MIDI pode ser gerado a partir desta ferramenta poderosa e reutilizada em outras áreas.
Criar novas notas na faixa editor de áudio que permitem criar melodias alternativas.

Alterar radicalmente formantes para dar um vocal um clima extremamente estranho. Artistas para ouvir a inspiração são Grimes, Fever Ray e CocoRosie. Interessante e estranho.

Conclusão
Flex passo não é apenas uma ferramenta para fora de cantores melodia. Ele pode ser usado para alterar grandemente o timbre e emocional sensação de não só um vocal, mas qualquer outro instrumento que é colocada sob a sua influência. Copiando e colando várias regiões de dados passo Flex vai ajudar a criar iterações de melodias e temas que giram rapidamente em território insanamente criativa.
O fato de que todas estas técnicas são extremamente intuitivo oferece aos usuários uma grande vantagem sobre programas como o Melodyne e Auto-Tune. Nestes programas você tinha que primeiro escrever o áudio em tempo real para o plug-in, onde o conteúdo ficou, mesmo quando uma região na janela principal foi excluída. Eu não sei quantas vezes eu acabei com um vocal no meu percussão deriva por causa disso. Graças ao Logic Pro Xs novo Flex passo, eu não acredito que vai ser mais um problema.
Para saber mais sobre
Logic Pro X 108 - Vocals Flexível: Tempo e Pitch