In Part 1 of this Quick Tutorial, we'll be looking at how to reproduce a synth sound from a recent pop hit, The Black Eyed Peas "The Time (Dirty Bit)"...
In Part 1 of this Quick Tutorial, we'll be looking at how to reproduce a synth sound from a recent pop hit, The Black Eyed Peas "The Time (Dirty Bit)": For this tutorial, we'll be using Logic's ES2 softsynth and recreating the stringy synth arpeggio sound that you hear by itself at the beginning of the song. We won't be able to reproduce it exactly, since a different synth was used for this song, but we can get quite close. Let's get started.
Watch The Black Eyed Peas "The Time (Dirty Bit)"

Schritt 1 - Einrichten der Logic-Projekt
Öffnen Sie Logic und starten mit einem neuen leeren Projekt mit einem leeren Software-Instrument-Spur: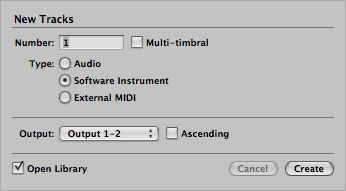 Klicken und halten Sie die Standard-EVP88 Button an der Spitze der in der I / O-Bereich des Channel-Strips und wählen Sie 01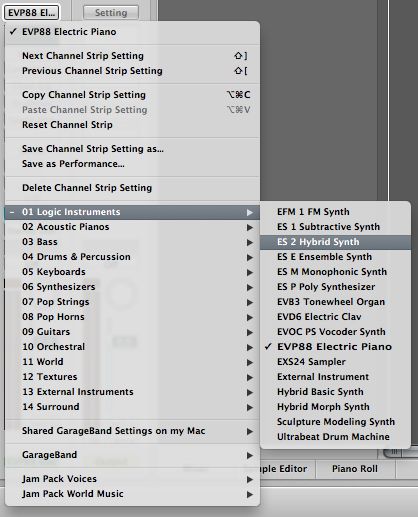 ... Um die Standard-ES 2-Fenster zu öffnen: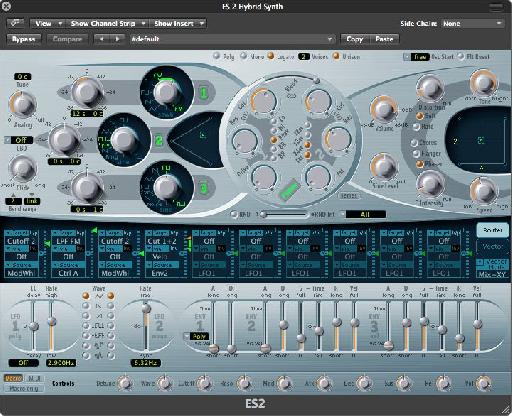 Schritt 2 - Analysieren Sie die Sound-
Nehmen Sie sich Zeit und hören Sie den Sound, der glücklicherweise vollständig in der Song-Intro ausgesetzt ist: es beginnt als eine sehr scharfe, kurze buzzy Basston in Oktaven, mit vielen hellen Obertöne. Dann verlängern sowohl die Attack-und Decay der Ton ein wenig vor dem gebrochenen Akkorden beginnen. Es ist ein wenig wie ein String Synthesizer-Sound, aber heller, und es hat einige Chorus und ein wenig von langen Nachhall dahinter. Während der erste Teil des gebrochenen Figur sind die Attack-und Decay kurz wieder, aber langsam im Verlauf des Satzes zu verlängern.
Schritt 3 - Erstellen des Sound
So, ohne weitere Umschweife, hier ist mein ES2 Patch: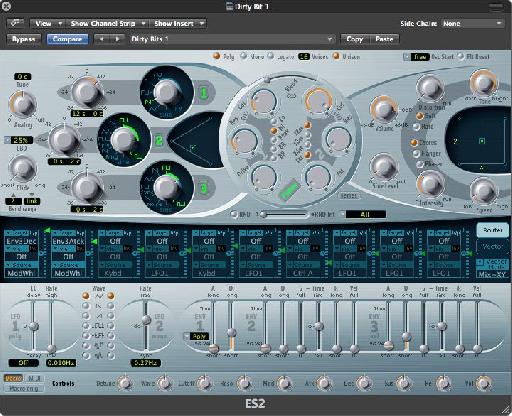 Versuchen Sie, diese Einstellungen so genau wie möglich wiederzugeben - wenn Sie das tun, sollten Sie die meisten der Weg dorthin, und ich werde bleiben die übrigen Teile erklären.
Beachten Sie zunächst, dass die ModWhl (Modulation Wheel)-Controller sowohl für den Zerfall und Angriff Envelope 3 (dies ist in den ersten beiden Slots der Router.) Zugeordnet wurde während der Wiedergabe der Eröffnung Bass-Impuls, mit dem Mod Wheel all dem Start Weg nach unten, dann nach und öffnen Sie es bis in die dritte und vierte Balken der Öffnung, etwa so:
[Audio-id = "6917"]
Beachten Sie auch, dass, weil dies eine helle, zähe Art von Sound, wir verwenden Sägezahnwellen ganz, die dazu neigen, helle String-ähnliche Summen zu haben. Der erste Oszillator liefert eine kleine Menge der oberen Oktave buzz, um den Ton, aber der Körper kommt aus der zweiten und dritten Oszillatoren, die leicht verstimmt werden, um einen leichten Chorus auf dem Spielfeld geben.
Weitere Punkte: Wir sind in Poly Unison-Modus, der uns spielen mehrere Noten auf einmal, wenn nötig können, verdoppelt aber die Notizen zu einigen Dicke hinzuzufügen. Und wir sind das Bestehen der gemischten Oszillatoren durch einen High-Pass-Filter, der einige der niedrigeren Harmonischen entfernt und betont die oberen; wir fügen ein wenig Chorus nach dem Filter, und die meisten anderen Funktionen sind deaktiviert.
Zwei besondere Werte möchte ich darauf hinweisen, wie sie wohl schwer zu lesen sind: die Attack für Envelope 3, der die Amplitude der Lautstärkeregelung ist auf knapp über Null, 0.16ms gesetzt. Dies ist so hat es einen gewissen Spielraum zu verlängern, wenn wir die Mod Wheel-Steuerelement hinzuzufügen.
Schritt 4 - Final Touches

Der letzte Schritt ist, um einen langen Nachhall hinzugefügt, wie PlatinumVerb die 'Bright Lange Verb', und setzen Sie den Wet Mix recht gering: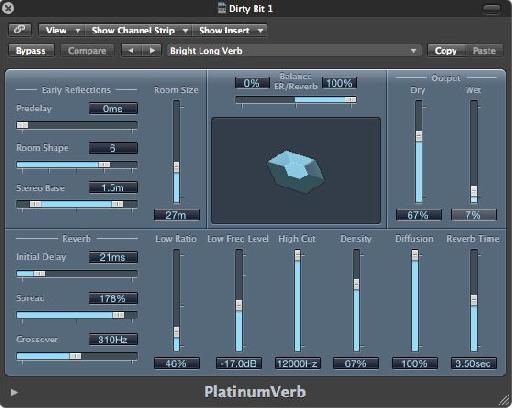 Und das sind die Grundlagen. Wie immer, sollten Sie mit diesen Einstellungen zu experimentieren. Aber vor allem, Spaß zu haben!
Willst du tiefer in Sound Design mit Logic ES2? Check out SteveH ist Logic 206 - ES2 Exposed .