In Part 1 of this Quick Tutorial, we'll be looking at how to reproduce a synth sound from a recent pop hit, The Black Eyed Peas "The Time (Dirty Bit)"...
In Part 1 of this Quick Tutorial, we'll be looking at how to reproduce a synth sound from a recent pop hit, The Black Eyed Peas "The Time (Dirty Bit)": For this tutorial, we'll be using Logic's ES2 softsynth and recreating the stringy synth arpeggio sound that you hear by itself at the beginning of the song. We won't be able to reproduce it exactly, since a different synth was used for this song, but we can get quite close. Let's get started.
Regarder The Black Eyed Peas "The Time (Dirty Bit)"

Étape 1 - Configurez le projet Logic
Logique Open, et de commencer avec un nouveau projet vide contenant une piste vide d'instruments logiciels: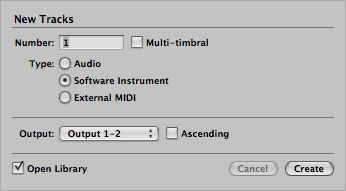 Cliquez et maintenez le bouton par défaut EVP88 au sommet de la section I / O de la voie et choisir 01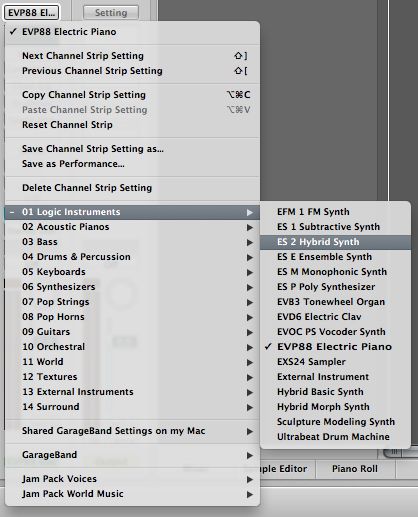 ... Pour ouvrir la fenêtre de 2 ES par défaut: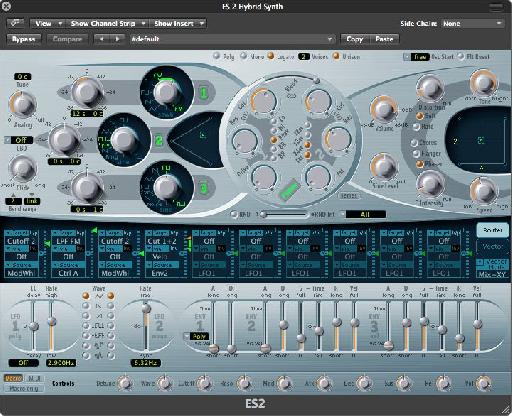 Etape 2 - Analyser le Sound
Prenez un moment pour écouter le son, qui est heureusement parfaitement exposé dans l'intro de la chanson: il commence comme une très forte, le ton court buzzy basse en octaves, avec beaucoup de brillantes harmoniques supérieures. Puis, à la fois l'attaque et la décomposition de la tonalité de rallonger un peu avant le démarrage des accords arpégés. C'est un peu comme un son de synthé chaîne, mais brillant, et il a quelques chorus et un peu de reverb loin derrière elle. Pendant la première partie de la figure de l'arpège, l'attaque et la décadence sont courtes encore, mais lentement s'allongent au cours de la phrase.
Étape 3 - créer le son
Alors, sans plus tarder, voici mon patch ES2: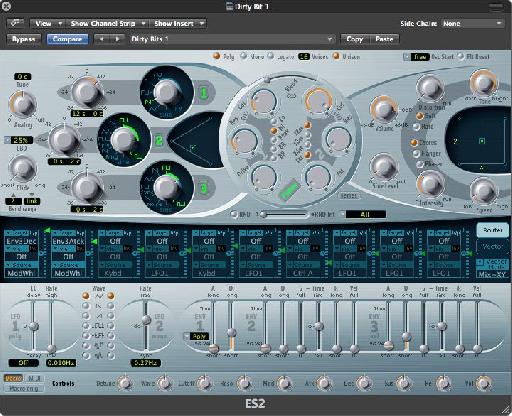 Essayez de reproduire ces paramètres aussi étroitement que vous pouvez - si vous le faites, vous devriez être la plupart du temps, et je vais vous expliquer les parties restantes.
Premièrement, notez que le ModWhl (molette de modulation) contrôleur a été cartographié à la fois à la désintégration et l'attaque de l'enveloppe de trois (ce qui est dans les deux premiers emplacements du routeur.) Pendant la lecture du pouls basse ouverture, commencer avec votre molette de modulation de tous les en bas, puis progressivement l'ouvrir dans les bars des troisième et quatrième de l'ouverture, comme ceci:
[Audio id = "6917"]
A noter également que, parce que cela est un brillant, sorte filandreuse du son, nous sommes en dents de scie tout au long grâce à des ondes, qui ont tendance à avoir brillants comme des cordes de buzz. Le premier oscillateur fournit une petite quantité de haut-octave buzz pour le son, mais le corps vient de la oscillateurs deuxième et troisième, qui sont légèrement désaccordées pour donner une légère chorus à la hauteur.
Autres points: Nous sommes en Poly mode unisson, ce qui nous permet de jouer plusieurs notes à la fois si nécessaire, mais se dédouble les notes d'ajouter un peu d'épaisseur. Et nous sommes de passage, les oscillateurs mixtes à travers un filtre passe-haut, ce qui élimine certains des harmoniques inférieurs et insiste sur la partie supérieure, nous ajoutons un peu de chorus, après l'étape de filtrage, et la plupart des autres fonctions sont désactivées.
Deux valeurs particulières, je tiens à souligner, car ils sont sans doute difficiles à lire: l'attaque des enveloppes 3, qui contrôle l'amplitude de notre son, est fixé juste au-dessus de zéro, 0.16ms. Il en est ainsi il a une certaine marge d'allonger quand nous ajoutons la commande Mod Wheel.
Étape 4 - Touches finales

L'étape finale consiste à ajouter une réverbération longue, comme PlatinumVerb du verbe longue Bright, et définir sa Wet Mix assez faible: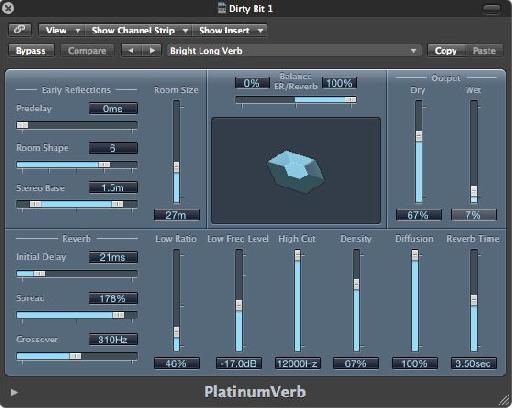 Et ceux qui sont les bases. Comme toujours, vous devriez expérimenter avec ces paramètres. Mais surtout, amusez-vous!
Vous voulez obtenir plus profondément dans la conception sonore avec ES2 de Logic? Vérifiez SteveH de Logic 206 - ES2 Exposed .