Have you ever struggled to set up effects like vocoding or side-chain compression or wanted to set up a headphone mix for a singer in Logic Pro X? Peter Schwartz explains how in his new video course.
Você já lutou tentando criar efeitos como vocoding ou cadeia lateral de compressão (para que nunca se cansa-som bombeamento synth)? Ou você já quis criar uma mistura de fone de ouvido para um cantor ou outro artista em seu estúdio, mas não teve a primeira idéia de como ir sobre ele?

Aqui estão algumas perguntas mais aparentemente não relacionados Você já colocou uma faixa de áudio para gravar, apenas para descobrir que outra faixa saiu de registro? E o que dizer de latência - você já se perguntou por que o menu de tamanho do buffer não oferece um valor de zero?
Na superfície, nenhum destes cenários parecem ter nada em comum. Mas, na verdade eles fazem, porque cada um deles pode ser abordada, explicou, ou resolvido através da aplicação dos princípios surpreendentemente simples de fluxo de sinal, o tema do meu último curso macProVideo tutorial .
Ligando os pontos
Fluxo do sinal é toda sobre a compreensão da maneira que os sinais de áudio viajar do ponto A ao ponto B dentro de misturador Lógica, e as opções criativas que se tornam disponíveis, como resultado. Às vezes, esses resultados serão surpreendentes e inspiradores, como o envio de sinais para efeitos apenas nos caminhos retos para adicionar nova dimensão a uma faixa. Outras vezes, as práticas básicas de fluxo de sinal são usados ​​para fornecer um músico com uma grande mistura de fone de ouvido som. Embora o primeiro exemplo pode ter muito mais apelo, ambos são igualmente importantes quando se trata de gravação. Por outro lado, ambas as situações pode acabar em frustração se você não sabe como realizá-los.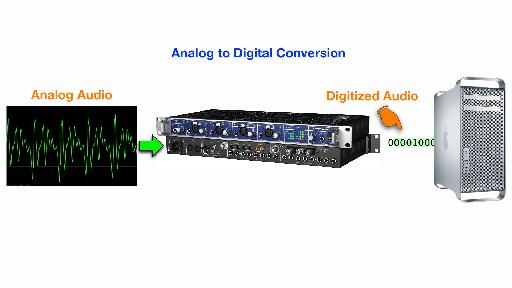 Em estúdios de gravação comercial, todos os cenários Ive mencionado são geralmente da responsabilidade de uma gravação ou misturar engenheiro, o aspecto de engenharia de seu cargo tem muito a ver com a compreensão da forma como os sinais de áudio podem ser feitas a fluir entre os canais e os efeitos em um mixer. Mas, se você está trabalhando sozinho em um DAW e sem o benefício de pessoal para ajudá-lo a criar a sua música, você também tem que assumir esse papel. Tornando-se um engenheiro de classe mundial é uma coisa, mas você pode aprender as noções básicas de fluxo de sinal muito rapidamente, porque eles são apenas não tão complicado, e aqui está um exemplo ...
A Regra de Ouro de fluxo de sinal
No campo da produção musical, onde raramente há apenas uma maneira de fazer qualquer coisa, você vai ficar feliz em saber que theres pelo menos uma regra que você pode confiar: os sinais de áudio sempre fluir de saídas de insumos. Simples quanto parece e tão verdadeira como é, muitas pessoas novas para a gravação obtê-lo para trás. Enquanto você pode facilmente rastrear um sinal de áudio a partir de sua origem até o seu destino, na tentativa de fazê-lo o contrário geralmente só causa confusão. Então, como você pode imaginar, um dos tutoriais no curso ilustra esse ponto-chave.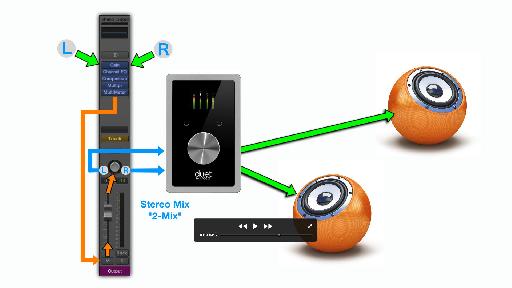 Sinal de saída diagrama de fluxo do curso de vídeo Pro X Fluxo de sinal lógico.
Getting Out of Trouble
Outra razão importante para aprender sobre os conceitos de fluxo de sinal é para que você possa resolver situações em que o áudio não está fluindo para onde você precisa ir! Id estimativa de que 10% - 15% do tempo que você trabalhar em um projeto será gasto solucionando problemas técnicos. Assim, ter conceitos básicos de fluxo de sinal sob o seu chapéu pode impedir que sua criatividade seja interrompido mortos em suas faixas.
Ficando com fios e Plugged In
Você fica ligado em Logic não tanto por bater Starbucks (mais uma vez) antes de se sentar para fazer mais overdubs, mas aprendendo o básico do fluxo de sinal. No entanto, os sinais de roteamento daqui para lá, nem sempre é um meio para um fim. Muitas vezes, os efeitos você vai querer atingir, como vocoding, também exigem uma compreensão de como certos plugins funcionam. Então, para oferecer uma visão mais completa, Fluxo de sinal em Logic Pro inclui cursos intensivos sobre como empregar três dos plugins mais populares usados ​​para criar efeitos especiais: Noise Gates, compressores, e EVOC-20 vocoder.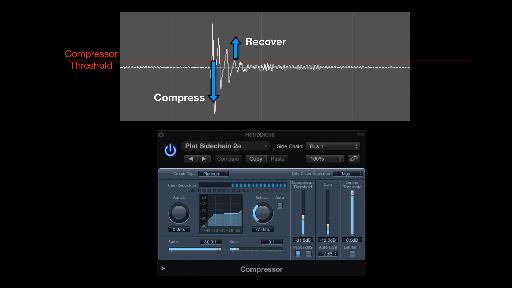 O curso de vídeo Pro X Fluxo de sinal lógico também ensina sobre a compressão entre uma infinidade de outras dicas criativas para usar fluxo de sinal.
Para uma visão completa dos tópicos que abordo no fluxo de sinal em Logic Pro, por favor dê uma olhada na tabela de conteúdos . Sua minha esperança de que há um pouco de alguma coisa lá para todos, se o seu para saber o que diabos um post fader send é, como MIDI flui em Logic, ou por seu valor de latência não pode ser ajustado para zero.