Getting to grips with some of the new features in Lion can take a little getting used to, but can also be changed to suit your needs. Richard Lainhart shares some more of his essential OS X Lion Tips.
For those of you who've upgraded to Mac OS X 10.7 (code-named Lion) or are thinking about it, here's a miscellany of Lion Quick Tips to help you get comfortable with the many changes in the new OS.

1. Use Classic Layout in Mail
After using Apple Mail for years, I really can't stand the new three-column view in Lion's version of Mail. If you're like me and want to get back to the configuration you've gotten used to, just choose Mail > Preferences, then click the Viewing tab and check Use classic layout to restore Mail's original setup.
2. Customize Desktops in Mission Control
I've covered Lion's new Mission Control feature in another HUB article, but here's one tip I didn't mention: since you can't rename your Mission Control virtual desktops (by default they're just called Desktop, Desktop 2, and so on), it can be hard to tell which is which in the Mission Control window. You can, however, assign individual desktop images to each virtual desktop. These desktop images will persist through reboots (as long as you don't delete the virtual desktop itself) and can make it much easier to tell them apart.
To do this, open your System Preferences in your current Desktop and select the Desktop & Screen Saver Preference pane. As you know, you can select and apply any desktop image you like here, including custom images from your own Pictures folder and elsewhere. Next—leaving the Desktop & Screen Saver pane open—launch Mission Control; you'll see the preference pane in your current virtual desktop's window. Drag the Desktop & Screen Saver Preference pane into one of your other virtual desktops (or, make a new one by clicking in the upper right corner of the Mission Control window). Then, click the second virtual desktop to open it, and choose a new desktop picture. It will appear only in that desktop.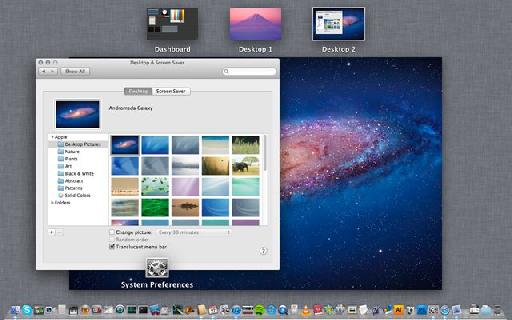 3. Scroll the Scroll Bars, Not the Content
Seeing as many of the new features in Lion are based on iOS standards, it makes some sense that when you're using a trackpad or other multi-touch device, dragging down with two fingers on the device drags the contents of a window down, as it does on the iPhone or iPad. This is what Lion calls Natural Scrolling. But that makes a lot less sense if you use a trackball or mouse with a scroll wheel, and you're used to scrolling the wheel up to move the window's scroll bars—and the content—up.
By default in Lion, this behavior is reversed (as a long-time trackball user, that drove me crazy at first), but you can get it back easily enough. To do so, launch System Preferences and open the Mouse Preference pane. Then, uncheck Move content in the direction of finger movement when scrolling or navigating.

When you do, scrolling your wheel will move the window's scroll bars in the expected direction. Note that this tip works with many non-Apple mice and trackballs, too.
Also note that changing this option will make your multi-touch device behave the same way as well. If you'd like to have the best of both worlds, check out Pilotmoon Software's free Scroll Reverser for Lion, which lets you keep Natural Scrolling for multi-touch devices but configure scroll-wheel devices to work the pre-Lion way.
4. Show the User Library Folder
In Lion, the User Library folder (the one in your User folder, not the system-level one) is hidden from view, no doubt to keep new users from messing it up. But for many of us, including many MPV members, access to the User Library folder is essential. Many third-party audio plugins, for example, get installed there by default, and sometimes you need to move or delete them or their prefs or presets. Our final tip will show you how to open it and easily locate it for future use.
To do this open the Go menu in the Finder. With Option held down, the User Library folder will be visible in the Go menu (which it normally isn't), and you can simply select it to open it. Once you've opened it, just drag the Library folder icon from its window's Title bar to the right-hand side of your Dock (next to the Documents and Download folder icons) where it will be readily accessible for future use.
I hope you've found these tips useful. If you have, look for more Lion Quick Tips on The Hub, coming soon to a screen near you.