Almost every major music single release gets the remix treatment. In Part 2 of this "How to Remix" series, Mo Volans takes you through how to tempo match and select the parts to remix.
In this series of tutorials we are going to be taking you through the step-by-step process of creating a real remix. I have been remixing for many years and I'll try to share with you some of the techniques I have used in my studio work.

You can find Part 1 of this MPV Hub Remixing series here.
This tutorial looks at how to go about selecting the parts we want to use and getting them perfectly in time. By the end of this step-by-step guide we'll be left with the bare bones of our remix at the tempo we want to work at...
Step 1 - Assessing the Situation
The first thing to do at every stage of your mix is to sit back and work out where you are and what needs to be done. If you keep your workflow tight the whole project should flow nicely without any major problems.
In the last tutorial we imported all our parts into Logic, checked them and got a rough relative mix going, just so we could hear all the parts on offer. Our next job is to start organizing the parts, deciding what we want to use and getting everything playing back at a BPM we are happy with. Let's go...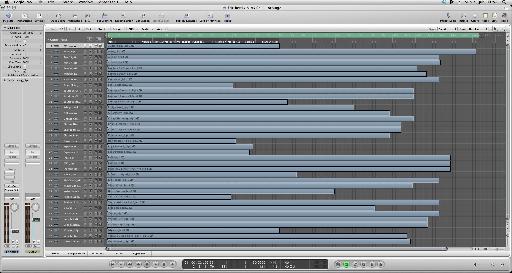 The project as it was at the end of the last stage.
Step 2 - Organization is Key
First up, a bit of organization is needed. Granted this is not exactly rock and roll but it's an important part of any complex project. The more parts and tracks being used, the more sorting and organization will be needed.
As this is a vocal project and I intend to use pretty much all the vocals I started by separating the vocal parts from everything else. I moved them all adjacent to one another and then fed them through their own subgroup. I even colored them all a very pretty pink!

The vocals are moved together and color-coded.
These few simple moves allow me to not only quickly identify the key vocal parts but also isolate them from the rest of the mix by hitting solo on the new vocal group. This means I can get a solid vocal mix and get a clearer idea of how the vocals interact with each other.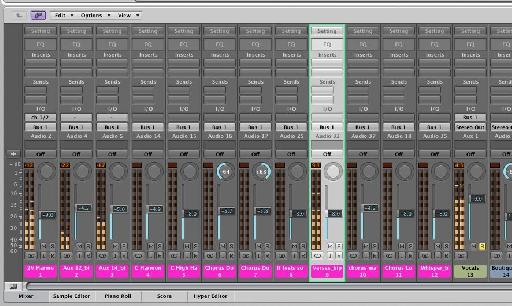 The vocals are then grouped and isolated using the solo function.
Having this initial group also meant that I was able to quickly mute the vocals in order to inspect the rest of the parts. This is what we'll look at next...
The vocal mix in isolation:
Step 3 - Removing Unwanted Audio
I'd already decided I would include as many of the vocals as possible in my remix but what about the rest of the audio? What should be used and what should be binned? Well this will differ hugely from one remix to another and will very much depend on the type of remix you want to create.
Personally I like to create my own drum and bass parts from scratch, so these were the first parts from the original mix to go. At this point I colored anything I wasn't going to use red. I also muted these tracks, activated Logic's Hide function (the large '˜H' in the top left of the main arrange window) and readied these rejected parts to be hidden from view.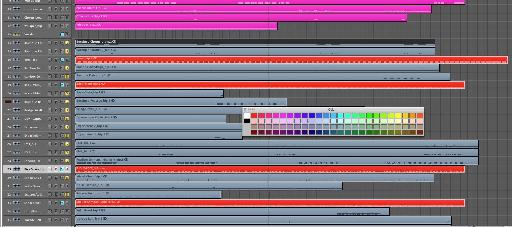 The audio to be put aside is marked.
This approach is much less destructive than actually deleting parts you don't need and means that you can easily re-activate them at a later stage if needed. This can be useful for reference or simply if you change your mind about a part.
A section of the chosen audio plays back:

Step 4 - Time Stretching Individual Parts
Next up you'll want to start thinking about the BPM you want to work at. The original project I was given ran at 130 bpm. This was a little quick for the house style I wanted to create and I felt I wanted to move down at least 4 or 5 BPM.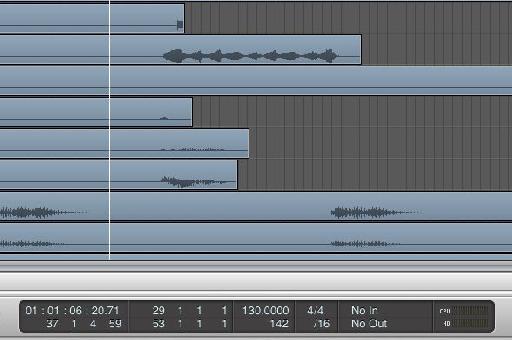 The original project was at 130 bpm.
In this case I would need to change the tempo of a pretty large number of files and I'll show you what I actually did in the next step. But let's look at a nice simple solution for those of you working with less complex projects with lower track counts.
Let's say you have a simple remix project with three or four parts to work with, you can simply change the tempo of your project and individually time stretch your parts. This will change the '˜speed' of your audio without affecting the pitch.
The exact method for doing this differs from one DAW to another but in Logic you actually have a few options. If you like to tweak every aspect of your processing then head for the more traditional '˜Time and Pitch Machine' in Logic's sample editor. This little tool will allow you to enter the existing and target BPM of your audio and output a file that (hopefully) fits perfectly into your new project.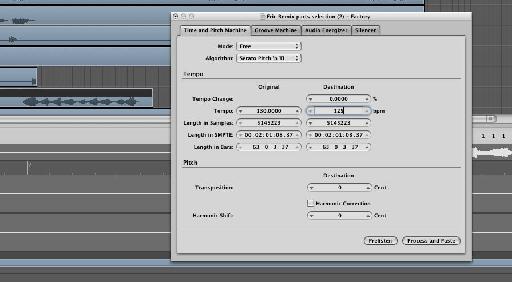 Logic's Time and Pitch Machine.
If you prefer something a little more direct then you can always use the inline time stretching feature. Hold down '˜Option' when adjusting the length of an audio region and you should see the icon change to a little waveform. Stretch out your audio and hey presto, it's been time-stretched! Nice and easy.
Cubase, Record, Pro Tools and Ableton all have excellent time stretching capabilities, so changing the BPM of your individual parts in this way may be slightly different but should be well within the grasp of your respective DAW.
Step 5 - Global Tempo Changes
As I knew the tempo of my original files (130 bpm) and I had a large amount of audio I decided to use Logic's excellent '˜Varispeed' feature. Essentially this is a global time stretching tool that allows you to change the tempo or pitch of your project in real time. For a remixer this is about as good as it gets.
To activate the Varispeed function first you'll have to ensure that its controls are present in the transport bar. To do this right-click anywhere in the transport section and and hit 'Customize'. This will bring up a list of options, now make sure that '˜Varispeed' is enabled.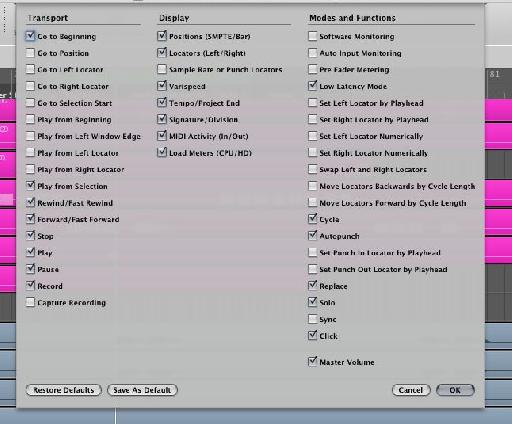 Ensuring the Varispeed functions can be seen in the transport bar.
With your Varispeed controls up you can now enter your new required BPM. To do this make sure the Varispeed settings are '˜Speed only' and '˜Resulting Tempo'. Other settings will alter the pitch of your audio and we don't want that.

Getting the correct Varispeed settings is important.
Your entire project should now be at your required tempo and only be playing back the parts you want to use for your remix. In the next tutorial we'll take a look at adding our own musical elements, beats and effects to truly make the mix our own.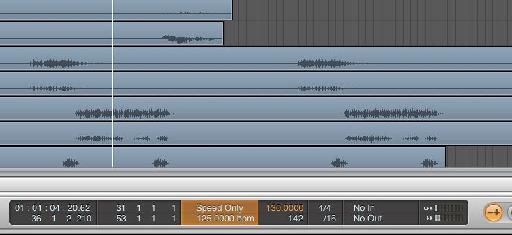 Our project is now at the correct tempo.
All the audio playing back at the slower speed:
The song used for this remix series was kindly provided by Church Williams. Please support him by visiting his site.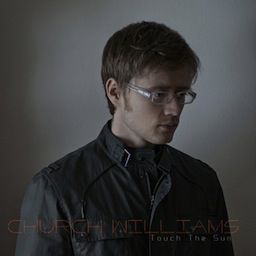 Church Williams - Touch The Sun
Interested in learning more about how to remix? Check out Olav Basoski's Remixing in Live Tutorial-Video series.

Continue reading: