Arranging your jazz horns is equal parts art and science. Learn about how the masters did it with this quick tutorial.
Here is one of the the most commonly used voicings in arranging jazz harmony for horns, popularized by Duke Ellington, Count Basie, and even groups like Tower of Power and the Brecker Brothers among countless others. It is based around parallel movement of four voices with tight intervals, and works well for simple flowing melodies, alternating with more spread out voicing for power hits.
In Audio Example 1, you can hear this simple melody that could be the lead line in a saxophone section. Let's say for example two alto saxes and two tenor saxes.
In picture 1 you see what Logic Pro X thinks has to be notated, but the figure actually is really what you see in the second picture, and is conventionally written as straight eights with a swing symbol or direction, like you see in picture 3.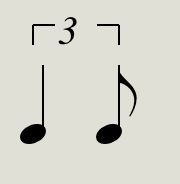 Picture 2
Let's add a second parallel moving voice, so that you have what you see in picture 4.
And now I add a third parallel moving voice, starting with an A, as I want to begin with a C6 chord as you can see in picture 5 and hear in audio example 2.
Well, that is sure not sounding very good, is it? Clearly, strictly parallel movement is not going to work. We have to know what we want the chords to sound like.
So I enter my chords (or just jot them down on a piece of paper) so I know exactly what I am trying to arrange, tweak the third voice so that the notes confirm to the chords, and we have now what you see in picture 6.
I now fill in the chords with the appropriate lower voice note choices, add some root notes, presumably played by a baritone sax, and you can see in picture 7 and hear in Audio Example 3 a nice 4 way close part.
The late great jazz pianist George Shearing was known to imitate jazz horn writing in his piano playing with 4 way close voicings. And what he would frequently do is double the top voice an octave lower while leaving it to the bass player to play the root notes, as you see in picture 8 and hear in Audio Example 4.
A variation of 4 way close voicing that is frequently used is called Drop 2. This is an arranging technique where you drop the second voice an octave lower. See it in picture 9 and hear it in Audio Example 5.
Now when you listen to classic jazz recordings, I think it will be obvious to you how often these are used and you can begin to work with these techniques.