In conjunction with AskAudio Magazine, we're thrilled to be offering two lucky readers the chance to win a copy of Rob Papen's eXplorer II bundle! Simply comment to have a chance to win!
Rob Papen is a legend amongst professional musicians, producers and synthesists... And you'll find his sonic creations being used in so many digital studios worldwide for good reason: Rob Papen software simply sounds great.
So, we're thrilled to be offering two lucky readers the chance to win a copy of Rob Papen's complete bundle: eXplorer II!
Learn all about Rob's story and the concept and application of his popular plug-ins in his interview in AskAudio Mag Issue 2 (available on iOS App Store).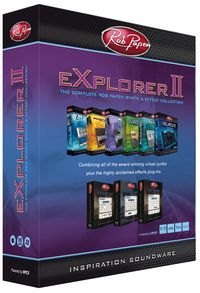 기쁨의 번들 : 롭 파펜 탐험가 II.
내부 무엇입니까
This eXplorer II bundle holds all 9 RP products:
ë¸"ë ˆì´ë"œ : 오늘의 ì‹ ë""ì'¬ì´ì €ì˜ 최첨단!

펀치 : 스피커 파열과 ì‹ ì²´ 덜거덕 거리는 드럼 ë¨¸ì‹ .

BLUE : Crossfusion 합성. FM, 위상 왜곡, 파 shapping
SubBoomBass : 스텝 시퀀서가 내장 된 매우 깊은 í™ˆë² ì´ìŠ¤ ì‹ ë""ì'¬ì´ì €.

í""ë ˆë°í"° : 킬러 ì'¬ì "ê³¼ 일류의 기능과 팻 ì•"ë' 로그 ì‹ ë""ì'¬ì´ì €.

PredatorFX : 필터, 변조, 보코더 효과 플러그인합니다.

RG : ì "기
RP-지연 : 지연 광기. 리버, 6 ì" , 8 í•"í"°, 4 개의 LFO
RP-동사 : 쉬운 컨트롤, ê³ ê¸‰ íˆ¬ëª…í•˜ê³  음악 ì•Œê³ ë¦¬ì¦˜ 리버브.

RP-왜곡 : ë‹¹ì‹ ì˜ í"ì ì" 왜곡하거나 변경합니다 사악한 FX 단위입니다.

어떻게 ìž…ë ¥ í•  수 ...
To be in with a chance of winning one of the Rob Papen eXplorer II bundles (worth $700 each), simply log-in (or sign-up for free) on this page and post a comment telling us which of Rob's plug-ins you're most excited to use and why.
Simple! Winners will be announced after the closing date of 31st August 2013. Good luck!
Terms & Conditions
1. All entries must be received by the closing date (August 31st, 2013). No purchase necessary.
2. Winners will be selected at random by a member of the AskAudio Editorial team. The judges decision is final.
3. Two prize winners will receive one Rob Papen eXplorer II bundle (via download) each. No cash alternatives can be offered for prize winners.
4. All trademarks and logos are protected and used by permission of the relevant holders.
5. Where prizes are offered on behalf of an associated company, these prizes are provided in their entirety by these associated companies.
6. All entrants to this contest will be deemed to have accepted the rules and terms and conditions.
Find out more about Rob's explored II bundle here: