Native Instruments have released a very cool new video of the S8 today featuring DJ Shiftee doing a one-take live performance. Oh, it's pretty awesome.
Sehen Sie sich diese Plattenspieler Routine von DJ Shiftee, der wird mit S8 als DVS-Mischer für 2x Turntables. Er verwendet auch eine Menge von Funktionen, die auf der S8, dh Freeze-Mode, Remix Decks Kontrolle der Bildschirme usw. ist
Es geht nur um zu zeigen, dass der S8 ist nicht nur für die Techno / House Jungs, und wie Sie unten Shiftee hat eine wirklich gute Arbeit die Schaffung eines großen Routine, vor allem angesichts NI sperrte ihn in ihren Keller und verließ ihn, seine eigene sehen können Geräte. Zugegeben, ich kann viel schlimmere Orte denken weg gesperrt werden !!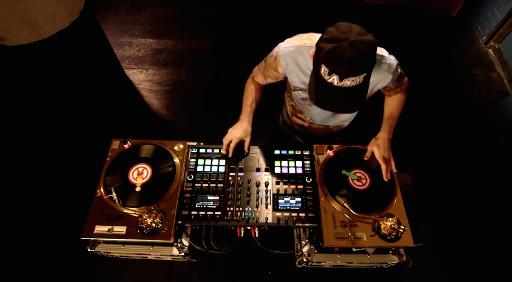 DJ Shiftee mit dem Traktor Kontrol S8 als DVS-Mixer für 2 Plattenspieler.
Das Set verfügt über ein Lido Remix von Alt-J Left Hand Freie (siehe unser Interview mit Charlie Andrew, Alt-J Hersteller hier), aber auch die neueste Version auf von A-Trak Fools Gold Impressum. Unten ist die vollständige Titelliste.
Alt-J - Left Hand Free (Lido Remix)

Low Pros - Who Wanna Play (. Feat Que)

DJ Shiftee - Uh Yo Und auch Yo

Info über Native Instruments Traktor S8 .