The most comprehensive orchestral collection on the market from EASTWEST now includes Hollywood Orchestral Strings, Brass, Woodwinds, and Percussion.
Hollywood, CA (23. Oktober 2014) - Mit der jüngsten Version von Hollywood Orchestral Percussion, EASTWEST bietet nun die meisten detaillierte und umfassende Orchester virtuelles Instrument Kollektion auf den Markt: Hollywood Orchestra. Flaggschiff-Produkt des Unternehmens umfasst Hollywood Strings, Hollywood Brass, Hollywood Orchestral Woodwinds und Hollywood Orchestral Percussion, alles vom preisgekrönten Team von Doug Rogers, Nick Phoenix, Thomas Bergersen, und Ingenieur Shawn Murphy umfasste produziert.

Hollywood Orchestra "Das ist unsere Arbeit in der Liebe - wir haben über einen Zeitraum von fünf Jahren gearbeitet, wie wir jedem der Abschnitte abgeschlossen", sagt Doug Rogers. "Wir sind stolz darauf, bieten jetzt eine komplette professionelle Orchester, das in der Lage, alle Anforderungen Komponisten haben könnte zu erfüllen. Es ist eine wahre EASTWEST Meilenstein."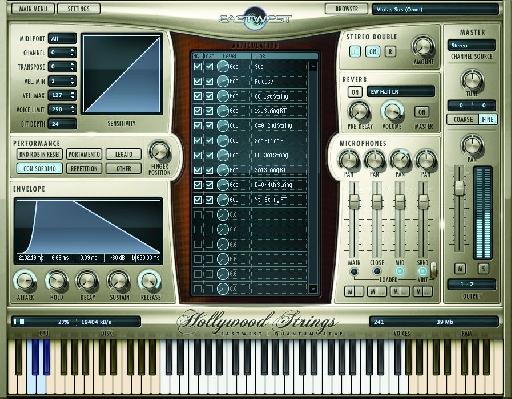 EASTWEST Hollywood Orchestra Screenshot.
Jeder einzelne Abschnitt Hollywood Orchestra wurde bereits mehrfach von der internationalen Presse für seine beispiellose Detail, überlegene True Legato, Klangqualität und Klangregelung mit fünf Benutzer steuerbare Mikrofonpositionen, einschließlich der wichtigsten Abnehmer (Decca Baum), Mitte Pickup, in der Nähe Pickup empfangen , Surround-Pickup und eine alternative Jahrgang circa 1945 RCA Band Raum Pickup.

Produzent Mark Linthicum sagt: "Ich liebe den Realismus dieser Hollywood Instrumente Zum ersten Mal kann ich für einen großen bombastischen Hollywood Töne oder einen intimen Klang mit den Mikrofon-Optionen enthalten gehen Es gibt wirklich nichts anderes, die dies tun können Es ist eine... Spiel-Wechsler! "

Wahrlich, der Heilige Gral für ernsthafte Film, Fernsehen, Video-Spiel, und Komponisten, ist Hollywood Orchestra der Höhepunkt von mehr als fünf Jahren der Aufzeichnung in der berühmten EASTWEST Studio 1, der Heimat der großen Hollywood-Soundtracks und Fernsehthema. Es umfasst PLAY 4 32-Bit / 64-Bit-Software, leistungsstarke Scripting für Benutzerfreundlichkeit und mehr Benutzerkontrolle als jede andere virtuelle Instrumente.
Für weitere Informationen, besuchen Sie bitte
Systemanforderungen: 680GB freier Festplattenspeicher, iLok Sicherheitsschlüssel (nicht mitgeliefert)
Pricing
Gold und Silber-Versionen heruntergeladen werden, Diamant wird auf einer Festplatte aufgrund der Größe der Sammlung zugeführt. Zu kaufen und für weitere Informationen, besuchen Sie bitte www.soundsonline.com/hollywood-orchestra
Diamond Edition: UVP 2.996 $, Einführungspreis 1.495 $

Gold Edition: UVP 1.996 $, Einführungspreis $ 995

Silver Edition: UVP 996 $, Einführungspreis $ 495 (in Kürze)