The most comprehensive orchestral collection on the market from EASTWEST now includes Hollywood Orchestral Strings, Brass, Woodwinds, and Percussion.
Hollywood, CA (23 de octubre de 2014) - Con el reciente lanzamiento de Hollywood Orquestal Percusión, EASTWEST ahora ofrece la colección de instrumentos virtuales orquestal más detallada y completa del mercado: Orquesta Hollywood. El producto insignia de la compañía incluye Hollywood Strings, Hollywood Brass, Hollywood Orchestral instrumentos de viento, percusión y orquesta de Hollywood, todos producidos por el equipo galardonado compuesto por Doug Rogers, Nick Phoenix, Thomas Bergersen, y el ingeniero Shawn Murphy.

Hollywood Orquesta "Este ha sido nuestro trabajo de amor - que hemos trabajado durante un período de cinco años a medida que completamos cada una de las secciones," dice Doug Rogers. "Estamos orgullosos de ofrecer ahora una orquesta profesional completa que es capaz de satisfacer cualquier demanda compositores puedan tener. Es un verdadero hito EASTWEST."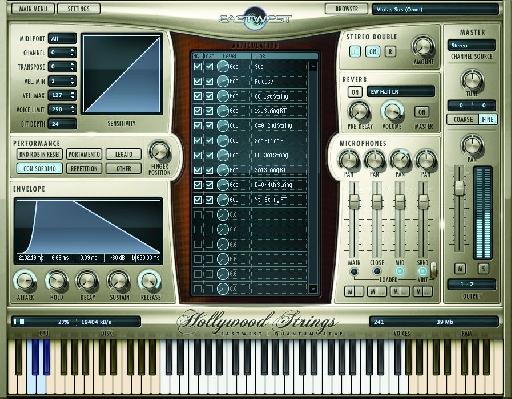 EASTWEST Orquesta Hollywood captura de pantalla.
Cada sección individual de la Orquesta Hollywood ha recibido múltiples premios por parte de la prensa internacional por su detalle sin precedentes, verdadero legato superior, calidad de sonido, y el control de sonido con cinco posiciones de micrófono controlables por el usuario, incluyendo recogida principal (árbol Decca), a mediados de recogida, cerca de captación , recogida de sonido envolvente, y una cosecha alternativa alrededor de 1945 RCA camioneta habitación cinta.

El productor Mark Linthicum dice: "Me encanta el realismo de estos instrumentos de Hollywood Por primera vez puedo ir a dar un sonido de Hollywood grandilocuente grande, o un sonido íntimo con las opciones de micrófono incluidos Realmente no hay nada más que pueda hacer esto es un... juego de cambiador! "

Verdaderamente el Santo Grial para el cine serio, la televisión, los videojuegos, y compositores de música, Orquesta Hollywood es la culminación de más de cinco años de la grabación en la famosa EASTWEST Estudio 1, el hogar de las principales Hollywood Bandas sonoras y de televisión Temas. Incluye JUGAR 4 software de 32 bits / 64 bits, potente scripting para facilitar su uso, y más control de usuario que cualquier otro instrumento virtual.
Para más detalles, por favor visite
Requisitos del sistema: 680GB de espacio de disco duro libre, clave de seguridad iLok (no suministrada)
Precios
Versiones Oro y Plata son descargables, Diamond se suministra en un disco duro, debido al tamaño de la colección. Para comprar y para más información, por favor visite www.soundsonline.com/hollywood-orchestra
Diamond Edition: MSRP $ 2 996, el precio de introducción $ 1,495

Gold Edition: MSRP 1.996 dólares, el precio de introducción $ 995

Silver Edition: MSRP $ 996, precio de introducción $ 495 (próximamente)