The most comprehensive orchestral collection on the market from EASTWEST now includes Hollywood Orchestral Strings, Brass, Woodwinds, and Percussion.
Hollywood, CA (23 Octobre, 2014) - Avec la sortie récente de percussions d'orchestre Hollywood, EastWest propose désormais la collection la plus détaillée et complète instrument virtuel orchestral sur le marché: Orchestre Hollywood. Le produit phare de la société comprend Hollywood Strings, Hollywood Brass, Hollywood bois d'orchestre, et Hollywood Orchestral Percussion, tous produits par l'équipe primée composée de Doug Rogers, Nick Phoenix, Thomas Bergersen, et ingénieur Shawn Murphy.

Hollywood Orchestra "Cela a été notre travail d'amour - nous avons travaillé sur une période de cinq ans que nous avons terminé chacune des sections», affirme Doug Rogers. «Nous sommes fiers d'offrir maintenant un orchestre professionnel complet qui est capable de répondre à toute demande compositeurs pourraient avoir. Il est un véritable jalon de EastWest."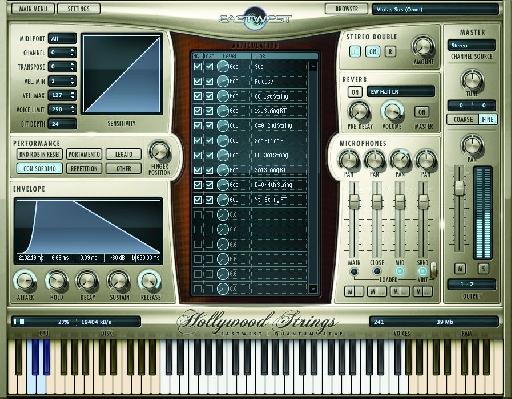 EastWest Hollywood Orchestra capture d'écran.
Chaque section de l'Orchestre Hollywood a reçu de nombreuses récompenses de la presse internationale pour ses détails sans précédent, véritable legato supérieur, qualité sonore, et le contrôle du son avec cinq positions de micros contrôlables par l'utilisateur, y compris les micro principal (arbre Decca), micro central, proche ramassage , ramassage surround, et un autre millésime vers 1945 RCA salle de ruban pick-up.

Producteur Mark Linthicum dit: «Je aime le réalisme de ces instruments Hollywood Pour la première fois je peux aller pour un gros son Hollywood emphatique, ou un son intime avec les options micro inclus Il n'y a vraiment rien d'autre qui peut faire cela, il est un... changeur de jeu! "

Vraiment le Saint-Graal pour film sérieux, télévision, jeu vidéo, et les compositeurs de musique, Orchestre Hollywood est l'aboutissement de plus de cinq ans de l'enregistrement dans le célèbre EASTWEST Studio 1, la maison des grands thèmes Hollywood bandes sonores et de télévision. Il comprend 4 JOUER logiciel 32-bit / 64-bit, script pour la facilité d'utilisation, et plus de contrôle de l'utilisateur que tout autre instrument virtuel.
Pour plus de détails, se il vous plaît visitez
Configuration requise: 680GB d'espace disque libre, iLok clés de sécurité (non fourni)
Établissement des prix
versions Gold et Silver sont téléchargeables, Diamond est fourni sur un disque dur en raison de la taille de la collection. Pour acheter et pour plus d'informations, se il vous plaît visitez www.soundsonline.com/hollywood-orchestra
Diamond Edition: PDSF $ 2996, $ 1495 Prix de lancement

Gold Edition: PDSF $ 1996, $ 995 prix d'introduction

Silver Edition: PDSF $ 996, prix de lancement $ 495 (Ã  venir)