The most comprehensive orchestral collection on the market from EASTWEST now includes Hollywood Orchestral Strings, Brass, Woodwinds, and Percussion.
Hollywood, CA (23 ottobre 2014) - Con il recente rilascio di Hollywood Percussioni Orchestrali, EASTWEST offre ora il orchestrale raccolta più circostanziata ed esauriente strumento virtuale sul mercato: Hollywood Orchestra. Il prodotto di punta della società comprende Strings Hollywood, Hollywood, Hollywood Orchestral Brass Fiati e Percussioni Orchestrali Hollywood, tutti prodotti dal pluripremiato team composto da Doug Rogers, Nick Phoenix, Thomas Bergersen, e ingegnere Shawn Murphy.

Hollywood Orchestra "Questo è stato il nostro lavoro di amore - abbiamo lavorato nel corso di un periodo di cinque anni, come abbiamo completato ciascuna delle sezioni", afferma Doug Rogers. "Siamo orgogliosi di poter offrire ora un'orchestra professionale completo che è in grado di soddisfare qualsiasi esigenza compositori potrebbero avere. E 'una vera e propria pietra miliare EASTWEST."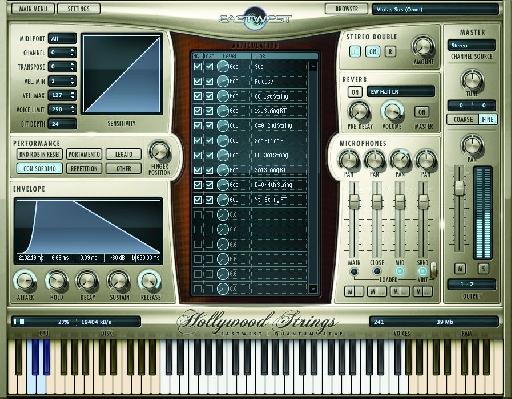 EASTWEST Hollywood Orchestra screenshot.
Ogni singola sezione di Hollywood Orchestra ha ricevuto numerosi premi dalla stampa internazionale per i suoi dettagli senza precedenti, vero legato superiore, qualità del suono, e il controllo del suono con cinque posizioni microfonici controllabili dall'utente, tra cui pick-up principale (Decca tree), a metà ripresa, vicino pick-up , pick-up surround, e una vendemmia si alternano circa 1945 RCA camera nastro pick-up.

Il produttore Mark Linthicum dice: "Mi piace il realismo di questi strumenti di Hollywood per la prima volta posso andare per un suono roboante di Hollywood, o un suono intimo con le opzioni microfono inclusi Non c'è davvero niente altro che può fare questo E 'una... cambio di gioco! "

Veramente il Santo Graal per grave film, televisione, videogiochi, e compositori di musica, Hollywood Orchestra è il culmine di oltre cinque anni di registrazione nella famosa EASTWEST Studio 1, la sede di importanti Hollywood colonne sonore e televisive temi. Esso comprende GIOCO 4 software a 32-bit / 64-bit, scripting potente per la facilità d'uso, e più controllo da parte dell'utente di qualsiasi altro strumento virtuale.
Per ulteriori informazioni, visitare il sito
Requisiti di sistema: 680GB di spazio su disco fisso, chiave di protezione iLok (non fornito)
Prezzi
Le versioni Oro e argento sono scaricabili, Diamond è fornito su un disco rigido a causa delle dimensioni della collezione. Per acquistare e per ulteriori informazioni, si prega di visitare il sito www.soundsonline.com/hollywood-orchestra
Diamond Edition: MSRP $ 2996, $ 1495 Prezzo di lancio

Edizione Gold: PREZZO CONSIGLIATO $ 1996 Prezzo di lancio 995 $

Silver Edition: PREZZO CONSIGLIATO $ 996, Prezzo di lancio 495 $ (disponibile a breve)