The most comprehensive orchestral collection on the market from EASTWEST now includes Hollywood Orchestral Strings, Brass, Woodwinds, and Percussion.
Hollywood, CA (23 de outubro de 2014) - Com o lançamento recente de Hollywood orquestra de percussão, EASTWEST agora oferece a coleção instrumento virtual orquestral mais detalhada e completa do mercado: Orquestra de Hollywood. O principal produto da empresa inclui Hollywood Cordas, Hollywood, Hollywood bronze Orquestra Sopros e Hollywood orquestra de percussão, tudo produzido pela premiada equipe composta por Doug Rogers, Nick Phoenix, Thomas Bergersen, e engenheiro Shawn Murphy.

Orquestra de Hollywood "Este tem sido o nosso trabalho de amor - temos trabalhado ao longo de um período de cinco anos como nós completamos cada uma das seções", diz Doug Rogers. "Estamos orgulhosos de oferecer agora uma orquestra profissional completo que é capaz de atender todas as demandas compositores possa ter. É um verdadeiro marco EASTWEST."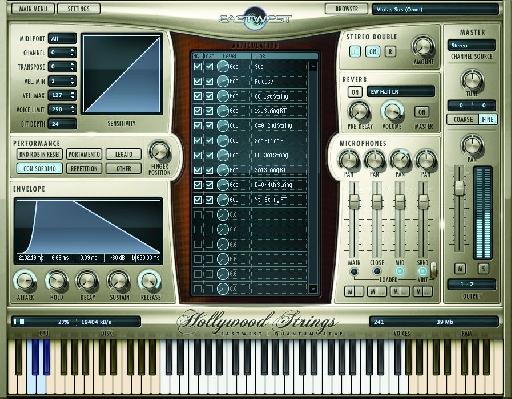 Orquestra de Hollywood EASTWEST screenshot.
Cada seção individual de Orquestra Hollywood recebeu vários prêmios da imprensa internacional para seu detalhe sem precedentes, verdadeira legato superior, qualidade de som e controle de som com cinco posições de microfone controlável pelo usuário, incluindo traslado do principal (Decca árvore), pickup médio, perto de recolhimento , captação surround, e um suplente do vintage circa 1945 RCA sala fita pickup.

Produtor Mark Linthicum diz: "Eu amo o realismo destes instrumentos de Hollywood Pela primeira vez eu posso ir para um grande som Hollywood bombástico, ou um som intimista com as opções de microfone incluído Não há realmente nada mais que pode fazer isso é a... game changer! "

Verdadeiramente o Santo Graal para filme sério, televisão, vídeo game, e compositores da música, a Orquestra de Hollywood é o culminar de mais de cinco anos de gravações no famoso EASTWEST Studio 1, na casa de Hollywood principais trilhas sonoras e Televisão Temas. Inclui software de jogo 4 32-bit / 64-bit, scripting poderosa para facilidade de uso e maior controle do usuário do que qualquer outro instrumento virtual.
Para mais detalhes, visite
Requisitos do sistema: 680GB de espaço em disco rígido livre, chave de segurança iLok (não fornecido)
Preço
Versões Gold e Silver estão disponíveis para download, Diamante é fornecido em um disco rígido, devido ao tamanho da coleção. Para comprar e para mais informações, por favor visite www.soundsonline.com/hollywood-orchestra
Edição Diamante: MSRP 2,996 dólar, o preço introdutório $ 1495

Gold Edition: MSRP $ 1996 Preço de lançamento $ 995

Silver Edition: MSRP $ 996, preço introdutório $ 495 (em breve)