تكامل أدوات غاضب يدخل BASE البرامج معلومات
You may think of Livid's BASE as primarily an Ableton Live 9 controller/instrument. However, Reason, Bitwig, FL Studio, Traktor, Logic and VDMX are just some of the supported platforms.
التكامل مع برمجيات
تم تصميم منتجاتنا لتكون مفتوحة قدر الإمكان، مما يتيح لك حرية اختيار أفضل منصة، ومراقبة أي ميزة وبناء أداة هذا صحيح بالنسبة لك. ونحن نفعل ذلك من خلال تقديم أعلى مستوى من الجودة بناء على السوق مع مرونة لا تضاهى البرمجة. إذا كنت تتساءل كيف يمكن أن تستفيد أنت BASE أو العمل الذي خلق، ونحن ندعوك لإلقاء نظرة على الصفحة تكامل البرمجيات الجديدة.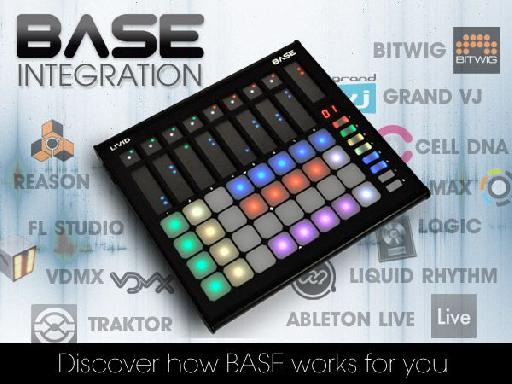 BASE التكامل الصفحة

أنشأنا هذا كمورد المفيدة التي يمكنك استخدامها للبقاء تصل إلى التاريخ على الإصدارات الهامة للقاعدة، مثل البرامج النصية البعيد، قوالب وتعيينات المستخدم. زيارة هذه الصفحة واكتشاف كيف يمكن أن تعمل BASE بالنسبة لك.