You may think of Livid's BASE as primarily an Ableton Live 9 controller/instrument. However, Reason, Bitwig, FL Studio, Traktor, Logic and VDMX are just some of the supported platforms.
Integration mit Software
Unsere Produkte sind so konzipiert, so offen wie möglich sein, so dass Sie die Freiheit, die beste Plattform zu wählen, jede Funktion zu kontrollieren und ein Instrument, das Richtige für Sie zu bauen. Wir tun dies, indem wir die höchste Verarbeitungsqualität auf dem Markt mit einer einzigartigen Flexibilität bei der Programmierung. Wenn Sie sich jemals gefragt haben, wie BASE oder könnten Sie die Arbeit, die Sie erstellen, profitieren, laden wir Sie ein, einen Blick auf unser neues Software-Integrationsseite.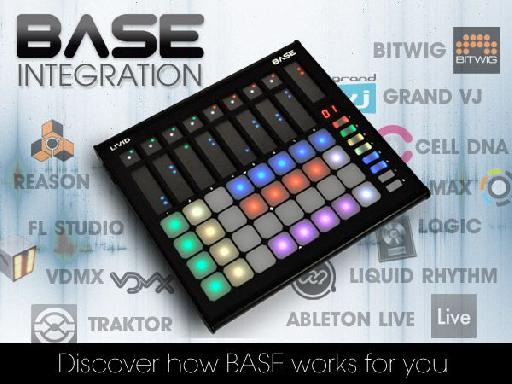 BASE Integration Seite

Wir haben dies als eine hilfreiche Ressource, die Sie verwenden, um up-to-date zu wichtigen Releases für BASE, wie Remote-Scripts, Vorlagen und Benutzerzuordnungen bleiben können. Besuchen Sie diese Seite und entdecken, wie BASE kann für Sie arbeiten.