If you have one of Yamaha's MG series XU mixers (or are thinking of adding one to your setup) then you're going to really appreciate Yamaha's free MG Rec and Play app for iPhone and iPad.
بوينا بارك، كاليفورنيا (17 سبتمبر 2014) قدم ياماها اليوم MG REC
وMG السلسلة هو في هذه المباراة شاملة لخلط لوحات المفاتيح تتراوح بين النماذج المدمجة مثالية للإنتاج الموسيقى والتطبيقات نماذج أكثر تنوعا قادرة على التعامل مع تقوية الصوت الحي للأحداث المتوسطة الحجم دون خلط. الجيل الثالث-MG سلسلة صدر في وقت سابق هذا العام يقدم تحسينات ملحوظة في جودة الصوت والتصميم وقابلية التشغيل والمتانة، فضلا عن عدة وظائف جديدة مثيرة للإعجاب.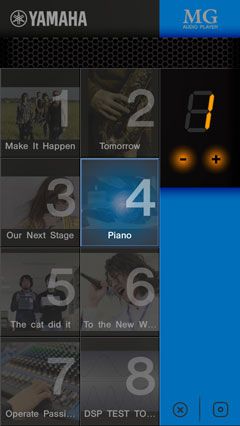 وMG REC جديد
وظيفة مسجل الصوت تسمح للمستخدمين تسجيل مسارين من الحافلة ستيريو على نماذج MG سلسلة زو في شكل WAV عالية الجودة. ويتراوح معدل أخذ العينات من 44.1 كيلو هرتز، 48 كيلو هرتز و 96 كيلو هرتز اعتمادا على المتطلبات. A، واجهة سهلة الاستخدام بسيطة تسمح للرصد البصري للإعدادات التسجيل ومكانتها. كما يوفر للمستخدمين مع تشغيل لحظية من المواد المسجلة مؤخرا، والتي هي مفيدة بشكل خاص للرسم الصوت أو تكوين أغنية.
ميزات وظيفة مشغل الصوت تسعة بنوك منفصلة مع ثمانية البلاط التي يمكن أن يتم تعيين كل ما يصل إلى ثمانية أغاني أو مؤثرات صوتية من مكتبة الموسيقى اي فون / آي باد. هذا يوفر للمستخدمين تشغيل عالية الجودة تصل إلى 72 الأغاني والمؤثرات الصوتية ببساطة عن طريق لمس الصورة البلاط تعيين كل ملف صوتي المقابلة. في قراءة لحظية التي يوفرها MG REC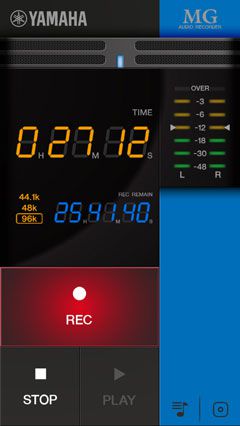 ÙˆMG REC
تشغيل متوافقة خلط: MG20XU، MG16XU، MG12XU، MG10XU