If you have one of Yamaha's MG series XU mixers (or are thinking of adding one to your setup) then you're going to really appreciate Yamaha's free MG Rec and Play app for iPhone and iPad.
Buena Park, Kalifornien. (17. September 2014) stellte heute das Yamaha MG REC
Die MG-Serie ist eine umfassende Palette von Mischpulten von kompakten Modelle ideal für Musikproduktion und Sub-Mischung zu vielseitiger Modelle geeignet für eine Live-Beschallung für mittelgroße Veranstaltungen. Die dritte Generation MG-Serie in diesem Jahr veröffentlichte bietet bemerkenswerte Verbesserungen in der Klangqualität, Design, Bedienbarkeit und Haltbarkeit, sowie einige beeindruckende neue Funktionen.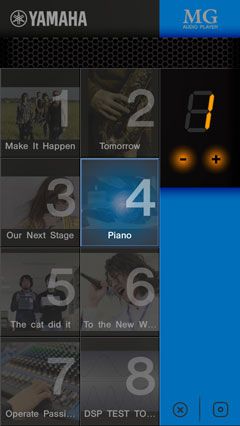 Der neue MG REC
Der Audio-Recorder-Funktion können Benutzer aufzeichnen zwei Tracks von den Stereo-Bus auf die MG-Serie XU Modelle in hochwertiger WAV-Format. Die Abtastfrequenz beträgt 44,1 kHz, 48 kHz und 96 kHz, abhängig von den Anforderungen. Eine einfache, benutzerfreundliche Oberfläche ermöglicht eine visuelle Kontrolle der Aufnahmeeinstellungen und Status. Darüber hinaus können Benutzer mit sofortiger Wiedergabe der zuletzt aufgezeichnete Material, das sich besonders für Ton Skizzieren oder Liedkomposition ist.
Der Audio-Player-Funktion verfügt über neun verschiedene Banken mit acht Kacheln, die jeweils bis zu acht Songs oder Sound-Effekte von einem iPhone / iPad-Musikbibliothek zugeordnet werden können. Dies bietet dem Anwender mit qualitativ hochwertigen Wiedergabe von bis zu 72 Songs und Sound-Effekte, indem Sie einfach die zugewiesene Kachel Bild von jedem entsprechenden Audio-Datei zu berühren. Die momentane Wiedergabe von MG REC lieferte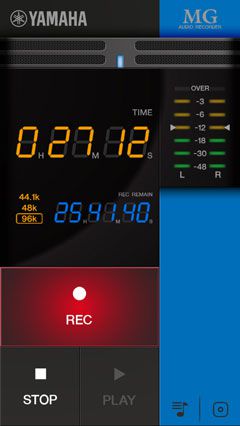 Die MG REC