If you have one of Yamaha's MG series XU mixers (or are thinking of adding one to your setup) then you're going to really appreciate Yamaha's free MG Rec and Play app for iPhone and iPad.
BUENA PARK, Calif. (17 de septiembre de 2014) Yamaha ha presentado hoy el MG REC
La serie MG es una línea completa de mesas de mezclas que van desde los modelos compactos ideales para la producción de música y aplicaciones de los modelos más versátiles capaces de manejar el refuerzo de sonido en vivo para eventos de mediana escala sub-mezcla. La tercera generación de la serie MG publicado a principios de este año ofrece mejoras notables en la calidad del sonido, el diseño, el funcionamiento y la durabilidad, así como varias nuevas funciones impresionantes.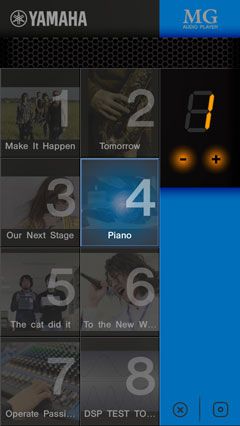 El nuevo MG REC
La función de grabación de audio permite a los usuarios grabar dos pistas de bus estéreo en los modelos MG Serie XU en formato WAV de alta calidad. La tasa de muestreo oscila entre 44,1 kHz, 48 kHz y 96 kHz dependiendo de los requisitos. Una interfaz simple y fácil de usar permite el monitoreo visual de los ajustes de la grabación y el estado. También proporciona a los usuarios la reproducción instantánea de material grabado recientemente, lo que es particularmente útil para bosquejar sonido o composición de canciones.
La función de reproductor de audio cuenta con nueve bancos distintos con ocho fichas que se les puede asignar un máximo de ocho canciones o efectos de sonido a partir de una biblioteca de música del iPhone / iPad. Esto proporciona a los usuarios la reproducción de alta calidad de hasta 72 canciones y efectos de sonido con sólo tocar la imagen de mosaico asignado de cada archivo de audio correspondiente. La reproducción instantánea ofrecida por MG REC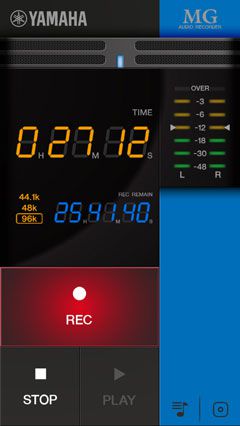 La MG REC
Compatible consolas de mezcla: MG20XU, MG16XU, MG12XU, MG10XU