If you have one of Yamaha's MG series XU mixers (or are thinking of adding one to your setup) then you're going to really appreciate Yamaha's free MG Rec and Play app for iPhone and iPad.
BUENA PARK، کالیفرنیا (2014 سپتامبر 17) یاماها امروز معرفی MG REC
MG سری سیستم جامع از مخلوط کردن کنسول اعم از جمع و جور ایده آل مدل برای تولید موسیقی و زیر مخلوط کردن برنامه های مدل به همه کاره قادر به دست زدن به زنده تقویت صدا برای رویدادهای مقیاس متوسط. نسل سوم MG سری در اوایل سال جاری منتشر شد ارائه می دهد بهبود قابل توجه در کیفیت صدا، طراحی، عملکرد و دوام، و همچنین چندین توابع جدید قابل ملاحظه است.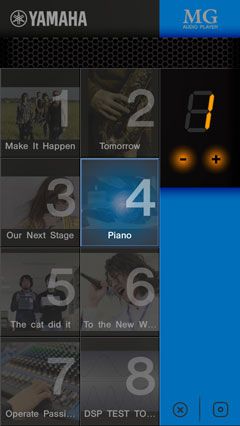 جدید MG REC
عملکرد ضبط صدا کاربران امکان می دهد ضبط دو آهنگ از اتوبوس استریو در مدل MG سری XU در فرمت WAV با کیفیت بالا. نرخ نمونه برداری در محدوده 44.1 کیلو هرتز، 48 هرتز و 96 هرتز بسته به نیاز. رابط کاربری ساده و کاربر پسند اجازه می دهد تا برای نظارت تصویری از تنظیمات ضبط و وضعیت. این سرویس همچنین کاربران با پخش آنی از مواد به تازگی ضبط شده، است که به ویژه طراحی صدا و یا ترکیب آهنگ مفید است.
عملکرد پخش کننده های صوتی ویژگی های نه بانک مستقل با هشت کاشی که هریک می تواند تا هشت آهنگ و یا جلوه های صوتی اختصاص داده از یک کتابخانه موسیقی آیفون / آی پد. این کاربران با پخش با کیفیت بالا تا 72 آهنگ و جلوه های صوتی را فراهم می کند به سادگی با دست زدن به قطعه تصویر اختصاص داده شده هر یک از فایل های صوتی مربوطه. پخش آنی فراهم شده توسط MG REC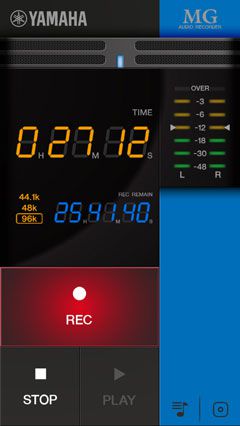 MG REC
سازگار کنسول مخلوط کردن: MG20XU، MG16XU، MG12XU، MG10XU