If you have one of Yamaha's MG series XU mixers (or are thinking of adding one to your setup) then you're going to really appreciate Yamaha's free MG Rec and Play app for iPhone and iPad.
BUENA PARK, Californie. (17 Septembre, 2014) Yamaha a présenté aujourd'hui le MG REC
La série MG est une vaste gamme de consoles de mixage allant des modèles compact idéal pour la production de la musique et des applications des modèles plus polyvalents capables de gérer la sonorisation d'événements de taille moyenne sous-mixage. La troisième génération de la série MG publié plus tôt cette année offre des améliorations notables de la qualité sonore, la conception, l'opérabilité et la durabilité, ainsi que plusieurs nouvelles fonctions impressionnantes.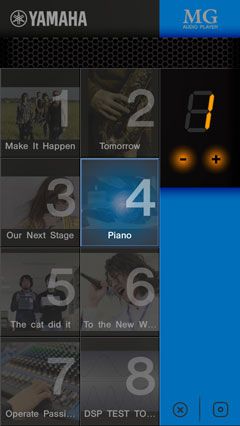 La nouvelle MG REC
La fonction d'enregistrement audio permet aux utilisateurs d'enregistrer deux pistes de bus stéréo sur les modèles MG Series XU au format WAV de haute qualité. La fréquence d'échantillonnage est comprise entre 44,1 kHz, 48 kHz et 96 kHz en fonction des besoins. Une interface simple et conviviale permet une surveillance visuelle des paramètres d'enregistrement et le statut. Elle fournit également à l'utilisateur de la lecture instantanée de la matière enregistrée récemment, ce qui est particulièrement utile pour le dessin ou la composition sonore de la chanson.
La fonction de lecteur audio dispose de neuf banques séparées avec huit tuiles qui peuvent chacun être affectés jusqu'à huit chansons ou des effets sonores à partir d'une bibliothèque de musique iPhone / iPad. Cette offre aux utilisateurs la lecture de haute qualité jusqu'à 72 chansons et des effets sonores en touchant simplement l'image de tuiles attribué de chaque fichier audio correspondant. La lecture instantanée fournie par MG REC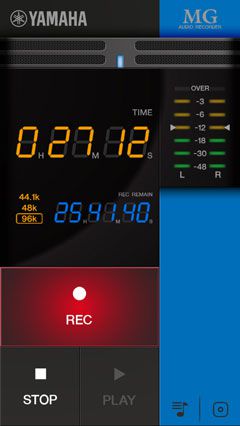 Le MG REC
Compatible consoles de mixage: MG20XU, MG16XU, MG12XU, MG10XU