If you have one of Yamaha's MG series XU mixers (or are thinking of adding one to your setup) then you're going to really appreciate Yamaha's free MG Rec and Play app for iPhone and iPad.
BUENA PARK, California. (17 settembre 2014) la Yamaha ha presentato oggi la MG REC
La serie MG è una gamma completa di mixer che vanno da modelli compatti ideali per la produzione musicale e le applicazioni di modelli più versatili in grado di gestire rinforzo del suono dal vivo per eventi di medie dimensioni sub-mixing. La terza generazione della serie MG rilasciato all'inizio di quest'anno offre notevoli miglioramenti in termini di qualità del suono, il design, funzionalità e durata nel tempo, così come diverse nuove funzioni impressionanti.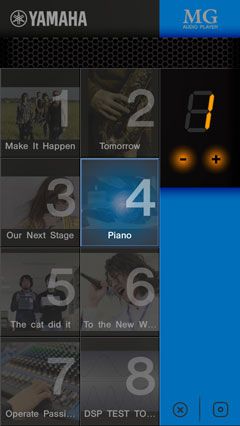 La nuova MG REC
La funzione di registratore audio consente agli utenti di registrare due tracce dal bus stereo dei modelli MG Serie XU in formato WAV di alta qualità . La frequenza di campionamento varia da 44,1 kHz, 48 kHz e 96 kHz a seconda delle esigenze. Un'interfaccia semplice, user-friendly consente il monitoraggio visivo delle impostazioni e lo stato di registrazione. Esso fornisce inoltre agli utenti con riproduzione istantanea di materiale recentemente registrato, che è particolarmente utile per il suono schizzi o di una canzone composizione.
La funzione di lettore audio dispone di nove banche separate con otto formelle che è possibile assegnare fino a otto canzoni o effetti sonori da una libreria musicale iPhone / iPad. Questo fornisce agli utenti una riproduzione di alta qualità fino a 72 canzoni ed effetti sonori semplicemente toccando l'immagine Mattonelle assegnato di ogni corrispondente file audio. La riproduzione istantanea offerta da MG REC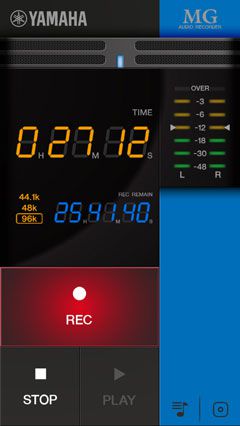 La MG REC