If you have one of Yamaha's MG series XU mixers (or are thinking of adding one to your setup) then you're going to really appreciate Yamaha's free MG Rec and Play app for iPhone and iPad.
Buena Park, Califórnia. (17 set 2014) Yamaha apresentou hoje o MG REC
A série MG é uma completa linha de mesas de mistura que variam de modelos compacto ideal para a produção de música e sub-aplicações de mistura modelos para mais versáteis capazes de lidar com reforço de som ao vivo para eventos de médio porte. A terceira geração MG Series lançado no início deste ano oferece melhorias notáveis ​​na qualidade de som, design, funcionalidade e durabilidade, bem como vários impressionantes novas funções.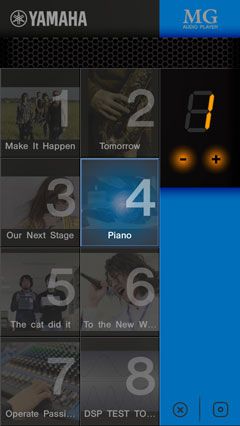 A nova MG REC
A função de gravador de áudio permite aos usuários gravar duas faixas do bus estéreo nos modelos MG Series XU em formato WAV de alta qualidade. A taxa de amostragem varia de 44,1 kHz, 48 kHz e 96 kHz, dependendo dos requisitos. Uma interface simples, fácil de usar permite o monitoramento visual das configurações de gravação e status. Ele também oferece aos usuários a reprodução instantânea de material recentemente, o que é particularmente útil para esboçar som ou composição da música.
A função de leitor de áudio possui nove bancos separados, com oito peças que cada um pode ser atribuído até oito músicas ou efeitos sonoros a partir de uma biblioteca de música iPhone / iPad. Isso fornece aos usuários com reprodução de alta qualidade de até 72 músicas e efeitos sonoros, simplesmente tocando a imagem telha atribuído de cada arquivo de áudio correspondente. A reprodução instantânea proporcionada pela MG REC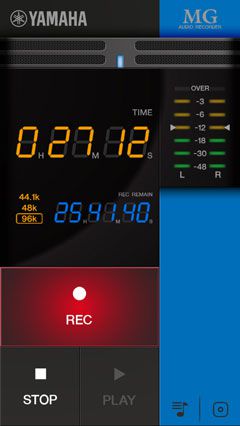 A MG REC
Compatível com mesas de mistura: MG20XU, MG16XU, MG12XU, MG10XU