There's a whole lot more to brushes in Photoshop CS6 to suit Wacom and mouse-based users. In this tutorial, Iain Anderson explores all the new features to help you brush up on your PS skills.
If you've spent a bit of time exploring the world of Photoshop brushes, you'll be excited to find a whole new world in Photoshop CS6. As well as a general rearrangement of the Brush and Brush Presets panels, there are two new classes of brushes that work with higher-end Wacom tablets: Erodible brushes, and Airbrushes. Let's take a deeper look at all the new goodies, as well as recapping a few tricks you might not be aware of.

Tip 1 - Something subtle to start
To get started, create a new document with a white background, at least 1000 x 1000 px, and create a new layer to paint on. Press B to select the Brush Tool, D to set default colors. Hold Control and Option, then click and drag left and right to set a comfortable brush size. Still holding those keys, drag up and down to control brush hardness on a circular brush head.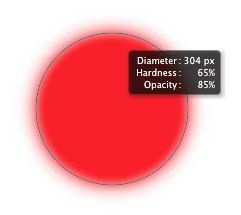 Holding Control and Option, dragging around with a basic circular brush head.
None of this has changed from previous versions, but there's a subtle addition here to the CS5 behavior. Should the current brush not support hardness '" i.e. it's more complex than a regular circular brush '" then dragging up and down changes opacity. Useful, but potentially dangerous if you're not aware of it.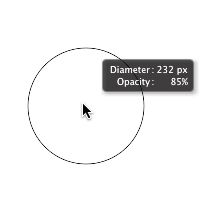 Holding Control and Option, dragging around on a complex non-circular brush head.
Tip 2 - Strike a pose
There's a whole new section in the middle called Brush Pose '" and as ever, click on its name to access the deeper settings within. This new panel lets you set default Tilt X, Tilt Y, Rotation and Pressure settings for your painting.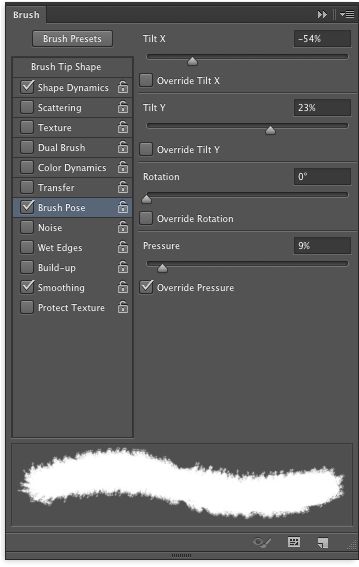 The Brush pose settings section in the Brush panel.
Not all Wacom tablets support all these settings, so it's quite useful that you can now emulate them if needed. This section also lets you override the stylus, should you want to work with your virtual pen at a fixed angle, but your actual pen at some other angle.
Tip 3 - Project your work
Still, with the majority of brushes in Photoshop CS5, you'd have to hook tilt, pressure, etc. to brush properties like opacity, size and so on. I once used tilt to control the Foreground/Background mix, and while this might be useful, it's hardly realistic. Only the bristle brushes would respond in a realistic way, and while the bristle brushes are still present, there's a new option that'll make your day.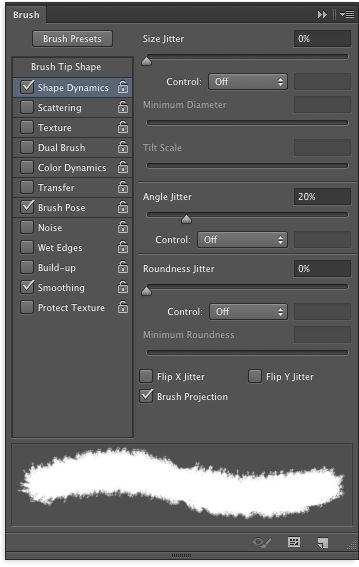 Shape Dynamics and the new Brush Projection checkbox '" and a little Angle Jitter added for luck.
Look in the Shape Dynamics section for a brand new checkbox at the bottom: Brush projection. While this option is ticked, the brush head will be skewed and scaled to reflect the current orientation of the stylus. So, for example, you can use an enormous, complex brush head, but make it look like it's being held at an angle. This will go a long way to adding a realistic feel to Photoshop brush work. Try this:
Pick a known default brush '" I'm going for the old favourite 'Butterfly'. (If you can't find it, head to the Brush Presets panel, then choose Special Effect Brushes from the panel submenu, then Append.)
In Shape Dynamics, turn on the Brush Projection checkbox.
If you have a Wacom tablet that supports at least tilt (likely an Intuos) then try tilting the brush on the canvas, to produce butterflies at the angle of your brush.
Even if your tablet isn't that fancy (or you only have a mouse handy) you can also join in. Click on Brush Pose '" the name, not the checkbox. Set Tilt X to 100% and Tilt Y to -100%. Tick the Override Tilt X and Override Tilt Y checkboxes too. Now, no matter what angle your brush is held, the butterflies will all point northwest. To see this more clearly, you can uncheck Scattering, then choose Brush Tip Shape and increase the Spacing value to 200%.

Butterflies pointing the same way.
Tip 4 - Falling apart with Erodible Brushes
It's great to be able to breathe more life into the standard brushes, but how about something even more realistic? If you've worked with pastel crayons, you'll know that they wear out quickly. A new square can become a wedge; a fresh round tip develops flat spots. These imperfections quickly become features that an artist can use, and now Photoshop can emulate them too '" if you have a tablet that supports tilt. If you do, pick the new Square Charcoal preset from the Brush Presets panel, then look at the top left corner of the canvas to see a preview of your brush.
In the Brush Tip Shape section, set Softness to 100% to make the tip wear down more quickly. Holding your stylus at a shallow consistent angle '" perhaps low down, pointing to the top left corner '" sketch for a short while.
You'll see the tip wear down to a sharp point rather than a square, but you won't run out of 'ink'.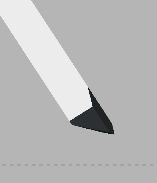 A worn down erodible brush tip '" once square.
Now, draw a few more lines, holding the stylus at different tilts. You should see that some angles produce a thin line, where you're using the edge of the eroded tip, and some angles produce a fat line, where you're using the large flattened area.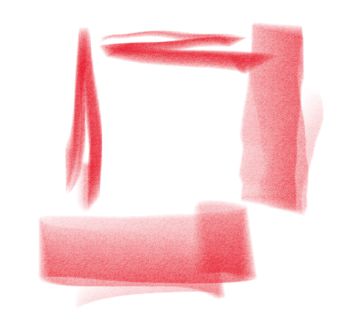 A few lines from the same tip held in different directions.
Many other shapes are available from the Brush Tip Shape section, so experiment with the new Erodible Point, Flat, Round, Square and Triangle types. And should you need to return a tip to its original state, just press the Sharpen Tip button.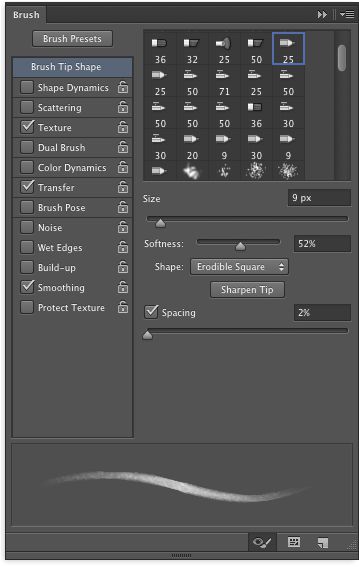 The erodible brush settings.
Tip 5 - Get retro with the new Airbrush feature
Now a lot more than simply a checkbox in the toolbar and a Flow control, the Airbrush is now a type of brush head which responds in a different, more complex way to the pressure and tilt of your stylus. The higher the pressure, the closer the virtual airbrush is to the virtual paper, and the tighter the spray. Use less pressure and the airbrush spreads out, while tilt governs the direction of the spray. Extra options for just how the paint spatters in are a useful final touch.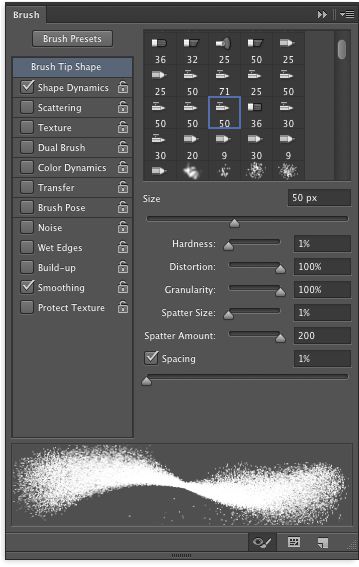 The erodible brush settings.
To use an airbrush, head to the Brush Presets panel, then scroll down until you see the new airbrush presets with their new icon. Choose 'Airbrush Soft High Density Grainy'. Press D to set Default black and white, and paint around the canvas. Try pushing harder and softer, and tilt the pen up and down as you do so. Should you not be a fan of all the grains, you can turn the granularity down for a softer effect. Try some of the less grainy presets for a completely different look '" Watercolor Wash uses Texture and Dual Brush for a complex result.

A few good passes with the airbrush.
While it's always been possible to use different brushes '" even colossal 2500 px monsters '" the new options here lend more realism to complex brush heads, and give brand new options if you'd like to imitate physical art tools. Photoshop CS6 is faster than ever, and easily worth the upgrade if you regularly paint digitally.