Photoshop newbies and experts rejoice! Richard Lainhart shares four of his quick and easy workflow tips to help you fly through your image editing and creation projects.
For those of you who may just be getting your feet wet in Adobe Photoshop, here's an article on covering some of the lesser-known but useful workflow enhancements, tips, and shortcuts that will help smooth your path to Photoshop knowledge (to mix some metaphors...).

1 - Toggle Full Screen Modes
There's no easy way to show this in a screenshot, but you can easily toggle between Photoshop's default Standard Screen Mode, where your photo is displayed in the usual window and your desktop is visible in the background, and the two full screen modes. To do that, just hit the F key (with no other modifiers) to first display your image in Full Screen Mode With Menu Bar, which will display your image against a gray background with distracting desktop elements hidden. Hit F again to go into Full Screen Mode, in which all the palettes, toolbars, and menu bars will disappear and your image will display against a black background. Very useful for detailed, focused editing.
The various screen modes are also available in View > Screen Mode, but since the menu bar won't be available in Full Screen Mode, knowing this F key toggle shortcut is essential to getting back to Standard Screen Mode. (The esc key will also take you back to Standard Screen Mode say, if you just spilled coffee on your F key.)
2 - Display the Same Image in Two Windows
When you're editing an image in detail, it can be useful to see both the full image in a smaller window side-by-side with a zoomed-in version of the same image in another window, rather than having to constantly zoom in and out to see the overall results of an edit. To do that, open your first image and set its zoom and window size to taste, then choose Window > Arrange > New Window for (your image name). This will open another window with the same image. If you have Photoshop set to Open Documents as Tabs (Photoshop > Preferences > Interface...), which is the default behavior, just grab the tab for the new window and pull it out into its own window. Then you can arrange the two windows' positions and zoom levels to taste, and any changes you make in one will be reflected in the other.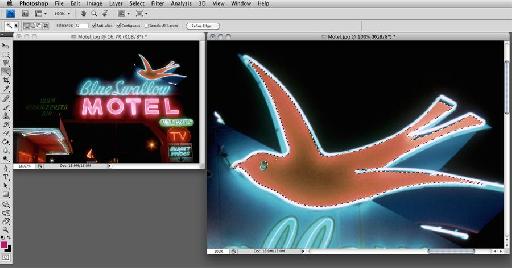 3 - Spacebar Modifiers
And speaking of zooming, you're probably aware that holding down the Spacebar will temporarily switch you to the Hand tool, so you can drag your image around in the visible window area when you're zoomed in. But did you know that you can also interactively zoom in and out of the image with the Spacebar, and that you can zoom to odd percentages if you like?
To do that, hold down Command-Spacebar and then click once in the image (your cursor will turn into a magnifying glass) to zoom in by the standard increments of 50% and so on. But if you Command-Spacebar-click and hold on the image, after a moment you'll start to zoom in smoothly and continuously; just release the mouse to stop at the appropriate zoom level. To zoom out, use Option-Spacebar-click to zoom by steps or continuously.
4 - Organize Palettes
Learning how to organize the many palettes available in Photoshop can also help improve your productivity . Why keep palettes around that you never use, while having to fish through the Window menu to find the ones you do use? Here are some palette organizational tips to help you manage them.
First, you can group palette tabs any way you like by dragging a palette's tab from its current panel to the gray area next to the tabs in another panel. For example, I like to have the Histogram palette in the same panel as the Info palette, but I never use the Navigator. So I just open the Histogram palette from the Window menu, which by default is grouped with the Navigator, then drag the Histogram tab into the Info panel: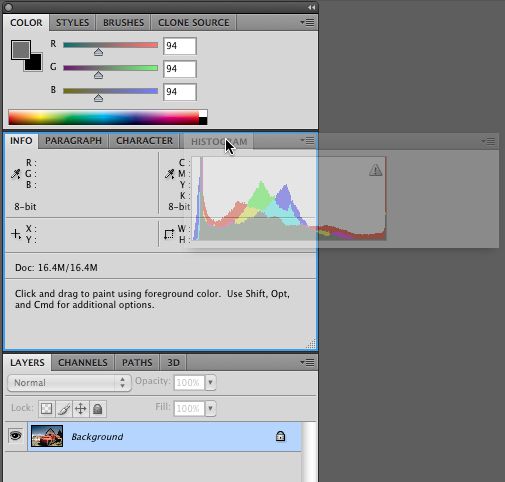 Then I can just close the unwanted Navigator palette and have the Histogram on hand when I need it. Also note that you can change the order of the Palette tabs in a panel by dragging the tabs horizontally within the panel to rearrange them.
Once you have your Palette panels organized to your liking, you can then dock panels to each other by dragging the gray area behind the tabs in the panel to the tops, sides, or bottoms of other panels. You can also consolidate groups of tabs within one panel by dragging on this gray area in a panel and dropping it into the same area in the target panel.
You can change the size of the overall docked panel group by dragging on the resize corner of the docked group, in the lower right of the group (the cursor changes to a diagonal arrow that unfortunately I can't capture):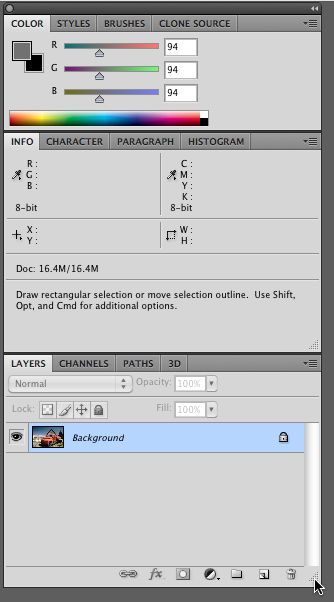 And, if your panel groups are docked to the edge of the screen, as they are by default, you can also click and drag on the very left-hand edge of the panel group to expand or contract it horizontally (you need to put your cursor right on the single pixel line at the edge).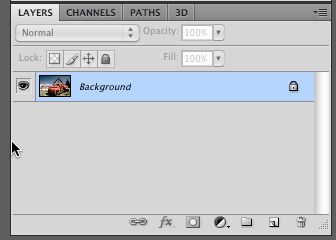 Finally, if you have a lot of Palette panels in play, you can collapse them all to icon buttons by clicking either the double-arrow button at the top of the docked panels, or anywhere in the gray bar next to it.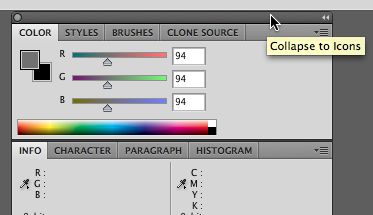 When you do, all the palettes and tabs will collapse down to buttons.

Clicking one of the buttons will pop out that palette from the icon group for quick 'n' easy editing.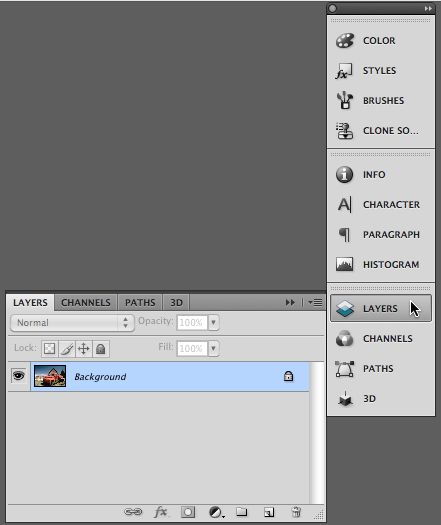 Well, that's it for now - I hope you've learned something useful here that will help you work a little more efficiently in Photoshop. There are many more such tips to learn, so perhaps we'll revisit this topic in future Hub posts. But in the meantime, learn, experiment and as always, have fun.