Imagine an audio effects plug-in which uses the modular synth paradigm as its base... Glichmachines are one step ahead with Quadrant. Toby Pitman checks out whether it's as cool to use as it sounds.
Glitchmachines hacen algunas cosas interesantes, el tipo de cosas youd probablemente quieren hacer en Reaktor que hace ruidos extraños. Por suerte Glitchmachines gire este tipo de ideas raras en plugins para usted.
Su complemento Quadrant es otra idea muy fresco que lleva el paradigma modular synth y la aplica a los efectos. Al mismo tiempo que se puede utilizar como un sintetizador modular más experimental, ya que contiene un conjunto de generadores de sonido también.
También se incluye una biblioteca de más de 1.500 muestras de hardware sintetizador modular y bucles. Todo es empezar a sonar bastante bueno!
Procesamiento de Audio
Cuadrante viene con cinco tipos de efectos básicos: retardo, filtro, tono, distorsiones y reducción de bits. Todos estos efectos se pueden dirigir sin embargo le parezca parcheando cables virtuales entre módulos. Todos los efectos pueden también modulada en varias formas utilizando cosas como LFO y seguidores de envolvente. Sólo taparlos. También hay mezcladores, fuentes mod y un conjunto de módulos de Matemáticas en la mano también.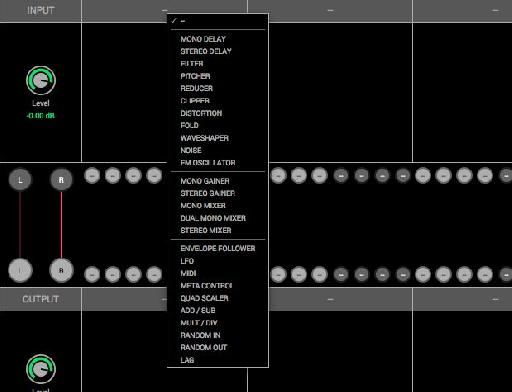 Usted puede construir efectos simples como chorus, flanger, retrasos filtrados, etc. o ir completamente loco y crear glitched cabo caos distorsión aleatoria. La elección es tuya!
Cuando se carga como un plugin de inserción, Cuadrante actúa como cualquier otro procesador de efectos. Lo interesante es theres realmente hay un camino conjunto. Cuadrante depende en gran medida que acaba de experimentar y esta es la mejor manera de ir con él. La librería de presets proporcionado es bastante loco y usted no encontrará muchos sonidos normales de allí! :)
Después de un corto periodo de tiempo que el cuelgue de ella y en poco tiempo el youll probablemente ha hecho algo fresco. Este parche retraso morphing filtrada tomó un par de minutos y más o menos tiene una mente propia! :)
[Id audio = "30591"]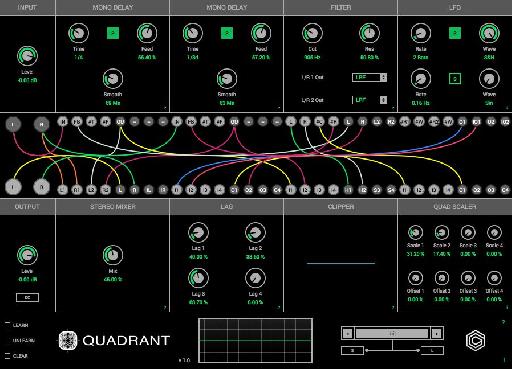 Theres un montón de cosas para la destrucción de audio y algunos de los módulos de matemáticas hacer algunas cosas locas. El sistema de cableado es fácil de trabajar y si el parche se vuelve demasiado unwieldily puede activar en el modo Highlight conexión que ilumina cualquier cable que haga clic en para localizar el origen de su marcha.

Lo único Id gusta ver es más módulos realmente como te encuentras corriendo bastante rápido. Theres una función MIDI Learn para ajustes en tiempo real aunque la lista de automatización (en Logic) es ligeramente más críptica.
Generar sonidos
La otra cara de Quadrant es que no es sólo un procesador de efectos. También se puede utilizar como un simple sintetizador modular. Usted no puede realmente desencadenar notas con él, pero va a manejar la más deja correr lado experimental de sonidos modulares.
Hay dos generadores de sonido básicos en el Cuadrante. Un oscilador de FM dual y un generador de ruido. Esto puede parecer muy básico, pero se puede hacer mucho con sólo estos dos.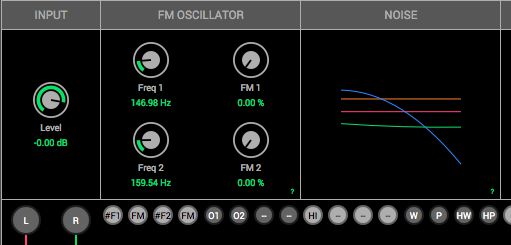 También es posible para los usos de este modo como un instrumento de software. En lógica sería cargado como un efecto MIDI controlado.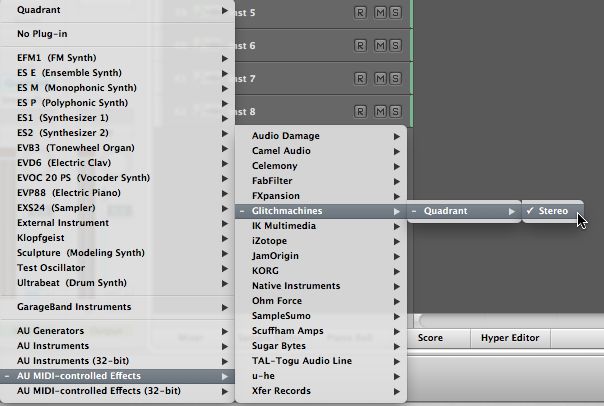 Esto le permite utilizar el módulo MIDI para controlar los parámetros a través de número de nota, presión, velocidad y Pitch ruedas. Su imposible conseguir el oscilador FM asignar correctamente los valores cromáticos mediante notas y theres ninguna ADSR para el youll apenas tiene que pensar en su teclado como una tira de cinta gigante! Me hizo llegar algunas cosas buenas de la serie de armónicos que suceden con el teclado sin embargo.
Una vez más su mejor simplemente bucear en y jugar con él. Usted puede obtener algunas cosas muy guay extraño ir con los módulos disponibles, pero como he dicho antes que yo pudiera hacer con cuatro ranuras más!
Mientras escribo este repente me di cuenta de Id estado retocando un parche durante una media hora y disfrutando de verdad!
Conclusión
Quadrant es sin duda un poco de diversión de software. Su probablemente no va a satisfacer la mayoría de los estilos de la música, pero si necesitas una locura, entonces este es un ganador seguro. Viene con una enorme biblioteca de muestras de sintetizador modular que son bastante más mental. Aunque estoy personalmente muy de acuerdo con eso! :)