Imagine an audio effects plug-in which uses the modular synth paradigm as its base... Glichmachines are one step ahead with Quadrant. Toby Pitman checks out whether it's as cool to use as it sounds.
Glitchmachines fare alcune cose interessanti, il tipo di cose youd probabilmente vuole fare in Reaktor che fa rumori strani. Fortunatamente Glitchmachines girare questo tipo di idee strane in plugin per voi.
Il loro plug Quadrant è un'altra idea molto fresco che prende il paradigma synth modulare e la applica agli effetti. Allo stesso tempo, può essere usato come un sintetizzatore modulare più sperimentale in quanto contiene una serie di generatori di suono pure.
Inoltre è inclusa una libreria di oltre 1500 campioni di hardware synth modulare e loop. Il tutto comincia a sembrare piuttosto bene!
Elaborazione Audio
Quadrant è dotato di cinque tipi di effetti di base: ritardo, filtri, pece, distorsioni e riduzione bit. Tutti questi effetti possono essere indirizzati però si vede in forma da patch cavi virtuali tra i moduli. Tutti gli effetti possono anche modulato in vari modi con le cose come gli LFO e seguaci Busta. Basta rattoppare. Ci sono anche i miscelatori, sorgenti di modulazione e di una serie di moduli di matematica a portata di mano anche.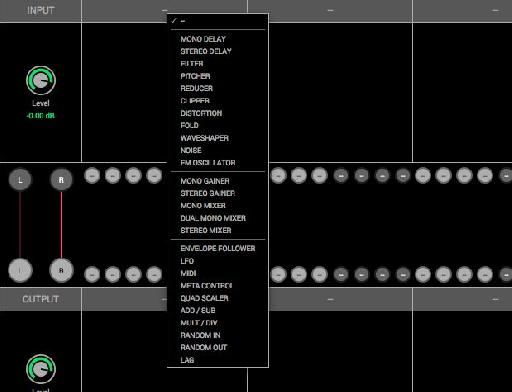 È possibile creare semplici effetti come Chorus, Flanger, ritardi filtrati, ecc o andare completamente fuori di testa e creare caos casuale distorsione glitched fuori. La scelta è vostra!
Una volta caricato come un plugin inserto, Quadrant si comporta come qualsiasi altro processore di effetti. La cosa interessante è theres davvero alcun percorso insieme. Quadrant si basa molto su di voi solo sperimentando e questo è il modo migliore per andare con esso. La biblioteca di preset fornito è abbastanza stravagante e non troverete molti suoni normali in là ! :)
Dopo un po 'si ottiene il blocco di esso e in poco tempo youll probabilmente avete fatto qualcosa di fresco. Questa patch ritardo morphing filtrato ha preso un paio di minuti e praticamente ha una mente propria! :)
[Id audio = "30591"]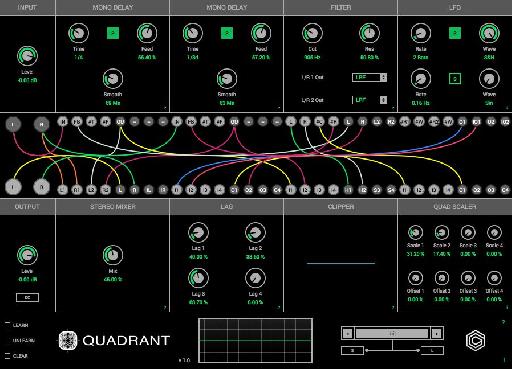 Theres un sacco di roba per distruggere l'audio e alcuni dei moduli Math fanno alcune cose pazzesche. Il sistema di cablaggio è facile da lavorare e se il cerotto diventa troppo unwieldily si può girare in modalità Highlight Connection che illumina qualsiasi cavo si fa clic su per scoprire dove il suo corso.

L'unica cosa Id piace vedere è più moduli davvero così ti ritrovi a corto piuttosto veloce. C'è una funzione MIDI Learn per modifiche in tempo reale, anche se la lista di automazione (in Logic) è leggermente criptico.
Generazione Suoni
Il rovescio della medaglia di Quadrant è che la sua non è solo un processore di effetti. Può anche essere usato come un semplice sintetizzatore modulare. In realtà non puoi innescare note con esso ma sarà gestire la più farlo funzionare lato sperimentale di suoni modulari.
Ci sono due generatori di suoni fondamentali in Quadrant. Un oscillatore FM duale e un generatore di rumore. Questo può sembrare semplice, ma si può fare molto con solo questi due.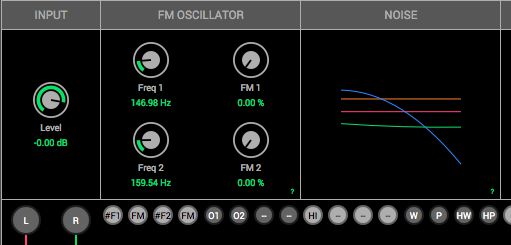 E 'anche meglio utilizza questa modalità come strumento software. In logica sarebbe caricato come un effetto MIDI controllata.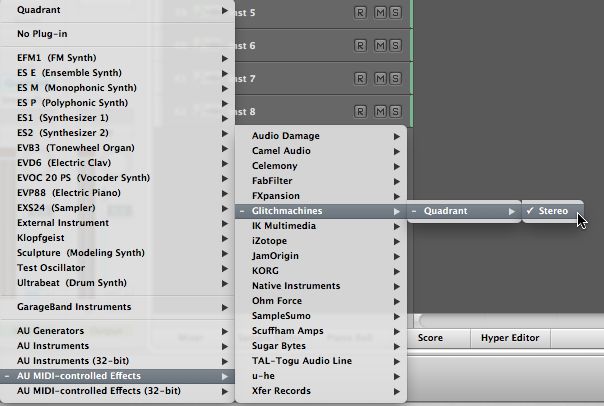 Ciò consente di utilizzare il modulo MIDI per controllare i parametri tramite numero di nota, pressione, velocità e Pitch-ruota. La sua impossibile ottenere l'oscillatore FM mappare correttamente per valori cromatici utilizzando le note e non c'è nessun ADSR così youll resta che pensare la tastiera come una striscia di nastro gigante! Ho avuto alcune belle cose serie armonica accadendo con la tastiera però.
Anche in questo caso la sua migliore per immergersi solo in e giocare con lui. È possibile ottenere alcune cose dispari molto cool andare con i moduli disponibili, ma come ho detto prima ho potuto fare con più di quattro slot!
Mentre scrivevo questo mi resi improvvisamente conto Id stato tweaking una patch per circa mezz'ora e divertendo molto!
Conclusione
Quadrant è sicuramente un po 'di divertimento di software. La sua probabilmente non andando a soddisfare la maggior parte stili di musica, ma se avete bisogno di impazzire, allora questo è un vincitore sicuro. Viene fornito con una vasta libreria di campioni synth modulari che sono ancora abbastanza mentale. Anche se Im personalmente abbastanza giù con quello! :)