The iPhone is great for the audio recording journalist and musician on the go. But wouldn't it be great if you could connect your existing studio mics too? Now you can with IK Multimedia's iRig PRE
Als iOS-Geräte mehr und mehr mächtig geworden, kommen wir zu erwarten, dass mehr mit ihnen zu tun. Musik und Aufnahme Apps sind schon ziemlich fortgeschritten, aber Apples Hardware noch nur die grundlegenden eingebaute Mikrofon oder die Anlage, die Mikrofone über das Camera Connection Kit oder häufiger in diesen Tagen, die Kopfhörerbuchse, die für viele Menschen unbemerkt Verbindung akzeptiert auch Audio Eingabe.
Große Aufnahmen erfordert natürlich große Mikrofone. Das Problem ist, dass viele Studio-Mikrofone sind Kondensator-Modelle und fast alle haben einen XLR-Anschluss. Noch schlimmer ist, aus der Sicht des mobilen Aufzeichnung, neigen sie dazu Phantomspeisung benötigen. Bis jetzt hat immer ein Studiomikrofon mit Ihrem iOS-Gerät entweder eine knifflige Workaround oder immer so etwas wie der Alesis StudioDock gemeint, die zwar ein hervorragendes Stück Kit erfordert Einstecken in die Steckdose und könnte als übertrieben werden, wenn alles, was Sie tun möchten, aufnahmebereit ist ein Kondensator-Mikrofon.
Plug and play
Geben IK Multimedia ist iRig PRE , spätestens in den Firmen immer größeres Angebot an Musik-Hardware für iOS. Es ist im Wesentlichen ein ziemlich einfaches Stück-Set. Pop in der 9V-Batterie und schließen Sie die Mini-Klinkenbuchse auf Ihrem iPhone, iPod Touch oder iPad Kopfhöreranschluss. Auf der anderen Seite der Box, Stecker in Ihrem Studio mic mit einem XLR-Kabel. Stellen Sie die Verstärkung mit dem kleinen vertieften Einstellrad auf der Seite, und beobachten zurück durch die Onboard-Mini-Klinke-Kopfhörer-Anschluss. Wenn Sie die Phantomspeisung benötigen, können Sie drehen Sie den Hauptschalter auf einer dritten Position, und ein extra leuchtet auf, um anzuzeigen, dass seine Arbeiten.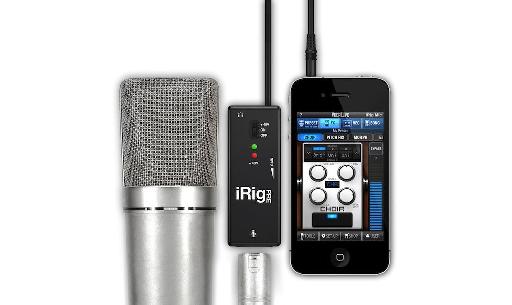 iRig PRE ist kinderleicht Ihre Lieblings-iOS-Gerät zu verbinden.
Und das ist ziemlich viel es verbinden alles und aufzeichnen in Ihre App der Wahl. IK macht iRig Recorder und VocaLive, von denen beide in kostenlosen und kostenpflichtigen Versionen kommen, und natürlich wird der Eingang mit IKS anderen Anwendungen wie Amplitube, Apples GarageBand und anderen Audio-Aufnahme Apps arbeiten. Getestet habe ich es herausgefunden und Aufnahmequalität, groß zu sein das lange Kabel zwischen dem Pre und dem iPhone ist hilfreich, weil es Ihnen erlaubt Position Dinge ein bisschen mehr flexibel und mein Rode NT1 klang viel wie, wenn ich es aufzeichnen durch andere, tut computer- Basis-Audio-Interfaces. Theres eine Möglichkeit, die Pre zu einem Mikrofonständer mit dem mitgelieferten Klettband befestigen.
Verbinden Sie Ihr XLR-Mikrofoneingang, Phantomspeisung einzuschalten und du bist gut zu gehen.
Onboard Ãœberwachung
Mit dem Pre mit VocaLive ist auch interessant. Dank der integrierten Überwachung Sie sprechen oder in das Mikrofon (es funktioniert mit nicht-Phantomspeisung Mikrofone natürlich auch) zu singen, habe es durch die verschiedenen Effekte im App verarbeitet und dann hört es wieder, mit beeindruckend niedrigen Latenz überwacht. Da die Box verwendet eine Batterie, theres keine Belastung für Ihre iOS-Geräte Akku und Batterien sind ziemlich billig.
Abschließende Gedanken
Der iRig PRE ist nur über die meisten mobilen Recording-Lösung Sie, wenn mit einem aktuellen iOS-Gerät und einem XLR-Verbindung mic gepaart denken konnte. Die Fähigkeit, Phantomspeisung macht es wirklich nützlich und Aufnahmequalität ist groß. Wenn Sie Aufnahmen unterwegs, wollen aber Klang in Studioqualität zu einem Schatten unter 30 Euro, seine definitiv einen Besuch wert!
Erfahren Sie mehr über iRig PRE hier .