The iPhone is great for the audio recording journalist and musician on the go. But wouldn't it be great if you could connect your existing studio mics too? Now you can with IK Multimedia's iRig PRE
Como los dispositivos iOS se vuelven más y más poderosos, que esperan poder hacer más con ellos. Aplicaciones de música y grabación están bastante avanzado, pero todavía Manzanas hardware sólo tiene el básico micrófono incorporado, o la facilidad para conectar micrófonos a través del Kit de conexión de cámara o con mayor frecuencia en estos días, la toma de auriculares que sin saberlo muchas personas también acepta audio de entrada.
Grandes grabaciones, por supuesto requieren micrófonos grandes. El problema es que muchos PRM estudio son modelos de condensador y prácticamente todos tienen una conexión XLR. Aún peor, desde el punto de vista de grabación móvil, tienden a que la requieren. Hasta ahora, conseguir un micrófono de estudio conectado a su dispositivo iOS ha significado tanto una solución incómoda o conseguir algo como el StudioDock Alesis que, aunque un excelente equipo, requiere conectarlo a la red eléctrica y podría considerarse excesivo si lo que quieres hacer es un micrófono de condensador registro.
Plug and play
Ingrese IK Multimedia iRig PRE , la última en la Companys crecientes gama de hardware de música para iOS. Es, esencialmente, una pieza bastante simple de kit. Pop en la batería de 9V y conecte el mini jack a tu iPhone, iPod Touch o iPad puerto de auriculares. Al otro lado de la caja, conecte su micrófono de estudio utilizando un cable XLR. Ajuste la ganancia con el dial ligeramente hundido en el costado, y controlar a través de la mini jack a bordo puerto de auriculares. Si usted necesita alimentación phantom puede voltear el interruptor principal en una tercera posición, y una luz extra se enciende para indicar que su funcionamiento.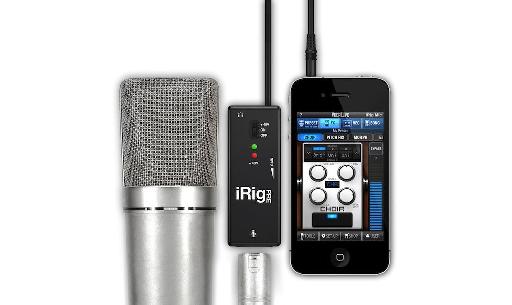 iRig PRE es pan comido para conectarse a su favorito dispositivo iOS.
Y eso es más o menos lo conecta todo y grabar en su aplicación de la opción. IK hace iRig Recorder y VocaLive, los cuales vienen en versiones gratuitas y de pago, y por supuesto la entrada será trabajar con IKS otras aplicaciones como Amplitube, manzanas aplicaciones de grabación de audio de GarageBand y otras. Lo he comprobado y encontramos la calidad de grabación sea excelente el cable largo entre el Pre y el iPhone es útil, ya que permite que las cosas de posición un poco más flexible y mi Rode NT1 sonaba mucho como lo hace cuando lo grabo a través de otro, por computadora basado interfaces de audio. Hay una facilidad para conectar el Pre con un pie de micro mediante el software correa de velcro.
Conecte su micrófono XLR, conecte la alimentación phantom y ya está bueno para ir.
Vigilancia a bordo
Con el Pre con VocaLive es interesante también. Gracias a la vigilancia a bordo se puede hablar o cantar en el micrófono (trabaja con organizaciones no micrófonos con alimentación phantom también, por supuesto), lo han procesado a través de los diversos efectos de la aplicación y luego cambiar de seguimiento hacia atrás, con una latencia impresionantemente bajo. Desde la caja utiliza una batería, theres ninguna carga para su batería de los dispositivos iOS, y las baterías son bastante baratos.
Reflexiones finales
El PRE iRig es sólo acerca de la solución de grabación más móvil que usted podría pensar si se combina con un reciente dispositivo iOS y un micrófono XLR-conectado. La capacidad de alimentar a la alimentación fantasma hace que sea muy útil y de calidad de grabación es muy grande. Si graba en movimiento, pero desea que el sonido de calidad de estudio, a un poco menos de 30 euros, es sin duda vale la pena mirar!
Descubra más sobre iRig PRE aquí .