The iPhone is great for the audio recording journalist and musician on the go. But wouldn't it be great if you could connect your existing studio mics too? Now you can with IK Multimedia's iRig PRE
Comme les appareils iOS deviennent de plus en plus puissant, nous en droit d'attendre d'être en mesure de faire plus avec eux. Applications de musique et d'enregistrement sont pas mal avancé, mais le matériel n'a toujours Pommes de base micro intégré, ou la possibilité de connecter micros via le Camera Connection Kit, ou plus souvent ces jours-ci, la prise casque qui à l'insu de beaucoup de gens accepte également l'audio d'entrée.
Grands enregistrements qui requièrent des microphones grands. Le problème est que de nombreux Microphones studio à condensateur sont des modèles et ont pratiquement toutes une connexion XLR. Pire encore, du point de vue de l'enregistrement mobile, ils ont tendance à nécessitent une alimentation fantôme. Jusqu'à présent, obtenir un micro de studio connecté à votre appareil iOS a signifié soit une solution de contournement fiddly ou obtenir quelque chose comme le StudioDock Alesis qui, tout d'un excellent morceau de kit, il faut brancher l'appareil et pourrait être considéré comme trop si tout ce que vous voulez faire micro à condensateur est rendu celui-ci.
Plug and play
Entrez IK Multimedia iRig PRE , plus tard dans les companys toujours plus large de matériel de musique pour iOS. Il est, essentiellement, un morceau assez simple de kit. Pop dans la pile 9V et connectez le mini-jack de votre iPhone, iPod Touch ou iPad port de sortie casque. De l'autre côté de la boîte, branchez votre micro de studio en utilisant un câble XLR. Réglez le gain à l'aide du petit cadran situé sur le côté, et de suivre à travers le bord mini-jack prise casque. Si vous avez besoin d'une alimentation fantôme, vous pouvez appuyer sur l'interrupteur principal pour une troisième position, et une lumière d'appoint s'allume pour indiquer que son fonctionnement.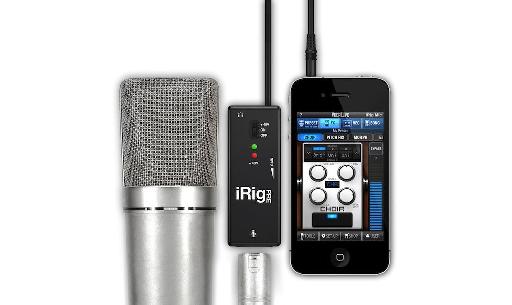 iRig PRE est simple comme bonjour pour vous connecter à votre appareil préféré iOS.
Et c'est à peu près tout le connecter et enregistrer dans votre application de prédilection. IK iRig Recorder fait et VocaLive, tous deux viennent dans des versions gratuites et payantes, et bien sûr l'entrée sera de travailler avec d'autres applications comme iks Amplitube, pommes de GarageBand et d'autres applications d'enregistrement audio. Je l'ai testé et trouvé la qualité d'enregistrement pour être grand le long câble entre l'avant et l'iPhone est utile car elle vous permet de position des choses un peu plus de souplesse et ma NT1 Rode sonnait un peu comme il le fait quand je l'enregistre par d'autres, par ordinateur basée interfaces audio. Il ya un centre pour fixer le pré à un pied de micro en utilisant la sangle velcro fournie.
Connectez votre micro XLR, activez l'alimentation fantôme et vous êtes bon pour aller.
Surveillance de bord
Utilisation de la pré avec VocaLive est intéressant aussi. Merci à la surveillance à bord, vous pouvez parler ou chanter dans le micro (il fonctionne avec des fantômes micros alimentés trop bien sûr), l'ont traitée à travers les divers effets de l'application, puis l'entendre surveillée en arrière, avec une latence remarquablement faible. Depuis la boîte utilise une batterie, ya pas de fuite sur votre iOS dispositifs de la batterie, et les batteries sont assez peu coûteux.
Réflexions finales
Le PRE iRig est à peu près la solution d'enregistrement la plus mobile que vous pourriez penser lorsqu'il est associé à un dispositif récente iOS et un micro XLR-connecté. La capacité de nourrir une alimentation fantôme, il est vraiment utile et de qualité d'enregistrement est grande. Si vous enregistrez sur le coup, mais que voulez un son de qualité studio, à un peu moins de 30 euros, sa vaut vraiment le coup d'œil!
Découvrez plus sur iRig PRE ici .