The iPhone is great for the audio recording journalist and musician on the go. But wouldn't it be great if you could connect your existing studio mics too? Now you can with IK Multimedia's iRig PRE
Poiché i dispositivi iOS diventano sempre più potenti, ci si aspetta di essere in grado di fare di più con loro. Musica Applicazioni e la registrazione sono sempre piuttosto avanzata, ma con hardware Mele ha ancora solo la base microfono incorporato, o la possibilità di collegare microfoni tramite il Camera Connection Kit o più frequentemente in questi giorni, il jack per le cuffie che insaputa a molte persone accetta anche l'audio ingresso.
Registrazioni Grandi naturalmente richiedono microfoni grandi. Il problema è che molti Microfoni da studio a condensatore sono modelli e praticamente tutti hanno una connessione XLR. Ancora peggio, dal punto di vista della registrazione mobile, tendono a richiedere alimentazione phantom. Fino ad ora, ottenendo un microfono in studio collegato al dispositivo iOS ha significato sia una soluzione poco pratici o di ottenere qualcosa di simile al StudioDock Alesis che, mentre un ottimo kit, è necessario inserire la spina nella presa di corrente e potrebbe essere considerato eccessivo se tutto quello che volete fare è record di un microfono a condensatore.
Plug and play
Inserisci IK Multimedia iRig PRE , più tardi nei companys sempre crescente gamma di hardware musicale per iOS. Si tratta, in sostanza, un pezzo abbastanza semplice kit. Pop la batteria da 9V e collegare il mini jack per il vostro iPhone, iPod Touch o iPad cuffie. All'altro lato della scatola, collegare il microfono studio utilizzando un cavo XLR. Regolare il guadagno con il piccolo quadrante incassato sul lato, e monitorare indietro attraverso il bordo mini jack cuffie. Se avete bisogno di alimentazione phantom è possibile capovolgere l'interruttore principale in una terza posizione, e una luce in più si accende per indicare che il suo funzionamento.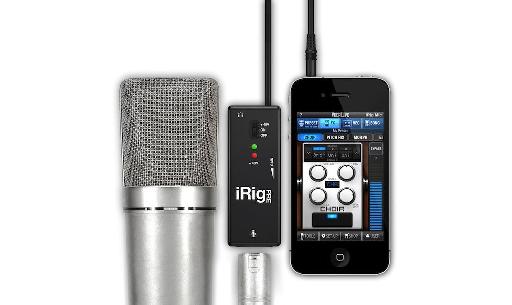 iRig PRE è facile come torta di connettersi al dispositivo preferito iOS.
E questo è più o meno la collegano tutto e registrare nella propria applicazione di scelta. IK iRig Recorder e rende VocaLive, entrambi i quali sono disponibili in versione gratuita ea pagamento, e, naturalmente, l'ingresso funzionerà con IKS altre applicazioni come Amplitube, mele applicazioni GarageBand e altre registrazioni audio. Ho testato ed è risultato la qualità di registrazione per essere grande il cavo lungo tra il Pre e l'iPhone è utile perché consente di posizionare le cose un po 'più flessibile e il mio Rode NT1 suonava molto come lo fa quando ho registrare attraverso altri, computer- basato interfacce audio. C'è una possibilità di collegare il Pre a un microfono a stare in piedi con la cinghia velcro fornito.
Collega il tuo microfono XLR, attivare l'alimentazione phantom e sei a posto.
Monitoraggio a bordo
Uso del Pre con VocaLive è interessante. Grazie al monitoraggio a bordo è in grado di parlare o cantare nel microfono (funziona con microfoni alimentati non fantasma troppo ovviamente), hanno elaborato attraverso i diversi effetti della applicazione e poi sentire monitorato indietro, con una latenza incredibilmente bassa. Dal momento che la casella utilizza una batteria, non c'è nessun salasso per la batteria dispositivi iOS, e le batterie sono abbastanza economici.
Pensieri finali
Il PRE iRig è solo la soluzione di registrazione più mobile che si possa pensare, quando accoppiato con un dispositivo iOS recente e un microfono XLR collegato. La capacità di alimentazione phantom lo rende veramente utile e la qualità della registrazione è ottima. Se si registra in movimento, ma vuole la qualità del suono in studio, in una tonalità meno di 30 euro, la sua sicuramente la pena di verificare!
Scopri di più su iRig PRE qui .