The iPhone is great for the audio recording journalist and musician on the go. But wouldn't it be great if you could connect your existing studio mics too? Now you can with IK Multimedia's iRig PRE
Como os dispositivos iOS tornar-se mais e mais poderosos, que esperam ser capazes de fazer mais com eles. Aplicativos de música e gravação estão ficando muito avançado, mas hardware Maçãs ainda só tem o básico microfone embutido, ou a facilidade de conectar microfones através do Camera Connection Kit, ou mais frequentemente estes dias, o fone de ouvido que sem o conhecimento muitas pessoas também aceita áudio de entrada.
Grandes gravações de curso exigem microfones grandes. O problema é que muitos mics estúdios são modelos de condensador e praticamente todas têm uma conexão XLR. Pior ainda, a partir do ponto de vista de gravação móvel, tendem a exigir alimentação fantasma. Até agora, a obtenção de um microfone de estúdio ligado ao seu dispositivo iOS tem significado a uma solução alternativa fiddly ou obter algo como o StudioDock Alesis que, enquanto um excelente kit, requer ligar na tomada e pode ser considerado um exagero se tudo que você quer fazer é o registro um microfone condensador.
Plug and play
Digite IK Multimedia iRig PRE , o mais recente da companhia nos crescentes gama de hardware de música para iOS. É, essencialmente, uma peça bastante simples de kit. Pop na bateria de 9v e ligue o mini-jack para o seu iPhone, iPod Touch ou iPad porta de auscultadores. Para o outro lado da caixa, ligar o seu microfone de estúdio usando um cabo XLR. Ajuste o ganho utilizando o botão pequeno recesso do lado, e acompanhar de volta através do bordo de mini fone de ouvido porta. Se você precisa de energia fantasma pode virar a chave principal para uma terceira posição, e uma luz extra acende para indicar que o trabalho seu.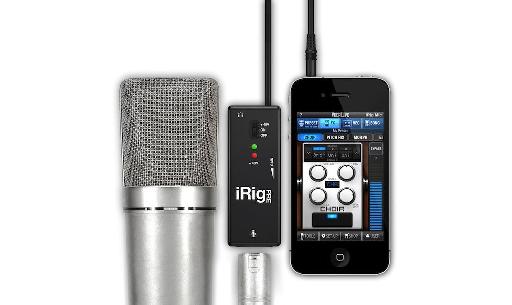 iRig PRE é fácil como torta para conectar ao seu dispositivo iOS favorito.
E isso é muito bonito isso ligar tudo e gravar em seu aplicativo de escolha. IK faz iRig Recorder e VocaLive, sendo que ambos vêm em versões gratuitas e pagas, e, claro, a entrada irá trabalhar com outros aplicativos como IKs AmpliTube, maçãs do GarageBand e outros aplicativos de gravação de áudio. Eu testei e encontrou qualidade de gravação para ser grande o cabo longo entre o pré eo iPhone é útil porque permite que você as coisas posição um pouco mais flexível e meu NT1 Rode soava muito como ele faz quando eu gravá-lo através, outro computador baseado interfaces de áudio. Há uma possibilidade de anexar o Pre para um microfone ficar usando a cinta de velcro fornecido.
Conecte seu microfone XLR, ligue fantasma e você é bom para ir.
Monitoramento de bordo
Usando o pré com VocaLive é interessante. Graças ao monitoramento a bordo você pode falar ou cantar em seu microfone (que funciona com não-fantasmas microfones movidos também, é claro), tê-lo processado através dos vários efeitos no aplicativo e, em seguida, ouvir monitorado de volta, com latência muito reduzido. Já que a caixa usa uma bateria, não há nenhuma fuga em sua bateria de dispositivos iOS, e as baterias são bastante baratos.
Considerações finais
A PRE iRig é apenas sobre a solução de gravação mais móvel que você poderia pensar quando emparelhado com um dispositivo iOS recente e um microfone XLR-conectado. A capacidade de alimentar alimentação fantasma torna realmente útil e qualidade de gravação é grande. Se você gravar em movimento, mas quero som com qualidade de estúdio, em um tom menos de 30 euros, é definitivamente vale a pena conferir!
Descubra mais sobre iRig PRE aqui .