If you haven't come across d16 (virtual instruments developer) before now, then be prepared to sample something very tasty indeed! Hollin Jones takes the LuSH-101 for a subtractive synthesis spin!
d16 ist ein polnischer Entwickler, welche seit virtuelle Instrumente für eine Reihe von Jahren und seine neueste Angebot ist Lush-101 , eine polyphone subtraktive Synthesizer mit einem Schwerpunkt auf elektronischer Musik. Es verfügt über acht Schichten und jeder ist eigentlich ein eigenes, unabhängiges Synthesizer mit ihren eigenen Einstellungen und Polyphonie. Das Instrument kann MIDI-Eingang auf einem einzigen Kanal erhalten, oder Sie können verschiedene Kanäle getrennte Schichten, sowie die Einstellung sie zu verschiedenen Keyboard-Zonen reagieren zu senden, so dass es wirklich multitimbral. Es läuft auf Windows als auch auf Mac (OS X 10.6 oder höher) und Bedürfnisse
Wenn die CPU-Anforderungen hoch erscheinen, erklärt d16, dass es hängt wirklich davon ab, wie Sie es verwenden. Bei so vielen Ebenen zur Verfügung und auch die Qualität umschaltbar von normal bis hoch, Leistung konnte stark variieren zwischen den Patches. Als ein Beispiel, war ich läuft es auf einem 2,66 GHz i7-basierten MacBook Pro 2010 und es schien, nicht die CPU besonders hart zu besteuern, auch beim Laufen Acht-Schicht-Patches mit vielen Effekten geladen. Wenn Sie jede Schicht Einsatz viele Stimmen zu machen begann, kann die Dinge ändern.
Jede Schicht ist unabhängig und auf sie zuzugreifen Sie die Layer Select Abschnitt an der Spitze. Layers ausgewählt werden können, gesperrt, Solo und gedämpften von hier so wirkt es wie eine schnelle on / off chooser. Jede Schicht hat umfangreiche Kontrollen und das Aussehen des Synth erinnert an alte Hardware Synths und Beatboxes. Auf einem Bildschirm mit höherer Auflösung, kann es sehr schwierig sein, den gesamten Text und Symbole, da alles ziemlich klein ist zu sehen. D16 besagt, dass eine skalierbare Schnittstelle aufgrund einer Aktualisierung eingeführt werden, und dies würde in der Tat erlaubt sein soll.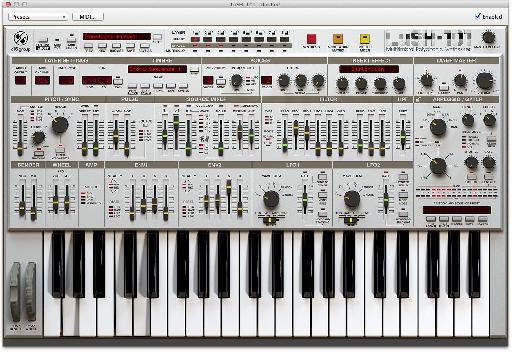 Bis zu acht Schichten vorhanden sind, voneinander unabhängige und vollständig anpassbar mit Effekten.
Für jede Schicht können Sie ein Timbre aus der Liste und manuell Tonhöhe verändern Tracking, Geschwindigkeit Dynamikkurve und Polyphonie-Modus. Sounds kann gezwungen werden, mono-oder polyphone sein kann, und Sie erhalten die Anzahl der verfügbaren Stimmen sowie Portamento, unisono Modus und wählen Sie aus einer Liste von Insert-Effekte pro Schicht. Leistungsstarke Bedienelemente sind für die Feinabstimmung Pitch, Puls, Filter, Verstärker, Hüllkurven und LFOs vorgesehen, und es gibt eine große Arpeggiator / gater erhältlich mit Presets sowie präzise Steuerung.
Um die acht Schichten miteinander verschmelzen, können Sie eine Mixer-Sektion zu bekommen, und jeder Kanalzug hat seinen eigenen parametrischen EQ und Kompressor, plus drei Master-Send-Effekte und bis zu 11 frei belegbare Stereo-Ausgangsbusse pro Instanz des Synth, so senden Sie Schichten getrennt durch Effekte von Drittanbietern als auch verarbeitet werden. Darüber hinaus macht eine vielseitige Modulations-Matrix für jede Schicht es einfach mod Quellen in allen möglichen Destinationen zu senden. Theres MIDI natürlich lernen und Automatisierung Unterstützung für Ihre DAW.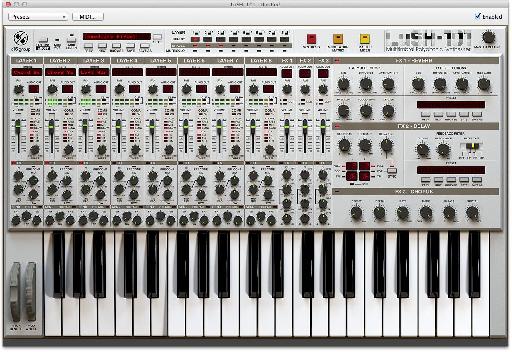 Mische die Ebenen zusammen mit dem Onboard-Mixer mit Send-FX, Kompression und EQ pro Kanal.
Was Lush-101 möglicherweise fehlt in grafischer Raffinesse, macht es für mit einer Klangqualität. Es gibt fette Bässe, mehrschichtige Leitungen und einige ausgezeichnete tempo-basierten Patches unter den 1600 enthalten. Schneiderei Sounds ist einfach, dank der Schicht-System und den Aufbau Ihrer eigenen nicht zu beschwerlich entweder. Im bereit zu wetten, aber, dass youll verbringen eine ganze Weile gehen durch die Presets und Spaß: es gibt eine Menge hier für jedermann Produzieren von elektronischer Musik. Stilistisch, seine sehr tanzen orientiert, aber Sie könnten eine Sounddesigner immer eine Menge aus dem Synthesizer zu sehen. Ungewöhnlich macht d16 ihren Fahrplan für Updates klar auf ihrer Website so können wir sehen, dass neue Features kommen, und es gibt eine herunterladbare Demo , die Sie ausprobieren können. Sie werden nicht bedauern, dass Sie getan haben.