If you haven't come across d16 (virtual instruments developer) before now, then be prepared to sample something very tasty indeed! Hollin Jones takes the LuSH-101 for a subtractive synthesis spin!
d16 est un développeur polonais qui a été la fabrication d'instruments virtuels pour un certain nombre d'années et sa toute dernière offre est luxuriante-101 , un synthétiseur polyphonique soustractive avec un accent sur ​​la musique électronique. Il a huit couches et chacun est en fait un dédié, synthétiseur indépendant avec ses propres paramètres et polyphonie. L'instrument peut recevoir une entrée MIDI sur un seul canal, ou vous pouvez envoyer des canaux différents pour des couches distinctes, ainsi que la mise à réagir aux zones de clavier différentes, ce qui rend vraiment multitimbral. Il fonctionne sur Windows, ainsi que sur Mac (OS X 10.6 ou supérieur) et les besoins
Si les besoins en puissance sembler élevé, d16 explique que cela dépend vraiment de la façon dont vous l'utilisez. Avec tant de nombreuses couches disponibles et aussi la qualité commutables de la normale à élevée, les performances peuvent varier considérablement entre les parcelles. A titre d'exemple, j'ai été l'exécutant sur un 2,66 GHz Core i7 à base de MacBook Pro 2010 et il semblait ne pas taxer le CPU particulièrement difficile, même lors de l'exécution de huit couches patchs avec beaucoup d'effets chargés. Si vous avez commencé à faire beaucoup chaque utilisation de couches de voix, les choses peuvent changer.
Chaque couche est indépendante et d'y accéder vous utilisez la section Sélectionner une couche sur le dessus. Les couches peuvent être sélectionnés, verrouillé, en solo et en sourdine partir d'ici il agit comme un rapide marche / arrêt sélecteur. Chaque couche possède de nombreux contrôles et le regard du synthé n'est pas sans rappeler des synthés matériels anciens et beatboxes. Sur un écran de résolution plus élevée, il peut être assez difficile de voir tout le texte et les icônes puisque tout est assez faible. D16 dispose que d'une interface évolutive est due à être introduite dans une mise à jour, et ce serait vraiment bienvenue.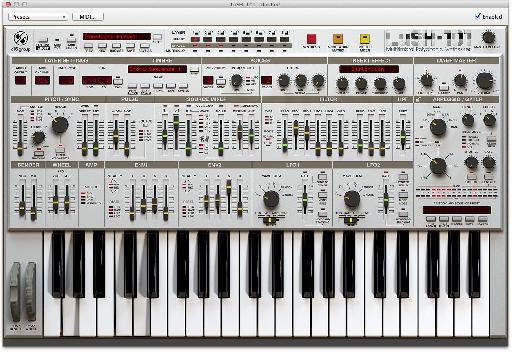 Jusqu'à huit couches sont disponibles, chacune d'elles. Indépendant et entièrement personnalisable avec des effets
Pour chaque couche, vous pouvez choisir un timbre à partir de la liste disponible et modifier manuellement le suivi hauteur, la vélocité dynamique courbe et le mode de polyphonie. Les sons peuvent être forcés à être mono ou polyphonique, et vous aurez à définir le nombre de voix disponibles ainsi que portamento, mode unisson et choisir parmi une liste d'effets d'insertion par couche. Commandes puissantes sont prévues pour peaufiner pas, pouls, filtres, ampli, enveloppes et LFO, un arpégiateur et il ya une grande / gater disponibles avec des préréglages disponibles ainsi que des contrôles précis.
Pour mélanger les huit couches ensemble, vous obtenez une section de mixage, et chaque voie dispose de son propre égaliseur paramétrique et un compresseur, ainsi que trois départs d'effets maître et jusqu'à 11 sorties stéréo assignables librement bus par exemple du synthé, de sorte que vous pouvez envoyer des couches séparément pour être traité par des effets tiers ainsi. En plus de cela, une matrice de modulation puissante pour chaque couche, il est facile d'envoyer des sources de modulation à toutes sortes de destinations. Theres MIDI Learn, bien sûr, et le soutien d'automatisation pour votre DAW.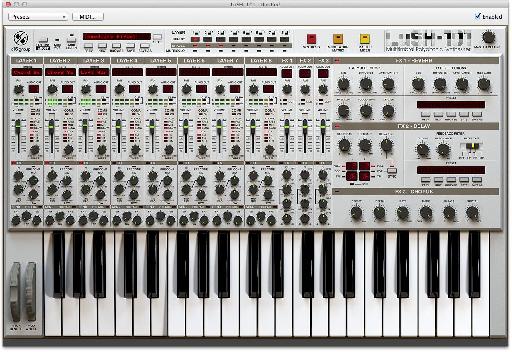 Mélanger ensemble les couches avec le mélangeur à bord, y compris envoi FX, compression et EQ par canal.
Qu'est-ce Lush-101 manque peut-être dans la sophistication graphique, il ne rattraper avec la qualité sonore. Il ya des basses grasses, multi-couches et quelques excellents prospects basés sur le tempo des correctifs entre les années 1600 inclus. Sons de couture est simple, grâce au système de couche et la construction de votre propre n'est pas trop difficile non plus. Im prêt à parier cependant que youll passer un bon moment en passant par les préréglages et s'amuser: il ya beaucoup de choses ici pour quiconque produire de la musique électronique. Stylistiquement, il est très axé sur la danse, mais on pouvait voir un sound designer reçoit beaucoup de la synth trop. Exceptionnellement, d16 rend sa feuille de route pour les mises à jour précises sur son site internet afin que nous puissions voir que de nouvelles fonctionnalités sont à venir, et il ya une démo téléchargeable que vous pouvez essayer. Vous ne serez pas déçus que vous avez fait.