If you haven't come across d16 (virtual instruments developer) before now, then be prepared to sample something very tasty indeed! Hollin Jones takes the LuSH-101 for a subtractive synthesis spin!
d16 è uno sviluppatore polacco che è stato la costruzione di strumenti virtuali per un certo numero di anni, e la sua ultima offerta è LUSH-101 , un sintetizzatore polifonico sottrattivo con una forte enfasi sulla musica elettronica. Ha otto livelli e ognuno è in realtà un dedicato, sintetizzatore indipendente con le proprie impostazioni e polifonia. Lo strumento può ricevere l'input MIDI su un singolo canale, oppure è possibile inviare diversi canali a livelli separati, così come l'impostazione di rispondere alle diverse zone della tastiera, il che rende veramente multitimbrico. Funziona su Windows e su Mac (OS X 10.6 o superiore) e le esigenze
Se i requisiti di CPU sembrare elevato, d16 spiega che in realtà dipende da come lo si utilizza. Con così molti strati disponibili e anche la qualità commutabili da normale ad alto, le prestazioni potrebbero variare notevolmente tra le patch. Per fare un esempio, mi è stato in esecuzione su un 2.66 GHz i7-2010 basata su MacBook Pro e mi sembrava di non tassare la CPU in modo particolarmente duro, anche durante l'esecuzione di otto strati patch con un sacco di effetti caricati. Se hai iniziato a fare un sacco di utilizzo ogni strato di voci, le cose possono cambiare.
Ogni strato è indipendente e per accedervi si utilizza la sezione Selezione layer in alto. I livelli possono essere selezionati, bloccato, in solo e mute da qui in modo che si comporta come un rapido on / off chooser. Ogni strato ha controlli estesi e l'aspetto del synth ricorda synth hardware vecchi e beatboxes. Su uno schermo ad alta risoluzione, può essere molto difficile da vedere tutto il testo e le icone dal momento che tutto è abbastanza piccola. D16 afferma che una interfaccia scalabile è destinato a essere introdotto in un aggiornamento, e questo sarebbe davvero il benvenuto.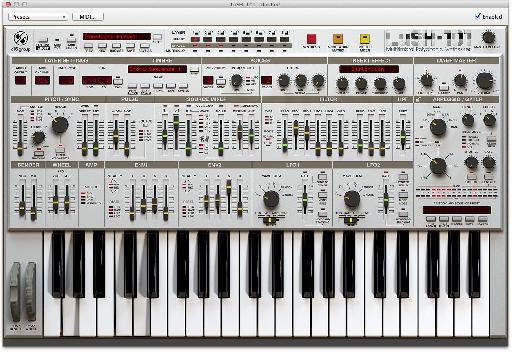 Fino a otto livelli sono disponibili, ognuno indipendente e completamente personalizzabile con effetti.
Per ogni livello, è possibile scegliere un timbro dall'elenco disponibile e modificare manualmente il monitoraggio passo, la velocità e la modalità di curva dinamiche polifonia. I suoni possono essere costretti a essere mono o polifonica, e si arriva a impostare il numero di voci disponibili, nonché il portamento, il modo all'unisono e scegliere da un elenco di effetti in insert per ogni strato. Potenti controlli sono previsti per il pitch tweaking, a impulsi, filtri, amplificatore, buste e LFO, e c'è un arpeggiatore grande / gater disponibile con preset disponibili e controlli precisi.
Per fondere le otto strati insieme, si ottiene una sezione mixer, e ogni striscia canale ha il suo EQ parametrico e compressore, più tre maestro inviare effetti e fino a 11 uscita stereo assegnabili liberamente bus per istanza del synth, in modo da poter inviare i livelli separatamente per essere trattati da effetti di terze parti pure. In aggiunta a questo, una matrice di modulazione potente per ogni strato rende facile inviare fonti mod per tutti i tipi di destinazioni. Theres MIDI Learn, naturalmente, e il supporto di automazione per la vostra DAW.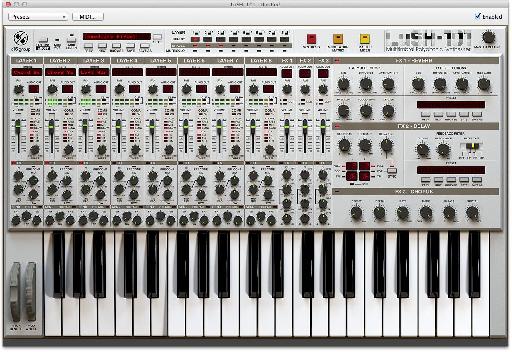 Mescolare insieme gli strati con il mixer a bordo tra cui FX Send, compressione e EQ per canale.
Che LUSH-101 manca forse nel raffinatezza grafica, ha compensato con la qualità del suono. Ci sono bassi grassi, multistrato cavi e alcuni eccellenti tempo a base di patch tra il 1600 incluso. Suoni Sartoria è semplice, grazie al sistema di livello e costruire il proprio non è troppo ardua o. Im pronto a scommettere, tuttavia, che il youll spendere un bel po 'passa attraverso i preset e divertirsi: ci sono un sacco qui per tutti coloro che la produzione di musica elettronica. Stilisticamente, è molto orientato ballare, ma si poteva vedere un sound designer sempre un sacco di synth troppo. Insolitamente, d16 fa la sua tabella di marcia per gli aggiornamenti chiare sul proprio sito web in modo che possiamo vedere che le nuove funzionalità sono in arrivo, e c'è una demo scaricabile che si può provare. Voi non essere dispiaciuto che avete fatto.