If you haven't come across d16 (virtual instruments developer) before now, then be prepared to sample something very tasty indeed! Hollin Jones takes the LuSH-101 for a subtractive synthesis spin!
d16 é um desenvolvedor polonês, que tem vindo a fazer instrumentos virtuais para um número de anos e sua última oferta é exuberante-101 , um sintetizador polifônico subtrativa com uma forte ênfase na música eletrônica. Ele tem oito camadas e cada uma é realmente um sintetizador, dedicada independente, com suas próprias configurações e polifonia. O instrumento pode receber uma entrada MIDI em um único canal, ou você pode enviar diferentes canais em camadas separadas, bem como defini-las para responder às zonas de teclado diferentes, tornando-se verdadeiramente multitimbral. Ele roda em Windows, bem como no Mac (OS X 10.6 ou superior) e as necessidades
Se os requisitos de CPU parecer alto, d16 explica que isso realmente depende de como você usá-lo. Com tão muitas camadas disponíveis e também a qualidade comutável de normal para alta, o desempenho pode variar muito entre os patches. Como exemplo, eu estava correndo em um Core i7 de 2,66 GHz com base em 2010 MacBook Pro e parecia não tributar o CPU especialmente difícil mesmo quando executado oito camadas de manchas com muitos efeitos carregados. Se você começou a fazer cada lotes camada de uso de vozes, as coisas podem mudar.
Cada camada é independente e para acessar a eles que você use a seção Select Layer no topo. As camadas podem ser selecionados, bloqueado, ouvidos solo e mudo daqui por isso age como uma rápida on / off chooser. Cada camada tem controles extensivos e do olhar do synth é uma reminiscência de hardware synths antigos e Beatboxes. Em uma tela de maior resolução, ele pode ser bastante difícil ver todo o texto e ícones já que tudo é muito pequena. D16 afirma que uma interface escalonável é devido a ser introduzidas em uma atualização, e isso realmente seria bem-vinda.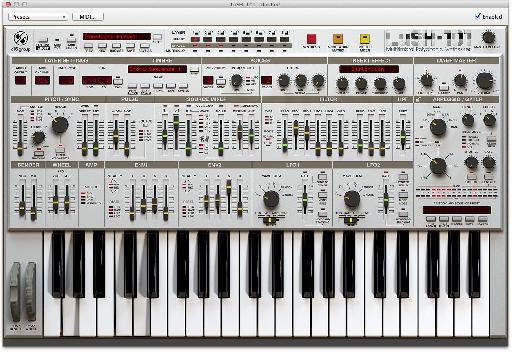 Até oito camadas estão disponíveis, cada um. Independente e totalmente personalizável, com efeitos
Para cada camada, você pode escolher um Timbre da lista disponível e alterar manualmente rastreamento de tom, velocidade e curva dinâmica modo de polifonia. Os sons podem ser forçados a ser mono ou polifônica, e você começa a definir o número de vozes disponíveis, bem como portamento, de modo uníssono e escolher a partir de uma lista de efeitos de inserção por camada. Controles poderosos são fornecidos para ajustes passo, pulso, filtros, amplificador, envelopes e LFOs, e há uma grande arpeggiator / Gater disponível com opções pré-definidas, bem como controles precisos.
Para misturar os oito camadas em conjunto, você tem uma seção do mixer, e cada faixa de canal tem seu próprio equalizador paramétrico e compressor, além de três mestre enviar efeitos e até 11 de saída estéreo podem ser escolhidas livremente ônibus por instância do synth, assim você pode enviar camadas separadamente para ser processado por terceiros efeitos também. Em adição a isto, uma matriz de modulação poderosa para cada camada faz com que seja fácil de enviar fontes mod para todos os tipos de destinos. Theres MIDI Aprender é claro, e suporte de automação para o seu DAW.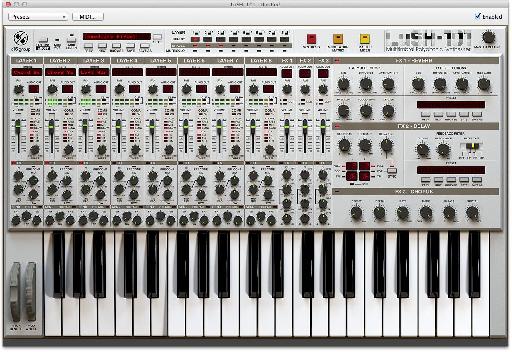 Misture as camadas em conjunto com o misturador integrado incluindo envio FX, compressão e EQ por canal.
O exuberante-101 possivelmente carece de sofisticação gráfica, faz-se para com qualidade de som. Há baixos de gordura, multi-camadas e leva alguns excelentes ritmo baseados remendos entre os 1600 incluído. Sons alfaiataria é simples, graças ao sistema de camada e construir o seu próprio não é muito difícil também. Im disposto a apostar que você vai passar que um bom tempo passando as predefinições e divertir: há muito aqui para qualquer um produzir música eletrônica. Estilisticamente, é muito orientada para dançar, mas você pode ver um designer de som ficando muito fora do synth também. Excepcionalmente, d16 faz seu roteiro para atualizações claras em seu site para que possamos ver que os novos recursos estão chegando, e há uma demo para download que você pode experimentar. Você não vai se arrepender que você fez.