The more we dug into the Roland JD-Xi polyphonic synthesizer, the more trouble we had putting it down. This hybrid instrument is more powerful than its price tag suggests. Find out more here.
Roland is and always has been a name synonymous with electronic, dance music making machines. Throughout the last 30+ some odd years, we've seen kit ranging from well-known TR style drum machines, robust analog synthesizers to some of the most forward-thinking digital synth technologies of our time. To commemorate their succession, Roland introduces the JD-Xi mini keyboard which explores a rare combination of all these facets in what they coin as the new 'interactive analog/digital crossover synthesizer.'
Designed as a miniature polyphonic powerhouse, Roland has amalgamated a monophonic analog section with their patented 'SuperNatural' digital synth engine for a new hybrid synthesizer, drum machine, groove box. If you're looking for sonic variety at a reasonable price point in a small portable package… do read on.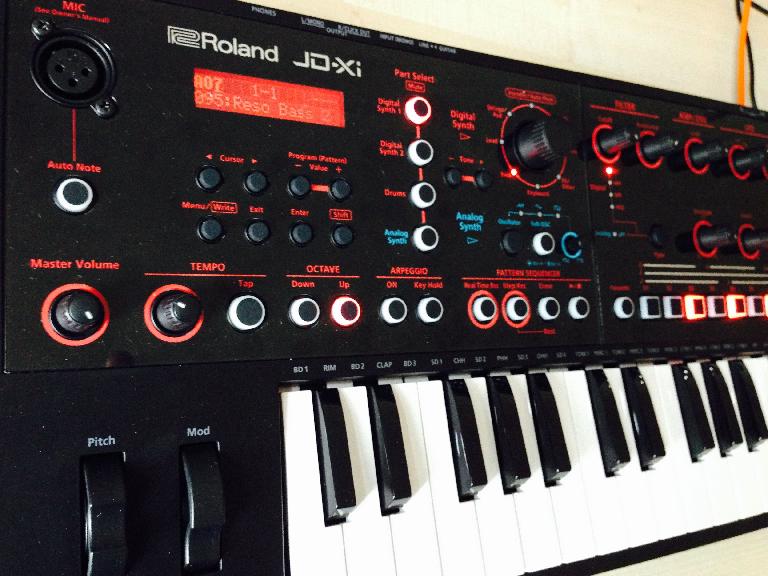 Put It Into Perspective
First off, consider the JD-Xi a small format keyboard that's impressive for its price range. As I quickly discovered, it's much more powerful than initially assumed and the amount of functionality you get for under €500 is pretty remarkable.
Despite the über-plastic casing and budget feel of the encoders and buttons, it's a powerful synthesizer… 128 digital voices, shared between 2 PCM-based digital synths, a drum part (26 voices) and 1 analog voice for a grand total of 129 voices across four parts.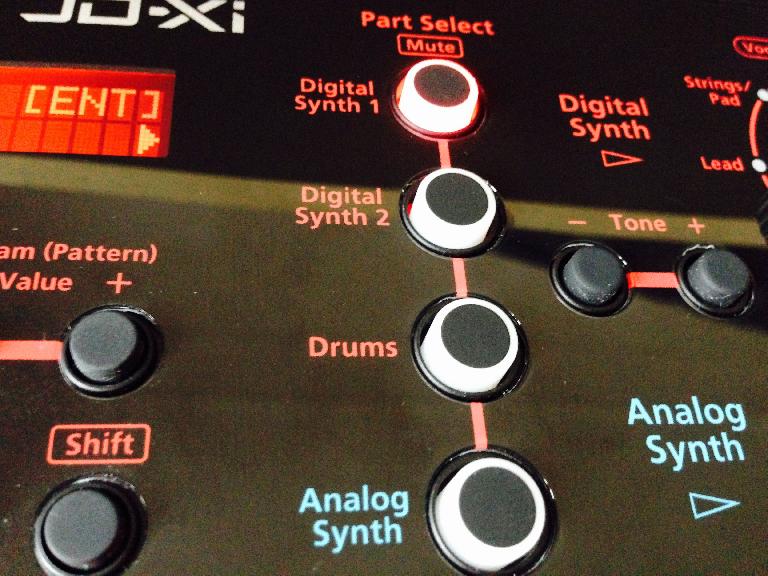 The JD-Xi sports a 3-octave miniature keyboard (velocity sensitive but no aftertouch) with tiny pitch and mod wheels. For quickly sketching out ideas sans computer, there's a built-in 32 step pattern sequencer with real time, TR style and step recording.
The 'Menu' button grants users access to an abundance of editing options for dialing in elaborate sound creations.
Connectivity
The JD-Xi functions as an audio/MIDI interface via a single USB 2 connection. You'll need to head over to Roland's website and download the proprietary driver to get it up and running. While you're there, be sure to download the latest firmware update as it fixes bugs and offers several welcomed enhancements.
If you prefer connecting the JD-Xi to your audio interface, you can do so via the two 1/4-inch output jacks. There's also an additional 1/4-inch headphone output. I'm satisfied seeing that they didn't skimp and opt for consumer style 1/8-inch connections.
On the input side of things, like the MicroKorg or the Novation MiniNova, the JD-Xi comes equipped with an XLR gooseneck microphone for the onboard vocoder. There's an additional 1/4-inch mono input that switches between line and guitar settings. You can employ the Vocoder or Auto Note function on either the line-in, guitar or mic input.
You can get interesting results by using Auto Note to detect the pitch of your voice or input signal to play notes. As indicated in the owners manual: "The Vocoder, AutoPitch, and Auto Note functions are optimized for vocal input. Unexpected sound may result if you input audio from another source." To put it to the test, I experimented with routing various types of audio signals out of my interface and into the line input. You might be hard pressed to get realistic translations, but if you're open to more experimental results this is an interesting area to investigate.
Fun Tip: If your DAW has a track delay function, play around with pushing the timing back and forth for some savvy swing and wonky alternative timing.
Under The Hood
Another fine example of don't judge a book by its cover. Glancing at the controls atop the unit, you'd assume the JD-Xi to be a bit of a simpleton. Suffice to say the front panel offers a very simplified set of controls. For example, there's a single knob dedicated to controlling a parameter labeled 'Envelope' and likewise for each one of the four onboard effects.
Upon further inspection… enter the underworld… menus and submenus of editable parameters upon parameters. These waters indeed flow deep. Pressing the 'Menu' button grants users access to an abundance of editing options for dialing in elaborate sound creations. It's here that you'll find a treasure trove of programing options: tone, effects, pattern scale, arp and much much more.
The user interface is astonishingly understaffed for a synth engine this deep. It's hauntingly reminiscent of programming my early FM gear like the DX100… a tiny window, menu buttons, - and + values and cursor control. To push this little machine to the realm of unstoppable dance production powerhouse the JD-Xi needs a software editor with an intuitive graphic interface that gets into the nitty gritty to rock the ditty ditty.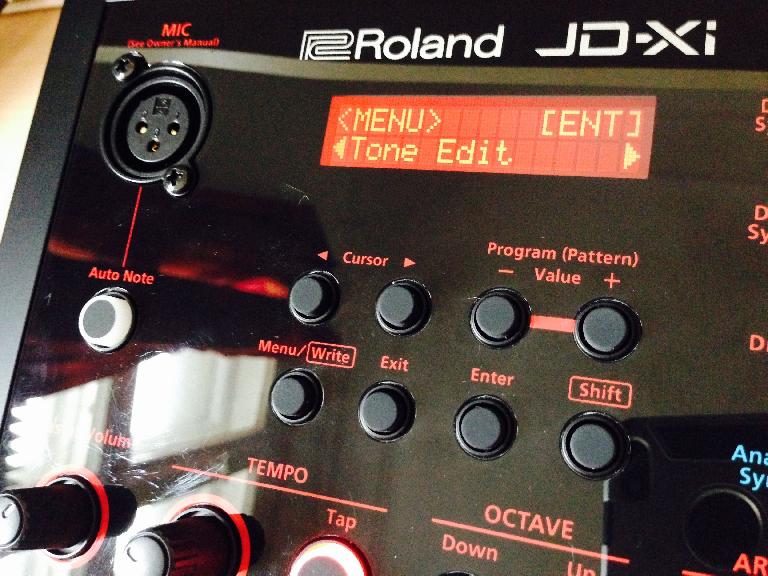 [ad_unit]

One of the greatest strengths of the JD-Xi is its robust drum section. They sound great… punchy and in your face.
Drums for days…
One of the greatest strengths of the JD-Xi is its robust drum section, 26 drum voices per program. No monkey biz, they do sound great… punchy and in your face.
You can choose between any of the famous TR machines (606, 626, 707, 727, 808, 909) as well as a profusion of genera specific kits. When you want to dig deeper, dive into the Menu>Tone Edit and build your own hits from scratch. Each voice has up to four wave generators… that's 26 x 4 sets of possibilities per drum part with an additional 453 different wave generators to choose from. Oh yeah!
More freshness abounding, each drum voice gets access to its own filter and effect's settings. This means that users can shape each of the 26 drum voices individually. The only unabashedly apparent limitation was that I didn't find a way of muting individual drums as the sequence bumped along other than grabbing the AMP/ENV level encoder and giving it a quick twist. Does the trick but not an overall optimal solution.
Getting Digital
The JD-Xi includes two impressive digital synth sections. Choose between any of the 256 presets based on categories such as: Strings/Pads, Bass, Keyboard, FX/Other, Lead, Seq, Brass and Vocoder. Although Roland has covered an abundance of sonic territory, it's evident by the patch and program design that their target market leans heavily toward EDM production.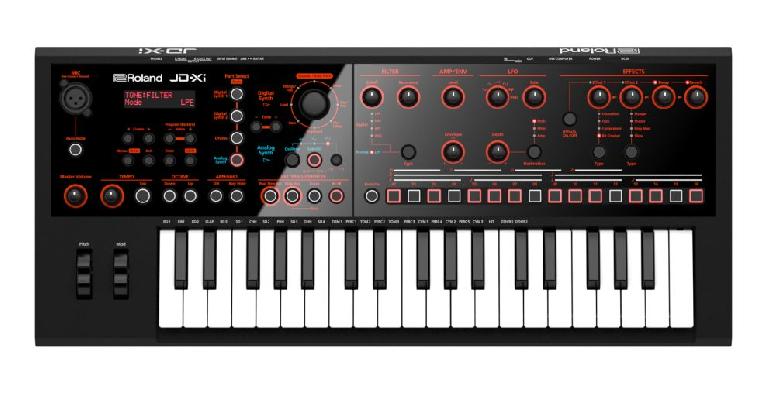 [courses_slider]
Ready to steer away from the presets? Get ready to menu dive! Apart from simple LFO, Filter, Envelope and one knob effect adjustments, you'll need to push some navigation buttons to get to the vast programing capabilities.
Both digital synth parts contain up to three layered tones that can be edited individually. By navigating to the Tone > OSC menu, users can choose between Saw, Square, Pulse Width-Square, Triangle, Sine, Noise, SP-Saw and PCM waveforms to stack and layer to taste. The digital sections can be further sculpted by one of the seven different filters and/or pitch, amp or filter envelopes.
Important Tip: Holding Shift while pressing the - value + buttons will scroll you through digits in larger increments.
Analog
The analog section is qualified though simple, minimal and outnumbered by its digital colleagues. Consisting of only a single oscillator, it's most suited to bass, lead and modest sci-fi FXs.
Choose between sawtooth, triangle and square waves via the front panel. There's also a tiny dial to control pulse-width when square waving. Beef up your tone by kicking in the sub oscillator. This is an additional square wave that can be set to either one or two octaves below the main waveform.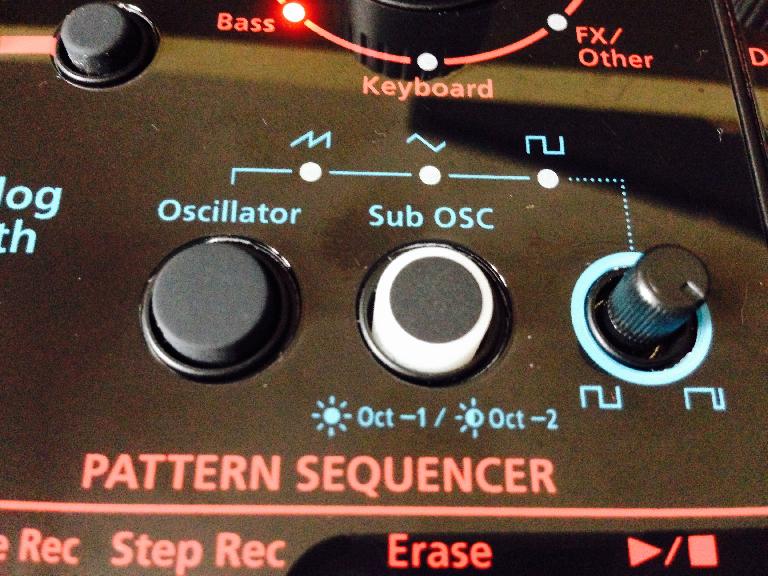 For shaping timbre, the analog part doesn't get access to the digital filters. Instead it has its own 24 dB four-pole low pass which sounds pretty vintage in its own right.
The more I dig in, the harder it is to put down. There's a lot going on under the hood and you get a lot of bang for your buck.
Survey Says
Admittedly, I have more appreciation for this little unit than when it initially arrived. The more I dig in, the harder it is to put down. There's a lot going on under the hood and considering the price point you get a lot of bang for your buck. I can see the JD-Xi being a worthy traveling companion for live performance due to its tiny footprint, straightforward connectivity, multi-functionality and plentiful sound variety.
Price- €499 EUR
Pros
Advanced hybrid instrument and idea sketch pad that's more powerful than it looks.
4 parts multitimbral- mucho polyphony for its compact size and price.
Remarkable sounding synth/drum machine for under €500.
Useful presets, parts and patches for EDM production.
Realtime recording, step sequencing and parameter automation (front panel controls).
USB audio/MIDI connectivity.
Drums get filters and effects per part.
Cons:
Needs a software editor like no tomorrow.
Not battery operated and no aftertouch.
Using vocoder disables the analog synth.
Seemingly not the most sturdy construction ever.
Send levels to onboard effects are global for all parts.
Red on black text is difficult to discern in low light.