The Fender Rhodes sound has never gone out of fashion but real models are out of reach for many people. Hollin Jones , an ex-owner, road tested the Canterbury Suitcase to see how it measured up.
The Fender Rhodes electric piano is one of the most-emulated classic instruments around, although some versions are better than others. For the Canterbury Suitcase, Soniccouture have meticulously sampled a beautifully maintained Suitcase 88, the king of Rhodes models, using a mixture of line out, close mic and room ambience. As an electromechanical instrument the Rhodes uses all three of these to produce its unique sound, so simply using one wouldn't have been sufficient. An 88 sits on its own Fender amp, meaning the classic Rhodes sound is guaranteed as long as the instrument has been properly looked after.
The library consists of over 11,000 samples with between 21 and 25 velocity levels per note as well as key-off and pedal release samples. As a former owner of a real Rhodes, I know how incredibly responsive they are to the velocity of your playing, able to go from soft and dreamlike to biting and punchy, plus many levels in between. So multi-sampling is a must and the three sources mentioned above allow even more flexibility in terms of shaping the sound.
Clean And Dry
It runs in Kontakt Player and is also compatible with the NKS format, weighing in at just under 9GB. From the moment you get it up and running it's clear that this is a gorgeous capturing of an instrument in excellent condition. It's big, yes, but that file size is there for a reason. It's nuanced and responsive to the touch, and the default, untouched Rhodes sound is exactly as I remember it to be. So many instruments go straight for a heavily processed sound (also available here via presets) but the dry version here is incredibly authentic. You may well want to add tremolo, wah and more, but it's nice to have the clean option too.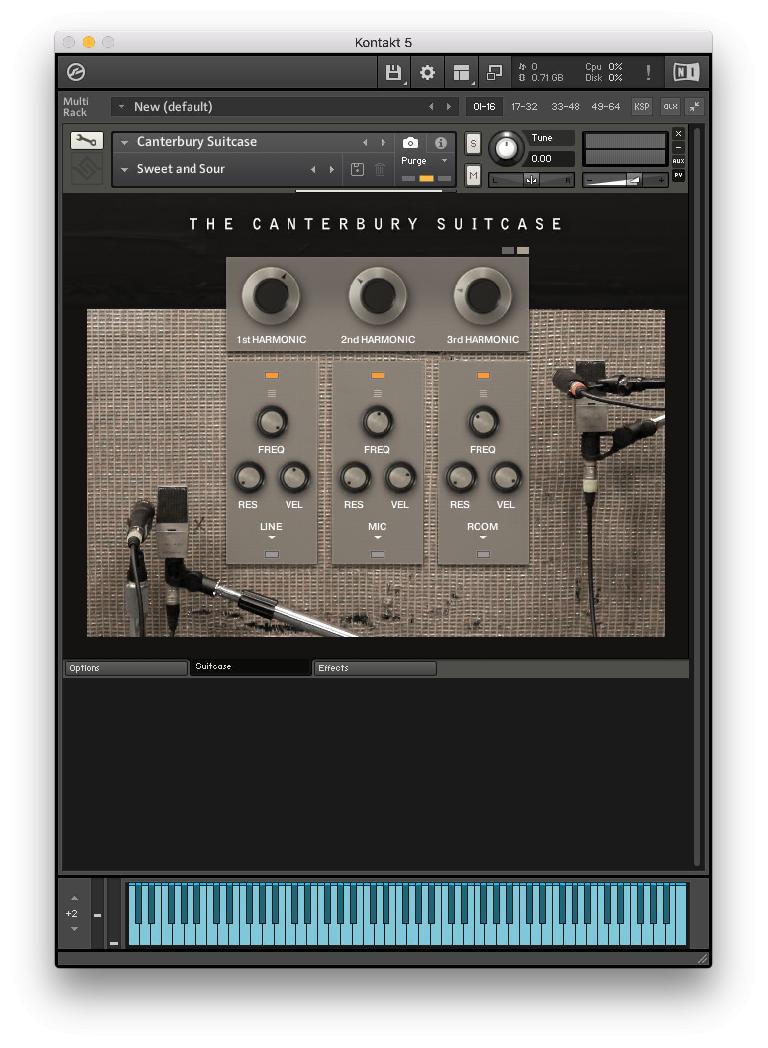 You can do a fair amount of sound tweaking, indeed more than you could on the real hardware. Bass, treble and tremolo are available but also levels and mute for each of the three channels so you can control the ambience. Inside the Options tab you can also control velocity response and mechanical noise: key off, pedal and scaling, to fine tune the response to your playing. The third section is for effects and here you get multiple sections: filter, chorus, compression, rotator, stereo and limiter as well as a reverb, each with fine grained controls. Presets are also available of course, and there's a good selection just as in the instrument's main presets menu, that provide everything from psychedelic space Rhodes to hard-edged rock models and everything in between.
Conclusion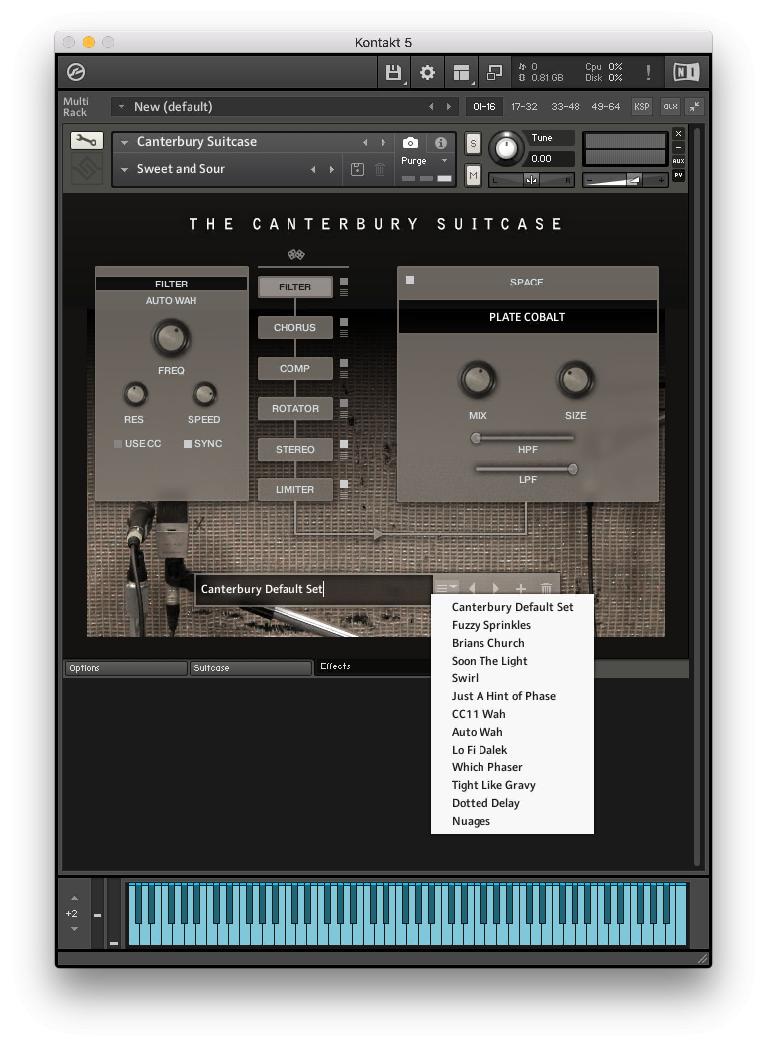 This is one of the best, possibly the best virtual Rhodes I've ever played. Where some recreations sample fewer layers or use synthesis to generate tones, this one goes all-out and doesn't worry about file size, choosing instead to provide the most accurate reproduction possible. There's a great selection of sound controls and effects plus a very solid set of presets covering a wide range of bases. For everything from jazz through pop rock and beyond, the Canterbury Suitcase is an authentic and great-sounding instrument.