In Part One of our Beginner's Guide to WordPress, we talked about how applicable WordPress is to small businesses and creative individuals alike. We briefly discussed some of the different possibiliti
In Part One of our Beginner's Guide to WordPress, we talked about how applicable WordPress is to small businesses and creative individuals alike. We briefly discussed some of the different possibilities with WordPress, and you also got a rundown on the three different ways to install and run a WordPress-based site.
In Part Two, we'll get more into the nitty gritty of WordPress -- that is, how to use the darn thing!

Touring The Interface
First off, once you set up your WordPress blog, you'll want to make your way to the blog's back end, which is where you'll be creating and managing blog posts, creating categories, customizing certain aspects of your blog, and moderating visitor's comments. This is really where everything happens. If you're running your own installation of WordPress, type in the site's URL into your browser, followed by "/wp-admin". You'll be prompted to log in with the username and password you set during the installation process. If you've opted to go with a WordPress.com hosted blog, simply log into your account there.
Once logged in, you'll be greeted with the Dashboard. The Dashboard gives you an overview of your blog by displaying stats like the number of posts and categories you've set, recent activity like visitor comments, and a way to quickly create posts. Have a look around if you like.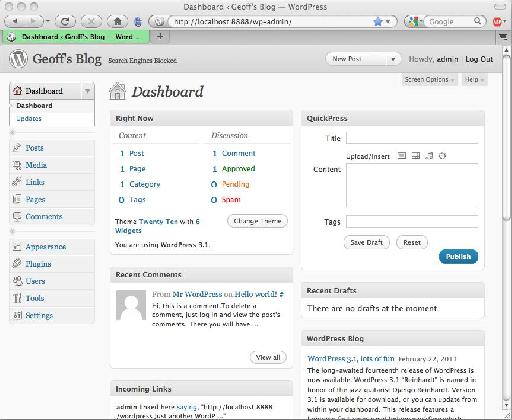 Going down the left-hand side, you'll find the main menu, which contains items like Posts, Media, Links, and so on. When clicked on, each of these menu items expands to reveal a sub-menu, which will take you to specific locations in the WordPress interface. For example, you could expand Settings and click on General to view the General Settings panel.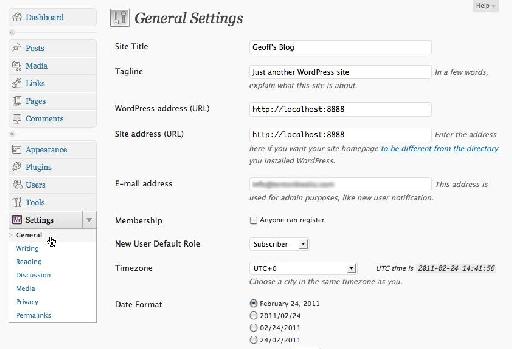 The back end may seem overwhelming and even complicated at first, but as with any desktop application, the more you work with it, the more comfortable you'll get. You'll quickly catch on to how things are organized, and you'll begin getting a sense of which areas of the WordPress interface you'll use often, and which ones you won't. At this point, you may want to take a breather and explore through some of the different menus and panel interfaces on your own.
Viewing The Blog's Front End
This back end of WordPress that we've been exploring will only be visible to you, since it's your site. Your visitors will be viewing your blog's front end. To view your blog's public, front end, try clicking on your blog's title way up in the top-left corner.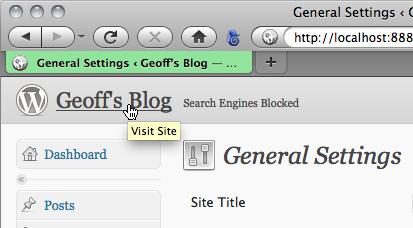 In fact, what I usually do is have the blog's back end open in one browser tab, and the public front end open in a second tab so that I can monitor the changes I make. It's a fast, accurate way to work.
Creating Posts
Alright, let's actually make something! Let's make the simplest of things here in WordPress, a new post. I could get into a discussion on how WordPress displays posts, and what happens when posts roll into a second and third page, but a lot of the nitty gritty stuff is covered in my two WordPress series, Web Design 102: WordPress Basics and Web Design 202 Deeper Into WordPress. Suffice to say that when we add a post to our blog, it gets added to the front end of the blog, and displays at the top of our list of posts.
Let's see how to do it.
Step 1
In the WordPress back end, click on Posts in the left-hand menu, then click Add New. Alternatively, you could click New Post in the top right of the back end. The Add New Post screen appears.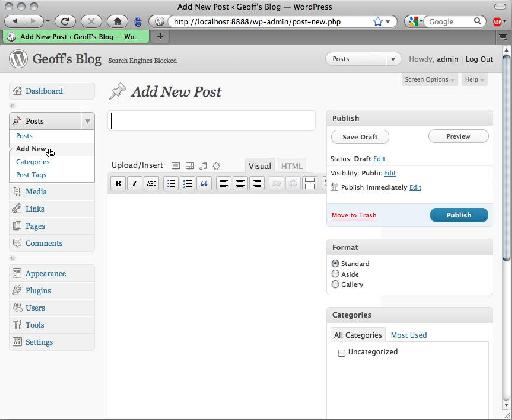 Step 2
At the top of the screen, type in a title for your new post. Then, in the main content area of the screen, enter in the content that you'd like to be a part of your post. In other words, if your post is primarily going to be text-based, go ahead and begin typing in your text. You can also paste content in, too. Notice the toolbar across the top of the main content area. It works just like a traditional word processor. You'll find buttons there for formatting text, running the spell checker, and adding in content like graphics and video.
Notice too that we have Visual and HTML tabs at the top. So, if you're comfortable hand-coding, or if you want to paste in some code over from Dreamweaver, you can do so in HTML mode.
Step 3
Once your post is complete, you're ready to publish it. All you need do is click the Publish button over on the right, and your post is added to your blog. Go ahead and click Publish, then flip over to the front end of your blog and refresh your browser. Voila!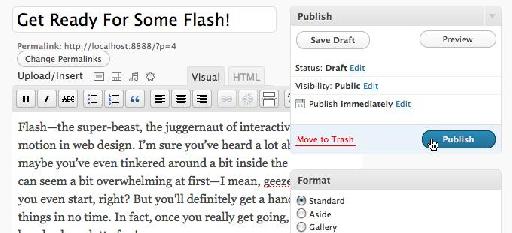 Changing Your Blog's Theme
The site's look and feel and overall design is called the blog's theme. If you're adventurous enough, you can code your own if you like, but maybe for now we'll just use one of the thousands of freely available themes. The default WordPress theme is called 'Twenty Ten', but let's go change it.
On the left, expand the Appearance menu and click on Themes. This brings us into the Manage Themes screen. At the top of the screen, click the Install Themes tab.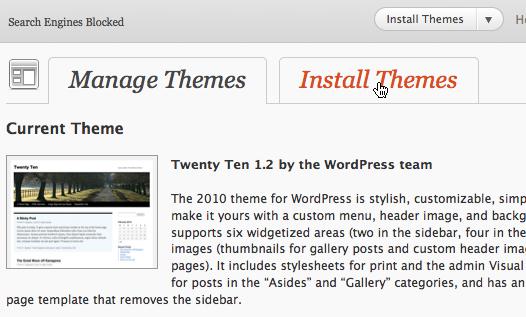 On the screen that appears, you're given a lot of options for finding new themes. You can use the search field at the top, or use the Feature Filter towards the middle of the screen, where you can filter themes by color, number, position of columns, width, features, and subject. If you want to use the Feature Filter, check off the items you'd like, then click Find Themes at the bottom.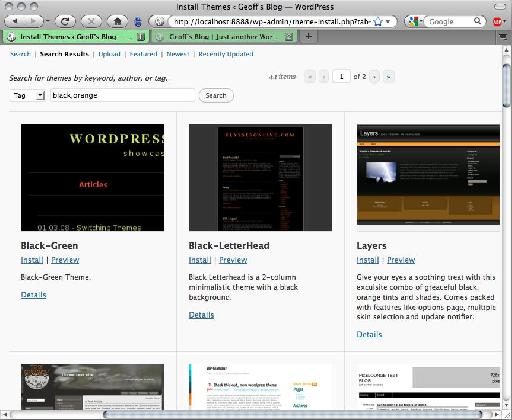 On the results page that appears, you can scroll through the themes that matched your criteria, preview them, and install them. Find one that looks cool and click the blue Install link. In the pop up window that appears, click Install Now.
OK, just because you've installed a theme doesn't mean it's applied to your blog right away. In fact, you can have several themes installed, but only one can be used. So on the next screen that appears, click Activate to apply the theme to your blog. Be sure to head back to your blog's front end and refresh to view your changes. Cool!
There's so much more to WordPress than we've had a chance to discuss here, but I hope this has inspired you to at least take a closer look at WordPress and consider using it for some of your upcoming projects. Since it's free to install and use, you won't be out of pocket. Now that's something I can get behind! Happy 'Pressin'!
Become a better blogger and check out Geoff's Wordpress tutorials.